Awesome Indoor Activities For When It's Cold Out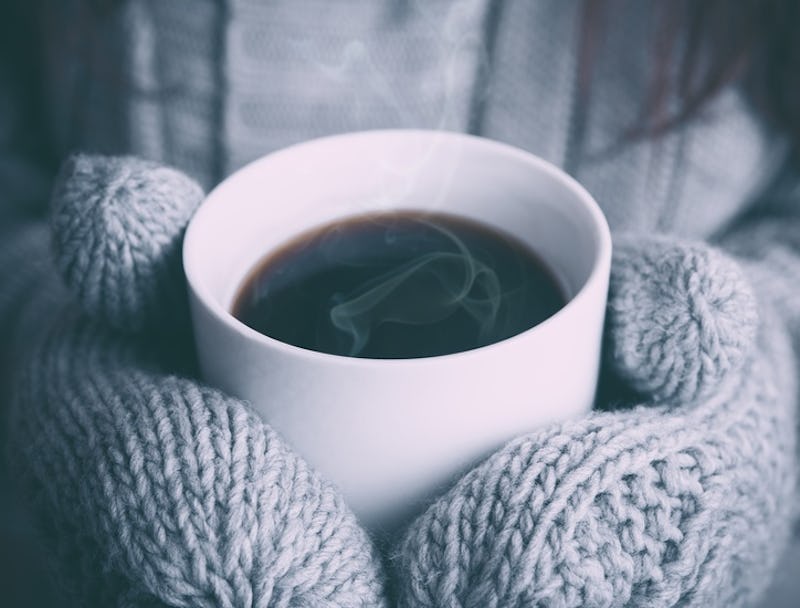 Baby, it's cold outside... and it's not set to get warmer anytime soon for most parts of the world. In the meantime, why not start planning fun activities for when it's cold outside? Just because the weather sucks doesn't mean you and your friends can't have fun spending time together. Normally you may all get together and head to the beach or a park, but as the temperatures start to plummet and your body's winter hibernation mode starts to kick in, you may not feel like venturing out so much.
Although sometimes it's great to go outside for a walk and there are benefits to spending more time outdoors in general, there are going to be days when you really won't feel like leaving the house. It's good to be mindful about your mood in autumn and winter because shorter days and darker mornings and nights can bring Seasonal Affective Disorder (SAD) along with them, and what better way could there be to lift your spirits than by spending time with your BFFs?
The following activities would be best suited to a group of friends however they could be tweaked for dates or activities to incorporate the whole family. So invite your loved ones over and have some cozy yet totally fun nights and days in.
1. Host A Movie (Or TV Series) Marathon
This is an especially fun activity if you're having a girls' night in or if you had a girls' night out the previous evening and you need something to take your mind off your hangover. With streaming services and devices such as Netflix and Hulu, having a movie marathon or a TV series binge session could never be easier or more fun. You could even keep it seasonally themed; if it's nearly Halloween you could watch super scary iconic movies or if it's almost Christmas everyone could bring their favorite festive movie.
2. Enjoy A Carpet Picnic
Carpet picnics are so fun. My aunt introduced me to them a few years ago when she laid a blanket down in her living room on a rainy day and set out a little picnic for my young cousin. She made the scene look just like an outdoor picnic, so there were bowls of fruit, sandwiches, and juice boxes galore. A carpet picnic can be as wild as your imagination. You could set a theme and ensure that all of your snacks, picnic-ware, and decorations fit the theme. You could pick a Marie Antoinette themed picnic where you would treat your guests to French macaroons, dainty pastries, and pastel colored cakes.
3. Start A Club
There are so many benefits to starting up a club. Not only is it a chance to make new friends, touch base with old ones, and have a regular activity to look forward to, but it's also a chance to learn something new. Mollie Makes is a great resource for creative inspiration and you could work on a different project each week or each month with the help of the tutorials section of the site. If you prefer to watch a clip on how to create crafts, the Mollie Makes YouTube channel will help you learn an array of creative crafts from knitting and crocheting to paper-crafting and sewing. If your gang prefers an excuse to sit around chatting, eating junk food, and drinking wine, there's always the classic book club option.
4. Have A Board Game Day
Game Of Thrones Monopoly, $44, AmazonPictionary, $15, AmazonCluedo, $44, Amazon
Remember that iconic scene in Friends where the boys and girls go head-to-head in a trivia game and the girls end up losing their apartment? Aside from the hardcore bet they had going on, that game looked so awesome. BuzzFeed even created an online replica of the Friends trivia game so you can test your knowledge on your favorite characters. However, if you want to play a little closer to home you could totally create a version of this game for you and your friends to play, including personal questions about each of you, but possibly with less high stakes. Alternatively, there are so many fun board games out there like Monopoly (there are dozens of versions of this classic game including a new Game of Thrones Monopoly,) Pictionary, or Cluedo. You could ask each of your friends to bring their favorite board game so that you can share your childhood favorites.
5. Hold A Video Game Tournament
Mario Kart Wii, $40, Amazon
If electronics are more your thing, why not invite your friends over to have a video game tournament? There are plenty of games that are suitable for multiple players which you can use in a tournament system. IMO, one of the best tournament games was Mario Kart which we used to play on the Nintendo 64 but it's now available on the Nintendo Wii. The Halo series were always great games for some raucous, blood-thirsty battles and the addition of the vehicles which you could use to escape your frenemies was always a bonus. To add a twist to the tournament the winner could think up forfeits or dares for the losers to endure or you could even turn the tournament into a drinking game by making the losers drink shots.
6. Host A Baking Competition
The Great British Bake Off may not be well known across the pond but folks over here love it. The show follows a group of aspiring bakers competing to win over the tastebuds of cookery writer Mary Berry and pro baker Paul Hollywood. If you wish to host a GBBO inspired competition at your home, you could nominate yourself as the chief taster. However, if you and your friends all love baking, you could play rock-paper-scissors to decide on the judge. This could be a weekly or monthly event and you could swap the judge each time. The nominated judge could craft and award a cute rosette to the winner. The best part is you and your friends can regularly eat a selection of baked goods for free if and catch up with a cup of tea or coffee. IMO, everyone's a winner!
7. Invite Your Friends Over For An Adult Sleepover
I really miss sleepovers. They were just so fun — you'd stay up until the wee hours with your best friends discussing your crushes, eating slumber party snacks, and spooking yourselves with ghost stories. My friends and I had a sleepover club because we loved them so much and we'd try to hold them as often as possible. So who's to say we have to stop having sleepovers when we're adults? When you're an adult, slumber parties are way cooler than when you were a kid. Chances are you probably have a more disposable income, which means fancier snacks in excess. Plus, you can probably cook at least one tasty junk food dish to wow your friends with.
8. Enjoy A Pamper Party
Want free pampering delivered by your BFFs? Here's how. Invite all your closest friends round for the day or evening and ask them to bring a beauty product and/or appliance round. Make sure everyone brings something different. The chances are each of your friends has a strength in one beauty related area: One might be great at nails while another may give a killer facial. Make sure there are drinks and snacks available as occasionally someone might be waiting for their next swap as some activities take longer than others. By the end of the party you will all be pampered to perfection.
9. Throw A Come Dine With Me Evening
This is one of my personal favorites. My friends and I would have regular get-togethers, which would be inspired by the TV series Come Dine With Me . During the show, a group of strangers are introduced to one another and they must cook for each other in order to win prize money. So my friends and I would plan a number of evenings where we would cook for each other. Just like in the show we would all vote, and the winner would be treated to a meal out paid for by the others. Not only do you get to experience the best cuisine and entertainment your friends can muster up but you might even get a free evening out too.
Just because the weather is miserable doesn't mean you and your friends need to be too. Create new memories and have fun inside with these alternative indoor activities!
Images: Daiana@playahead.se/YouTube; AnnieSpratt; PawelKadysz; ToddQuackenbush /Unsplash; Giphy (7); Pexels