7 Soundtracks As Creepy As 'Crimson Peak's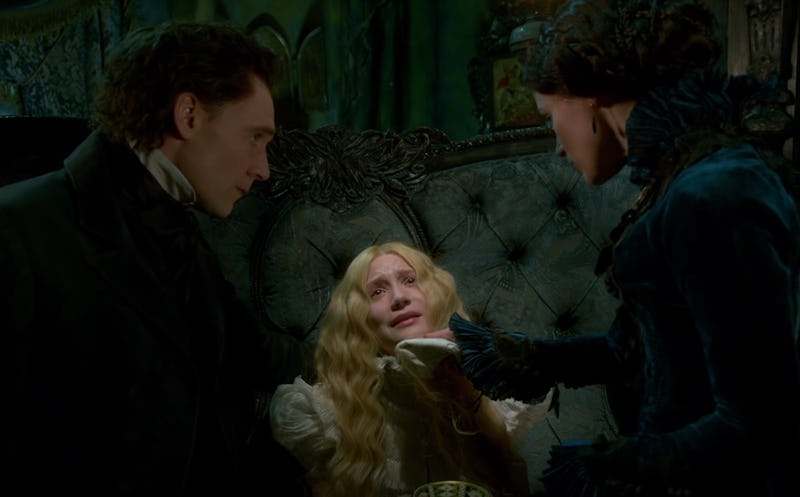 Crimson Peak, the Gothic romance scarring poor Hiddlestoners across the globe, has officially arrived. From the terrifying mind of director Guillermo del Toro, Crimson Peak tells the story of Edith (Mia Wasikowska), an aspiring young author who falls in love with a mysterious Brit, Thomas Sharpe (Tom Hiddleston), and is whisked away to his deteriorating home in England, a place she soon realizes is haunted. If you've seen the movie and are hoping to relive some of the romantic moments or scariest frights by listening to the film's score by Fernando Velázquez, you're probably wondering where to get the Crimson Peak soundtrack. A quick search will tell you that there's currently no Crimson Peak soundtrack available on iTunes, Amazon, or Spotify — so what gives?
Unfortunately, no official soundtrack to Crimson Peak has been released. Even worse, no plans for the release of a soundtrack down the road have been announced. However, there is hope! You can find the title credits song on Soundcloud. Also, del Toro has created a Spotify playlist of the "Musical Inspiration" for Crimson Peak, with songs ranging from "Red Right Hand" by Nick Cave & The Bad Seeds — the PJ Harvey version of this song appeared in the first teaser trailer for the film — to Jean-Yves Thibaudet's original score of Pride and Prejudice (2005).
Still, with no word on when, or if, fans can expect an official Crimson Peak soundtrack, waiting for an official tracklist might be a lost cause. While you wait for a final word, here are a few other haunting soundtracks and albums to listen to.
Mama
Mama (2013) was actually produced by del Toro, and also starred Crimson Peak's Jessica Chastain. A horror film, Mama featured enchanting and somewhat unsettling original music from Crimson Peak composer Velázquez.
The Village
The score to M. Night Shyamalan's 2004 hit, The Village, is a bit more string-heavy, but the classic, romantic melodies are not dissimilar to the tone of Crimson Peak. The Village score by James Newton Howard is guaranteed to make your hair stand on end, while also inspiring romantic daydreams.
Let Me In
If you're looking for something more Halloween appropriate, look no further than the original soundtrack to Let Me In (2010). Composed by Michael Giacchino, aka the man who made you cry in the first five minutes of Up, the Let Me In soundtrack officially crosses the line from pretty to creepy — in a good way.
The Imitation Game
The Imitation Game's original score by Alexandre Desplat was nominated for an Oscar, and with good reason. It's a bit more fun, and much less eerie, than the other soundtracks listed here, but the heavy use of piano makes the 2014 creation a nice counterpart to Crimson Peak.
Psycho
If you're looking for music that will scare, look no further than the original score to one of Alfred Hitchcock's most lasting thrillers, Psycho, composed by Bernard Herrmann. (Warning: Do not listen while in the shower.)
Fringe: Season 3
The original music from Fringe's third season, from composer Chris Tilton, may be a bit too futuristic to really be compatible with Crimson Peak, but if you're looking for music to provide an unsettling soundtrack to your day, then look no further.
Chopin: Nocturnes (Volume 1)
OK, so this isn't a movie soundtrack, but Chopin's Nocturnes are both Crimson Peak period appropriate and romantic, two things Crimson Peak fans can appreciate while waiting for the real thing. Just imagine Lucille (Chastain) playing them with her cold demeanor in the background.
Pro tip: don't listen to any of these before bed, unless you want to dream of being chased around by a ghost or crazy killer.
Images: Universal Pictures