The Cast Of 'Wicked City' Is Wicked Good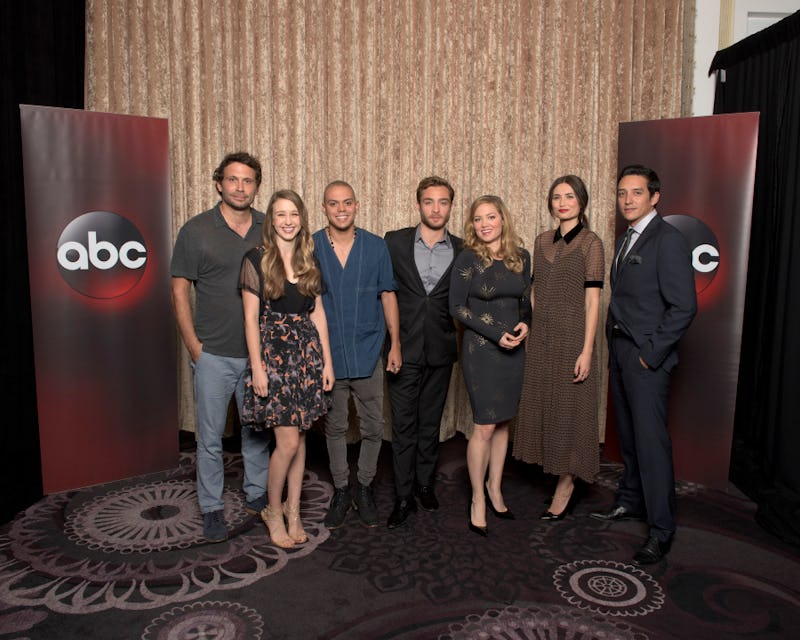 NBC's Hannibal may have only departed our airwaves mere months ago, but the laws of momentum insist that any time a dapper serial killer exits our TV screens, another must take his place. So while Dr. Lecter and his fashionable suits and his elaborate nine-course dinners may have left us for good, the cast of Wicked City featuring Kent Grainger and his leather jackets and Chuck Bass-like smolder have swooped in to take Hannibal's place. I say "Chuck Bass-like" because this new psychopath is played by none other than former Gossip Girl star Ed Westwick. And he's just one of many exciting actors in the new ABC drama.
Premiering this Tuesday night, Wicked City will rewind viewers back to the 1980s, when hair was bigger, jelly shoes were acceptable footwear, and Kent Grainger stalked the Hollywood hills. (Well, on ABC's fictional version of the '80s, at least.) Grainger is "a tragic soul who craves attention and goes on a murderous rampage to obtain notoriety. Kent is a chameleon who trolls the clubs to pick out his prey and pretends to be a Hollywood VIP who could help these hapless young ladies become stars." The show will also follow the two detectives on his trail, the young journalist hoping for her big break, and the woman who falls for Kent's dangerous charms.
Here are some of the many faces you'll be seeing when you tune into the pilot this Tuesday night.
Ed Westwick (Kent Grainger)
Funnily enough, for someone as instantly recognizable as Westwick, his resumé is actually not that extensive. Wicked City is his first regular television gig since The CW's Gossip Girl closed up shop three years ago; his only small screen credit in the years since the show that made him famous was a one-episode guest spot on Showtime's Californication. His feature film credits include supporting roles in Children Of Men, S. Darko, J. Edgar (as Hoover's biographer), and 2013's Romeo And Juliet (as Tybalt). Will Westwick be able to craft another character as iconic as Chuck Bass? Will Wicked City be as successful as Gossip Girl? Time will tell.
Jeremy Sisto (Det. Jack Roth)
Sisto has been in some memorable films, including Clueless, Wrong Turn, and Waitress — but it's his roles on the small screen he's most famous for. His first major role was as Billy Chenowith, the younger bipolar brother of Rachel Griffiths' Brenda, on HBO's Six Feet Under. After his first starring vehicle, NBC's one-season thriller Kidnapped, was cancelled, Sisto joined the cast of Law & Order in its final three seasons as Detective Cyrus Lupo. More recently, he starred in all three seasons of the ABC comedy Suburgatory, before moving onto A&E's English-language remake of the French series Le revenants, the one-season wonder The Returned.
Erika Christensen (Betty Beaumontaine)
Kent's femme fatale is played by Christensen, who is totally not Julia Stiles, you guys, stop getting them confused! The actress kicked off her career at the age of 18, with a rash of sizable supporting roles in films like Traffic (in which she played Michael Douglas' imperiled daughter), Swimfan (in which she played a deranged high school student), and The Banger Sisters (in which she played Susan Sarandon's troubled daughter). She also put in more than her fair share of guest appearances on TV shows before landing her first lasting regular gig as Julia Braverman on NBC's Parenthood , which just wrapped its six-season run earlier this year.
Taissa Farmiga (Karen McClaren)
This young actress is going straight from one horror show to another. Farmiga got her start in a 2011 called Higher Ground, which was directed by and starred her older sister, Bates Motel actress Vera Farmiga. Later that same year, her big break came in the form of Ryan Murphy's American Horror Story , on which she appeared as Violet Harmon in Season 1's Murder House and Zoe Benson in Season 3's Coven. Her film credits include Sofia Coppola's The Bling Ring and the horror-comedy The Final Girls, which just premiered this month.
Gabriel Luna (Det. Paco Contreras)
Jack's new partner on the case is played by this 32-year-old Texas native, who starred in the one-season soccer drama Matador on Robert Rodriguez's recently-launched Latino-targeted network El Rey. Apart from guest roles on the likes of Prison Break and NCIS: LA, his most recognizable role to general audiences is probably as Miguel, Taylor Kitsch's traitorous boyfriend, on Season 2 of True Detective. Luna's film credits include small parts in the Jack Black comedy Bernie and the recent Julianne Moore drama Freeheld.
Evan Ross (Diver Hawkes)
Before Wicked City, Ross' most high-profile role was a recurring part on Season 3 of The CW's 90210 as Annie's love interest Charlie. Ironically, both of his current roles involve his character pursuing a career in the media. On Wicked City, Ross plays the owner of paparazzi mag LA Notorious, and the boss of Taissa Farmiga's journalist character. Meanwhile, on the big screen, he can be seen in The Hunger Games: Mockingjay — Part 1 and the upcoming Part 2 as Cressida's assistant, Messalla.
Karolina Wydra (Dianne Kubek)
You may have seen Wydra on the big screen in films like Crazy Stupid Love or Europa Report; or you may be more familiar with her from her work on the small screen in recurring roles like Dr. House's green card bride Dominika Petrova on House and Mara Paxton on Season 5 of Justified. Most viewers are likely familiar with her performance as Jason's vampire lover-turned-torturer Violet Mazurski on the final two seasons of HBO's True Blood. This Polish-American actress will star on Wicked City as an undercover detective with a romantic link to Sisto's character.
Tune in to the Wicked City premiere this Tuesday night at 10 p.m. ET on ABC to see this stellar cast in action.
Images: ABC/Image Group LA; Eric McCandless (6), Kevin Foley/ABC