How To Make Your Own 'Night Before' Soundtrack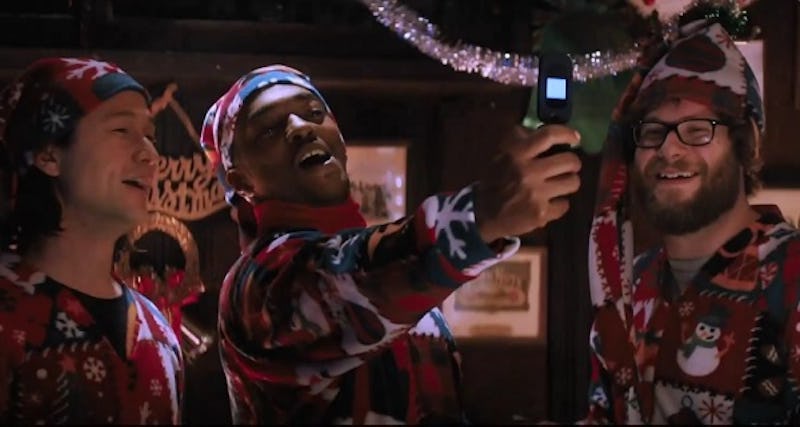 Christmas movies got a little crazier this year when The Night Before was released. The comedy stars Seth Rogen, Joseph Gordon-Levitt, and Anthony Mackie as three best best friends going out for the wildest night of their lives on December 24. But unfortunately, there's no soundtrack for The Night Before to relive the best parts of the movie or to provide the background music for your own holiday party. So why not make your own? Don't worry, I'll help.
In order to create a fitting soundtrack inspired by The Night Before , you've got to focus in on the main aspects of the movie. For starters, there's the movie's setting of New York City and its timing of Christmas. Both of these subjects have literally hundreds of songs about them, so it's just a matter of finding the right ones that jibe with the movie. Next is the out of control partying that takes place throughout the movie. Now, I'm not suggesting that you ingest all of the drugs that Rogen does in the movie, but you definitely are going to want some songs about letting loose. Finally, the film also deals with deeper issues like friendship, breaking free of the past, and growing up. So here are eleven songs to form your own The Night Before soundtrack.
1. "Empire State of Mind" - Jay Z and Alicia Keys
You're in New York, might as well start things off by announcing your arrival.
2. "No Sleep Till Brooklyn" - The Beastie Boys
Speaking of New York, you going to be running around the city all night, so no sleeping allowed. Unless you end up in Brooklyn. Then you can sleep.
3. "What Christmas Means to Me" - Stevie Wonder
Christmas means different things to different people. To some, it means candles burning low and lots of mistletoe, to others it means puking at a midnight mass.
4. "Christmas With the Devil" - Spinal Tap
Speaking of vomiting in a church, The Night Before represents quite possibly the most debauchery-filled Christmas ever, and one totally deserving of this song.
5. "The Night Is Still Young" - Nicki Minaj
Your party is going to last all night, so get used to it. After all, like the guys in the movie, you're still young. Well, young enough.
6. "Can't Feel My Face" - The Weeknd
If you took the drugs Rogen does in the film, you wouldn't be able to feel a lot more than your face (also, don't do that).
7. "Die Young" - Ke$ha
If you try to reenact the events of The Night Before in real life, you are likely to die young. So you're better off just listening to this song.
8. "Last Friday Night" - Katy Perry
Let's just get this out of the way: You are not going to remember everything that happens if you're having your own Night Before. I'll just say the guys in the movie do a lot more than dance on tabletops.
9. "Glory Days" - Bruce Springsteen
When you drink too much and start reminiscing about old times with your BFFs, especially at the end of an era, you'll want this classic in the rotation.
10. "Dammit" - Blink 182
Gordon-Levitt realizes he hasn't grown up quite like his buddies in the film, but there's no reason you yourself can't come to that realization with a rocking anthem devoted to an overdue maturation.
11. "Wrecking Ball" - Miley Cyrus
Like Mindy Kaling says about this song in the movie: "You can cry to it. You can run to it. You can party to it." It's the perfect song, as well as the movie's theme song basically, so you're going to want to close out your night by belting it out with your last ounce of energy.
With these songs at your disposal, you can create your own soundtrack to go along with The Night Before. And just as a disclaimer, I can't be held responsible for whatever trouble you get yourself into.
Images: Columbia Pictures