'Billy On The Street' Asks An Important Holiday Q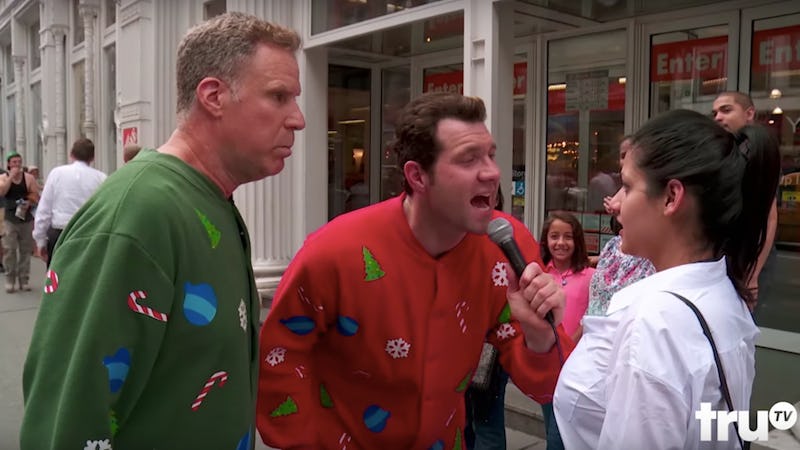 Is there anything more joyful than watching Billy Eichner and Will Ferrell — dressed in Christmas onesies — parade around the streets of New York City? What about Billy Eichner and Will Ferrell dressed in Christmas onesies parading the streets of New York City aggressively asking unsuspecting denizens which holiday film they believe is better (Elf or Scrooged) in order to obtain a dollar? That's what I thought. Nothing. Nothing is more joyful than that. I dare you to challenge me.
This realization stems from, of course, the latest teaser for the Billy on the Street Christmas episode, — aka "Christmas On the Street with Will Ferrell!" — which features Eichner and Ferrell presenting strangers with gifts. Namely the gifts of themselves, but sometimes a stack of hay, or a Christmas ornament with Leonardo DiCaprio's face on it. You never know! That's part of the fun.
But back to the original question within my question (a question might I add, that needs to be addressed): Which film is better? Is it Elf ? Or Scrooged? (And how has this not been widely discussed before?!) It seems like an important topic for debate.
Before we begin to even try and answer these questions, watch all the joyful glory with Eichner and Ferrell below:
So, seriously, what's the better Christmas film: Elf? Or Scrooged? The debate continues here. Are you ready, Will? Nope!
Elf, 2003
The Jon Favreau directed film has such an impressive cast — Will Ferrell, James Caan, Bob Newhart, Mary Steenburgen, Peter Dinklage, Zooey Deschanel all excel at their respective roles. But of course, it's Ferrell's portrayal of the lead elf character, Buddy, that made Elf such a memorable success.
In my opinion, Ferrell's comedic skills are at their best when he's playing the innocent and sweet, Buddy. His naiveté, set against the backdrop of a modern New York City, carries most of the film's funny moments ("Smiling's my favorite!", "Is there sugar in syrup?" Or "I'm sorry I ruined your lives and crammed eleven cookies in the VCR.")
Buddy's lack of self awareness means that Elf can be an overtly sentimental film, without coming across as saccharine sweet, because it's all through the eyes of an innocent elf! In my book, there's no other film that matches Elf in both comedy and holiday cheer.
Scrooged, 1988
We've seen it a million times: the retelling of Charles Dickens's A Christmas Carol, but Richard Donner's adaptation, starring Bill Murray, doesn't feel old or contrived. Even when you watch it back now. Partly an exercise in meta filmmaking (a TV producer producing the TV version of "Scrooge", experiences being "Scrooged" in his own life), partly a parody of 1980's business elitist culture, Scrooged had more layers than meets the eye.
Since this was Murray in his heyday, there's no doubt that Murray as the terribly unlikeable Frank Cross, really brings it with this performance. Plus the supporting cast (Carol Kane anybody?!) takes everything to the next level.
It's the kind of holiday film, much unlike Elf, that doesn't rely on sweetness. But for Murray and die-hard fans of this kind of darker comedy, that's a good thing.
I don't know. The jury's still out. Eichner? Ferrell? What do you think? (Wait, no. Ferrell, don't answer that.)
Images: TruTV