Michael B Jordan Deserves An Oscar Nod For 'Creed'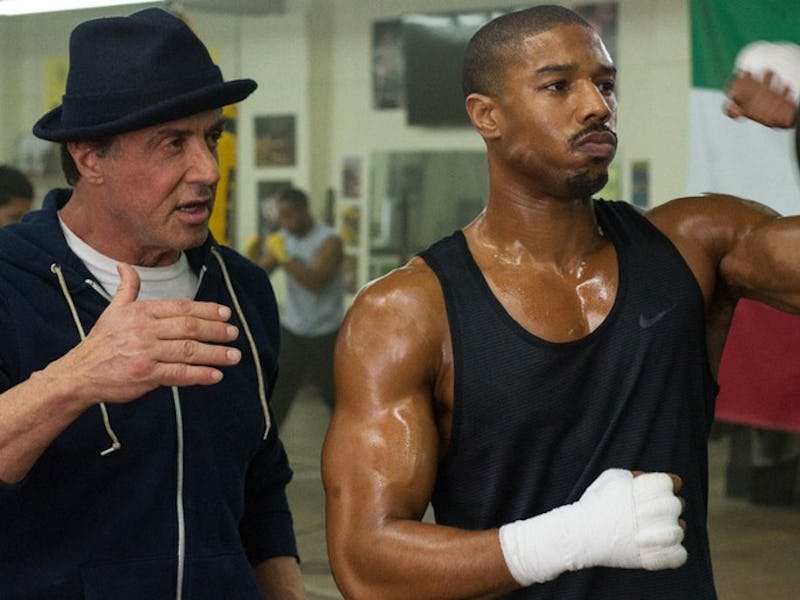 Let's talk about Creed. Ryan Coogler's boxing/family drama that revived the Rocky franchise and, it seems, Sylvester Stallone's reputation among award shows, has been left out of a lot of Oscar speculation as of late. When it was released over Thanksgiving, Creed enjoyed a wave of stellar reviews and praise, directed at everyone involved both behind and in front of the camera. During its first couple weeks in theaters, Creed also enjoyed a healthy amount of Oscar buzz — for everyone from director Ryan Coogler, who also wrote the film, to Sylvester Stallone himself. Now over a month later, the Oscar buzz for Creed has died down dramatically. With snubs from both the Golden Globes and the Critics' Choice Awards, it looks like Creed's only Oscar hope could be a Best Supporting Actor nod for Stallone, who reprized his iconic role as boxing champ Rocky in the film. It's true that Stallone delivered one of his best performances in years in Creed, but his co-star, Michael B. Jordan should not be snubbed at the Oscars.
In Creed, Jordan leads the film as aspiring boxer Adonis Creed, son of Apollo, who tracks Rocky down and drags him out of retirement to be his coach and father figure. He's wonderful in the movie, giving Adonis the perfect balance of emotional weakness and strength, or self-confidence and self-doubt. Watching the film, it's clear Creed would never be as good with any other leading man. Jordan is Adonis, and, as Stallone's scene partner, he is a crucial element to Stallone's lauded performance (and vice-versa).
Best known for his stellar performances on television in The Wire and Friday Night Lights, Jordan was grossly ignored by the Academy when he gave his breakout film performance in Fruitvale Station in 2013, also under the direction of Coogler. The film, about the killing of Oscar Grant, a young black father from Oakland, by a white police officer, failed to earn any Oscar nominations. This was, in part, due to Fruitvale Station's summer release date, but it seems likely that the movie wasn't even on the Academy's radar. Independent films made by African American filmmakers are generally not given much love by the Academy, which is made up of mostly white, Hollywood elite voters.
After already having been snubbed once, it's not surprising that Jordan would be snubbed again this year for Creed. There is, after all, a lot working against him: he's young (though that didn't stop the Academy from giving the golden statue to Eddie Redmayne in 2015), he's never been nominated before (though all nominees have a first) and he's black. There is no legitimate reason why Jordan's performance in Creed should be snubbed for the Oscars — same goes for Coogler, who, like Jordan, was snubbed by the Golden Globes and Critics' Choice Awards. And it would be foolish to say that race doesn't play a factor in determining the Oscars.
The same thing was noted last year, when the Academy failed to acknowledge Selma director Ava DuVernay or leading man David Oyelowo, instead choosing to relegate it to a Best Picture nod that felt like an afterthought and a nomination for Best Original Song. That, coupled with the Oscar's lack of diversity, inspired the hashtag movement "#OscarsSoWhite" — a movement that spoke so loudly, host Neil Patrick Harris joked on Oscar night that they were honoring Hollywood's "best and whitest." With Jordan getting left behind in all the Oscar discussion, it looks like the 2016 Academy Awards will be just as white as they were in 2015. Right now, it looks like the Best Actor nominations will likely go to Eddie Redmayne (The Danish Girl), Leonardo DiCaprio (The Revenant), Michael Fassbender (Steve Jobs), Matt Damon (The Martian) and Bryan Cranston (Trumbo) or Johnny Depp (Black Mass) — all white men, some with multiple nominations under their belt already. Here's hoping the predictions are wrong, though.
Of course, the Academy's lack of diverse nominations in past years is not the true reason why Jordan should be nominated for Best Actor for Creed. It's a consideration, given the fact that plenty of great performances are left off the list of nominees each year and how awards influence how Hollywood studios finance future projects. But, Jordan deserves a Best Actor nod because of his talent as an actor, plain and simple. And his immense talent is what makes his likely snub so hard to bear. And while I may not be able to know for sure how the Oscar nominations will go, one thing's for sure: Creed would not be the masterpiece it is without Jordan and Coogler, and they deserve to be recognized for it.
Images: Warner Bros. Pictures; Giphy (2)