7 Opening Tinder Messages That Actually Worked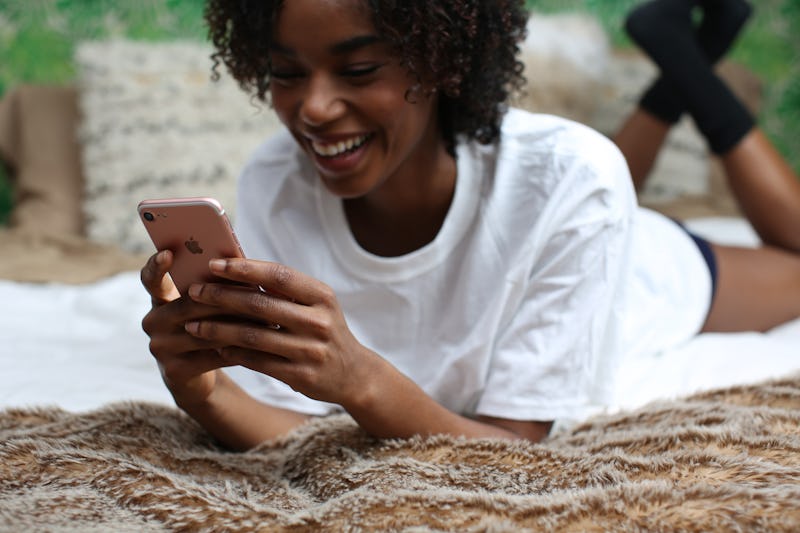 You've probably seen many articles about bad messages people send on Tinder… but what about the good messages people send on Tinder? After all, everyone seems to be on the app. I'm friends with two couples who met and fell in love on Tinder myself, which proves once again how Tinder's not just for hookups. (If you want it to be, that's fine, but you can actually meet your future significant other on it.) Personally, I've met a few boyfriends from it, and have had many nice dates with others. I think the more you vet them before you meet them, the better the chances that the date will go well — and it all starts with that initial message.
Some people say it doesn't matter what a person says in an online dating or phone app opener, because if you're interested, you're interested. The same goes for in-person. Yes, we all hear bad pick-up lines, but if we're attracted to that person, we talk to them, cheesy line and all, right? Yet others say it does matter and they don't even write back to the "Hey" or "Hi"-writers of the Tinder and online dating universe. Someone should put in more effort, right? I agree. People should make themselves stand out, write a quick, engaging message, and ask a question so the dater on the other end is sure to respond. In fact, earlier this year Hinge studied opening lines on the app and found that "hey" received the least amount of responses of all openers.
I asked women to share the best Tinder messages they've received — or at least ones that resulted in dates — and here's what they revealed. As you will see, you don't have to be Shakespeare and write someone a sonnet to score a date (which, let's be honest, could be overwhelming, anyway!).
1. Diana, 37
2. Sarah, 33
3. Rachael, 29
4. Heidi, 31
5. Tara, 28
6. Natalia, 34
7. Kayla, 22
There you have it. Again, all of the above resulted in dates, and many in several dates, so I think it's safe to say that you should say anything — seemingly normal as you would IRL — and, chances are, you'll get a response.
Images: Ashley Batz for Bustle; Screenshots; Giphy