The Sex Act That Gives Him A Next-Level Climax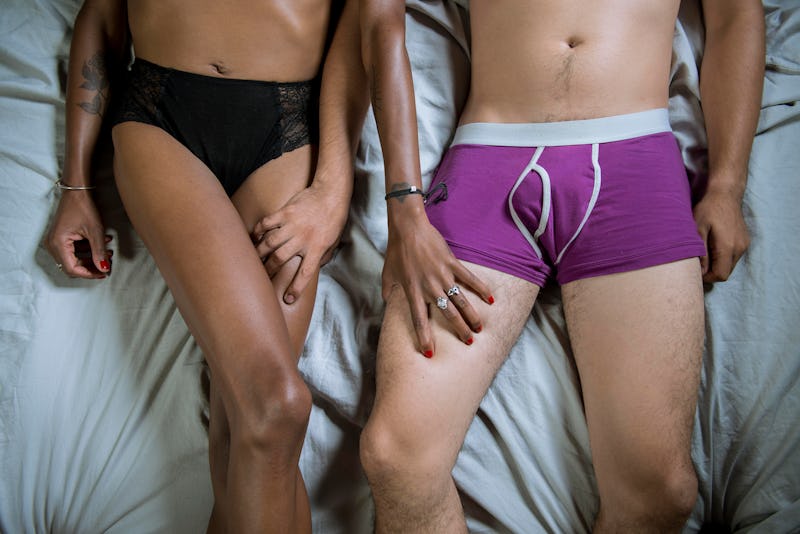 Earlier this month, luxury sex toy manufacturer LELO predicted that anal sex, prostate massage, and pegging (an act where the woman switches traditional roles with the male and penetrates him anally) were going to the the biggest sexual trends of 2016. This news is encouraging, because there are many benefits to prostate massage, and it shows that the stigmatization of anal play among heterosexual men is being challenged. Pegging even made its way into a Broad City episode.
The strongest argument for this prediction, however, was LELO's spike in prostate massager sales, with the company seeing a 200 percent increase in 2015. Based on this factor, LELO is predicting an even more impressive increase of 400 percent in 2016. LELO added to the legitimacy of their prediction with the admission that they receive a massive amount of inquiries regarding all things prostate, including: how the act should be done safely, which toys are best for a prostate-related orgasm, and so on.
So if any curiosity in prostate massage with your partner is piqued, let me encourage you to give it a shot with information provided by LELO surveys:
1. Because You're Not Alone If It's Something You Want To Try
According to a recent LELO poll, 80 percent of women admitted they would perform a prostate massage on their partner.
2. Because The Stigma Is In The Past
Not that you should care about what others think, but if you're nervous about bringing it up to your partner, it may help to know that 71 percent of straight men in a relationship have tried or at least admitted they'd like to try prostate massage. Breaching the topic may not be as awkward as you think.
3. Because It's Something New
If sex has gone flat like some sad can of soda, the introduction of butt play is a fun, healthy way to spice things up when your go-to positions have become dull.
4. Because It Will Strengthen His Orgasm
LELO reports that men who incorporate prostate play during intercourse have an orgasm that's significantly stronger than this who only have their penis stimulated. How much bigger is this next-level orgasm? According to the men having them, it's 33 percent bigger. So get on it!
5. Because He'll Have A Stronger Erection
With prolonged use, men have reported their erections have become both thicker and stronger; so there's something in it for you, too!
6. Because There Are Many Products Available For Doing So
There are so many prostate massage products available for you and your man. Want to know which are the best of the best? Search no further.
7. Because It Opens Doors To Role-Reversal
Prostate massage offers the perfect opportunity for some role-reversal. Whether you want to stimulate his prostate with a toy, your fingers, or you want to give pegging a shot, prostate play is one of the hottest ways you can change things up and swap gender roles.
8. Because It May Help Prevent An Enlarged Prostate And Prostate Cancer
Prostate massage helps rid the body of prostatic fluid build-up in the glands, which in turn prevents men from getting an enlarged prostate.
9. Because It Can Help Prevent Erectile Dysfunction
Prostate massage helps bring blood to the area which hosts the penis, meaning a prostate massage is a good way to fight impotence.
10. Because Prostate Massage Can Be Applied Externally As Well
Just because the prostate is located inside your partner doesn't mean you have to go in there. If you're a little grossed out at the prospect of touching the inside of your partner's butt, know that it can be stimulated externally as well. All you have to do is massage the swath of skin located between your partner's testicles and butt — it's really that easy. For best results, do so while tending to the penis.
11. Because It Can Hit Parts Of The Penis Located Inside The Body
You might not have known this, but much of the penis is actually located inside their body — one third, to be exact. With prostate massage, you stimulate this significant portion of the penis, which is incredibly pleasurable for anyone who's willing to try it out.
Want more of Bustle's Sex and Relationships coverage? Check out our video on sex positions for small penises:
Images: Andrew Zaeh/Bustle; Pexels