How To Save Money On Grooming Your Brows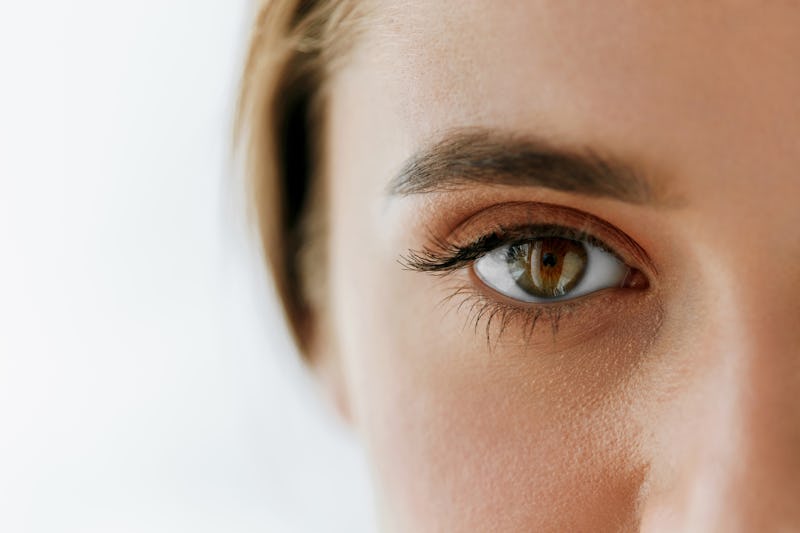 Eyebrows play a big part in framing the face, especially since they easily bring symmetry and balance to any look. And while everyone swoons over a full and strong arch, keeping your brows on fleek can be a constant struggle anyone can relate to — not least of all because it can end up getting pretty pricey.
But much like that haircut you need every so often, brows definitely need upkeep and care. And while a pluck and tweeze seems plausible, most experts recommend regularly waxing or threading to keep your brows in killer shape. Not only does this keep brows in place, but monthly visits can surprisingly save you a penny or two as well.
"The secret to leaving your eyebrow grooming at a low-cost as well as maintaining a healthy shape, is to get them professionally waxed at least once a month," Noemi Grupenmager, founder and CEO of Uni K Wax Center tells me through email. "This helps keep brows as close to your own natural shape as possible."
But while brow shaping may seem like a monthly expense that adds up, there are ways to keep your brows looking on point, even if you skip an appointment. For a tips and tricks that will save you some green, these hacks will ensure only the most amazing of brows.
1. Keep Up With Brow Appointments
While it may seem tiresome to keep up with brow maintenance appointments, eyebrow grooming itself actually isn't expensive.
Tweezing, waxing, and threading are all affordable forms of eyebrow grooming that usually cost between and $25, says Holly Green, owner of Norabloom Botanicals & Beauty Lounge over email. But if you really are looking keep your grooming costs low, she highly recommends maintaining salon visits regularly.
"As an eyebrow expert, the most important money saving way to keep your brows looking on point is begin with a trusted professional," Green says. "A good practitioner will spend the extra time to school you in everything eyebrows, and in the long run, you will save more money when working with a pro." If you opt for a discount version, you may have to go back more often to get your brows redone. A good brow tech will give you tips for upkeep between appointments, so you feel confident in doing your brows at home for longer.
2. Choose Waxing Over Tweezing
The method of eyebrow shaping really depends on your own preferences, but some experts prefer waxing over tweezing, since it can be gentler on the skin, which saves you money on skincare.
"It's much better to stick solely to waxing than tweezing between services," explains waxing expert Noemi Grupenmager. "At Uni K, the all-natural elastic wax gently exfoliates and nourishes the skin while cleaning the area up, leaving you with a healthier, more cost-effective eyebrow."
3. Don't Tweeze Or Pluck Too Much
While regular brow maintenance includes that occasional pluck or tweeze, many women tend to overdo these notions, which in result, can really change the shape of your eyebrows. Mess with the shape too much and you'll just end up back in the salon sooner hoping to get it fixed.
"Many people make the mistake of plucking their eyebrows in-between waxes, which can change the shape of your eyebrows or worse, create a bare patch," explains Uni K Wax Center's Noemi Grupenmager.
But if you must pluck, know that it can (and should) be done with caution. To avoid uneven brows you'll have to continuously fix, try using a stencil to help avoid any tweezing mishaps.
"Always use a stencil to decide where your brows should start and stop and where your arch should hit," says Tracy Taylor, esthetician and brow specialist of Anastasia Beverly Hills. "This will guide you to the correct shape for your face and prevent over tweezing."
4. Use Makeup In Between Appointments
If you can't exactly get into the salon every so many weeks, makeup is another way to keep your brows looking their very best in between appointments. If you tint your brows, finding a good pencil or powder will make you feel more comfortable waiting an extra week or two between dyeing appointments.
But while brow pencils and powders can help enhance your look, most people want to keep their eyebrow appearance natural. Choosing a brow pencil that matches your hair color, adheres to skin, and looks like real hair is key, explains Jamie Kern Lima, Co-Founder and CEO, IT Cosmetics through email.
When using makeup on your brows, Kern Lima recommends making sure your brow always lines up directly with the edge of your nose. Similarly, your brow should end in line with the corner of your nose, and the outer corner of your eye. And when it comes to your arch, it's important to remember that your brow arch should be in line with the outer edge of your iris.
5. Master The Application Technique
Especially if you love thicker-looking brows, use a brow pencil to fill in any gaps you might have between appointments. Products like these can easily feel intimidating, which is why you'll want to master a natural-looking application so you aren't tempted to just throw up your hands and head back to the salon.
"If you want thicker, fuller looking brows that still look natural, take a brow pencil and gently fill in the sparse areas by drawing strokes in the same direction as your natural hair growth," says Romy Soleimani, Beauty Director at Large for Beauty.com, over email. "After penciling, brush out the brows with a spooly to help soften the penciled lines."
And for all lucky girls blessed with a naturally thick arch, using clear gel can really help your brows look bold, and keep them in place. Expert Holly Green finds that products like these add depth to your naturally full shape.
"Brow gel helps keep the brows groomed and help them stay in place," Green says. "If you decide to use a tinted brow gel product, it certainly will add rich depth to your shape."
Aimed with the right products and nourishing wax, you'll be going months between brow appointments in no time.
Want more beauty tips? Check out the video below and subscribe to Bustle on YouTube!
Image: Fotolia