Boyz II Men Are Heaven-Sent In 'Grease: Live'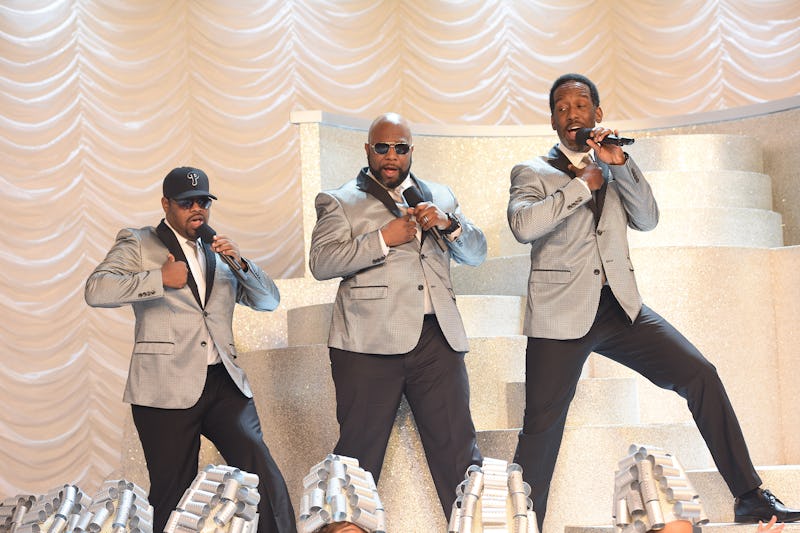 Motownphilly's back again — thanks to Boyz II Men making a stop at Rydell High. Well, technically, they'll just be visiting Frenchy's dreamworld since Boyz II Men will be the Teen Angel in Grease: Live. Normally, the Teen Angel is played by a singular person, but in Fox's go at the live musical format, the current three members of Boyz II Men will be the Teen Angels. The group from Philadelphia is known for their amazing harmonies and hits like "I'll Make Love To You" and "End of the Road," so there is no doubt the veteran performers will nail the role of Teen Angel when Grease: Live airs on Sunday, Jan. 31 at 7 p.m.
Teen Angel may be a small, cameo part, but the scene where he — alas, it's usually played by a male — serenades Frenchy in the Frosty Palace is iconic, especially in part to the 1978 movie version of Grease . Boyz II Men have the task of convincing "Call Me Maybe" singer Carly Rae Jepsen to go back to high school in "Beauty School Dropout" since Jepsen is the pink-haired Frenchy in Grease: Live. And something tells me that the smooth vocals of Nathan Morris, Wanya Morris, and Shawn Stockman (fourth member Michael McCary left the group in 2003 due to health issues) will compel Frenchy to finish out Grease: Live at high school with the rest of her friends.
While fans of Grease won't be used to hearing harmonies by the Teen Angels in "Beauty School Dropout," Boyz II Men will still "pay homage" to the original song, according to Grease: Live executive producer Marc Platt at the Television Critics Association winter meetings.
So who will Boyz II Men be paying homage to? I'm beyond thrilled to hear these men — yes, they are officially men now — take on "Beauty School Dropout," but here are some of the artists who have performed as Teen Angel before now.
Alan Paul
Alan Paul is the person to thank for originating the role of Teen Angel (and Johnny Casino, who sings "Born To Hand Jive") in Grease on Broadway in the '70s. He is still an active musician since he is a founding member of the group The Manhattan Transfer, which has won 10 Grammy awards over its 45-year career. And fun fact about Paul: His son-in-law created the score for the hilarious Comedy Central show Drunk History.
Frankie Avalon
The version of "Beauty School Dropout" most people know is Frankie Avalon's from the Grease movie. Another Philadelphia native (perhaps it's a requirement for the role?), Avalon was the perfect choice for Teen Angel since he was a teen idol in the late 1950s — when Grease takes place — with hit songs like "Venus." The dreamboat was also known for frequently collaborating with Annette Funicello in beach-themed movies throughout the 1960s. To this day, Avalon still performs and even released a cookbook in 2015.
Billy Porter
For the Broadway revival of Grease in 1994, Billy Porter elevated the role of Teen Angel — even higher than that malt shop in the sky — thanks to his insane vocals. Almost 20 years later, Porter originated the role of Lola in Kinky Boots on Broadway, which earned him the Tony award for Best Actor in a Musical in 2013. He performed as Lola until Nov. 2015, when he stepped down from his award-winning role.
Taylor Hicks
The silver-haired American Idol winner Taylor Hicks hit the Broadway stage as Teen Angel in 2008, two years after his unexpected Idol win. While another Idol winner, Carrie Underwood, had the chance to star in her own major cable live musical, don't feel bad for Hicks that he's not in Fox's version since in recent years he had a successful Las Vegas residency.
Julio Iglesias Jr.
While not a household name in the U.S., Julio Iglesias Jr. — Enrique Iglesias' older brother — was the Teen Angel in the Spanish stage version in 2012. Julio and Enrique come from talented stock since their father is Julio Iglesias, the hugely successful and iconic Spanish singer who recently promised to never perform at any of Donald Trump's casinos ever again. Julio Iglesias Jr. may not be as famous as his father or brother, but the singer still got to take on the prized cameo of Teen Angel.
Although many others have come before them in the role, Boyz II Men — as the first trio of Teen Angels — have nothing to fear since their sweet-sounding vocals already seem heaven-sent. When Grease: Live premieres on Jan. 31, the beloved group from the '90s is sure to gain even more fans after they sing for Frenchy.
Images: Kevin Estrada/FOX (2)