Who Is Zayn Malik Singing About In "Pillowtalk"?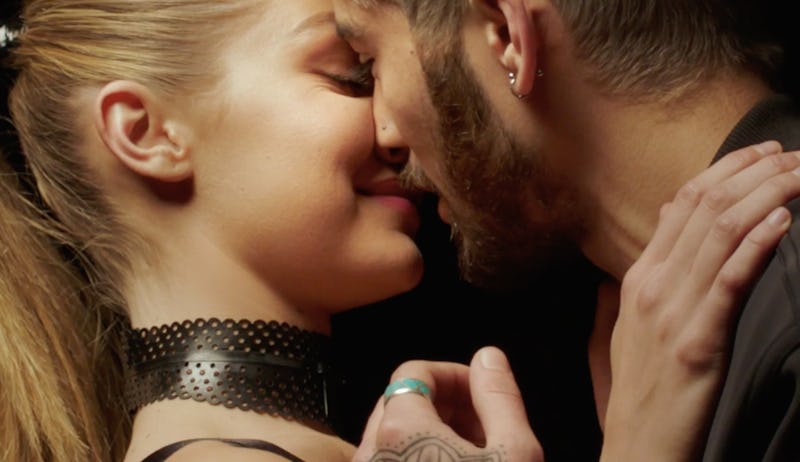 How many times have you listened to "Pillowtalk" since this morning? If the answer isn't "too many to count," then I'm guessing that Zayn Malik's new sound just isn't for you. Personally, I've been loving everything about Malik's debut single "Pillowtalk," except the very bizarre music video, but I've moved beyond that and into the more important things in life. Like trying to figure out what Malik is trying to say with his songs. Ever since the reveal that one of the singles is called "BeFOUR" in that infamous Fader interview that really gave us a look at Malik as a solo artist, I've just assumed that every single one of the singer's songs would contain some sort of reference or allusion to someone from his past. So who is Malik's "Pillowtalk" about? Right now, there are two main options.
The first and most obvious option is Gigi Hadid. Malik has been rumored to be dating Hadid ever since the two were photographed hanging out all over the place, and their intimate social media photos haven't exactly done much to dispel the rumors. Even more damning is the fact that Hadid herself appears in Malik's music video, playing the role of his apparent love interest. Watching the two kiss and fight and make up and kiss again as Malik croons such lyrics as, "I'd love to wake up next to you," and "F*cking you, and fighting on" might make everyone wonder why the who of the song is even a question. Their real-life relationship is obviously being reflected in the lyrics of "Pillowtalk," right? Well, I'm not so sure. After all, the release of this music video makes me wonder if Malik and Hadid are truly together, or if their highly-photographed relationship to this point was just promotion for the video. It's a thing that happens, after all.
The only other candidate for who the song could be about is Malik's ex-fiancée Perrie Edwards. Malik and Edwards dated from his X Factor days all the way up until 2015, when they ended the engagement they'd announced in 2013 amidst rumors that Malik had allegedly cheated on her. Since then, Edwards has largely kept her head down and released an amazing album, Weird People, with Little Mix that contained such songs as "Hair" and "Love Me Or Leave Me," which did carry the note of alluding to Malik to me. In the meantime, Malik has focused on his music and a few Twitter feuds, in addition to dyeing his hair several times. So could "Pillowtalk" be a reference to his relationship with Edwards? Lines like "It's our paradise and it's our war zone" and "I'm seeing the pain, seeing the pleasure" could certainly hint in that direction.
There's no way of knowing for sure exactly who Malik is singing about in "Pillowtalk," if anyone at all, but these best guesses might shine some light on the lyrics. Not on the music video, though. There's nothing that will shine light on that. Check it out below.
Image: ZaynVEVO/YouTube