There's A Surprise Inside This Magical Donut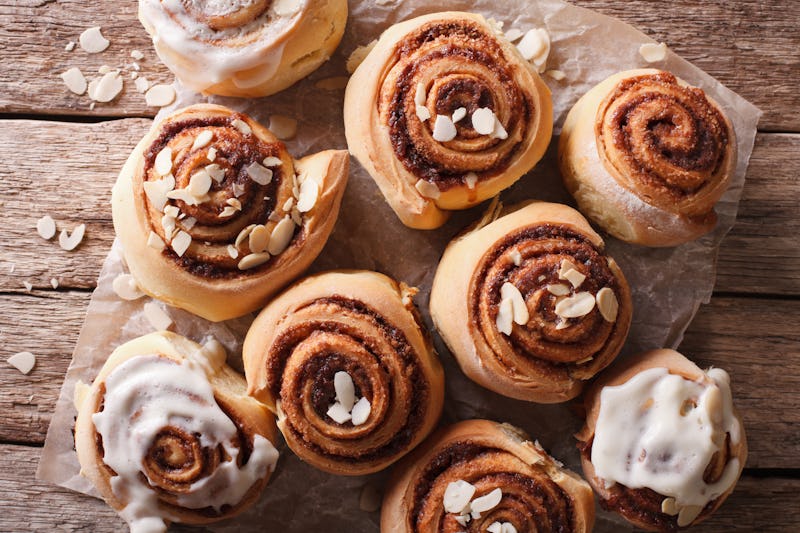 Humans of Earth: Bow to your new pastry overlord! A pastry chef in New York City has created the "Cinnamon Roll Donut," a donut with a whole cinnamon roll inside, covered in a cream cheese glaze. This isn't the first baking mashup to make headlines — after all, we've had the Cronut, the Bruffin, the Cupcaron, the gelato donut, and, dear God, the Dausage — but it might just be the best. I mean, ­come on. It's a donut and a cinnamon roll at the same time! If that's not the pinnacle of human ingenuity, I don't know what is.
This beautiful, cinnamon-y gift to humanity was created by pastry chef Thiago Silva while he was working at Catch, a restaurant in NYC's Meatpacking District. A peek at his Instagram account shows that he likes to get creative with his desserts; he told Mashable, "I'm always trying to think outside the box. The idea for the Cinnamon Roll Donut came to his after he tried filling a donut with apple pie filling. "I thought the idea was cool if I put a cinnamon roll [inside]," he said. "But it would have to be raw and cook at the same time as the donut."
Getting the donut just right took some time and effort. Silva explained, "[There are] a lot of tricky elements. It's easy to get wrong." However, he eventually was able to make a donut that, according to Mashable, "was thin enough to cook the cinnamon roll inside, but thick enough to still hold together."
Just look at this gloriousness:
And here it is in action:
I WANT.