I Let A Pro Stylist Dress Me Up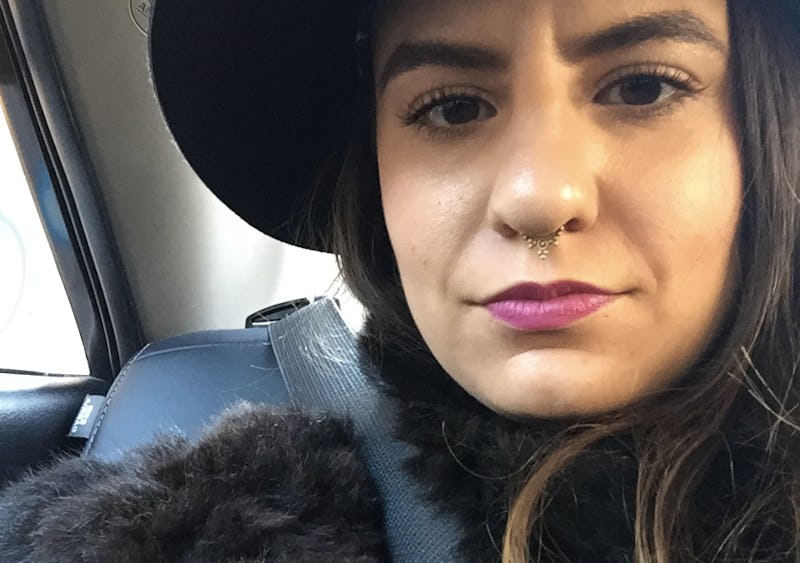 I've been going to at least one fashion week show, big or small, every year since 2008. As a lover of fashion and beauty, I would imagine it produces a similar level of excitement to seeing a few of your fav artists at Coachella or Comic Con. Not a Front Row Totem or Velvet Rope Party Creature, I'm on the beauty beat for NYFW, watching backstage as the top artists and their teams crank out hair, makeup, and nails for model after model. So getting dressed for street style photos has never been a top priority for me.
Sure, my wardrobe is fun, but I go through extreme phases, and often can't see outside of those phases until weather or inspiration forces me to switch it up. Plus, the Autumn/Winter shows in February have a decidedly more somber feel than the Spring/Summer presentations in September: The weather sucks, and all involved would probably rather be kicking it by a fire with a hot toddy. But come rain, snow, or sleet, this is too important to miss. Which means I actually have to get dressed and go outside every day during NYFW, no matter how terrible the weather.
Instead of opting for the head-to-toe black uniform of most New Yorkers, this year I let my friend Jessica Faria, a stylist who currently works with JackThreads, help choose a bunch of my outfits, all from my existing closet. I have so much great vintage that I never wear, so we really got to play!
Here's how my week with Jessica picking my outfits went down.
Day 1: Shows & Blowouts
What I Wore: Thrifted and then tie dyed mid-rise skinny jeans, black Hanes tee, vintage polyester knit sweater, vintage polyester oversized black button down, vintage white tie, vintage black leather jacket, vintage calf length brown fur vest, Steve Madden Freebird Grany Boot
I dressed myself today, as a sort of control period before I went headfirst into being styled. I wore my favorite tie-dyed jeans and and oversized button down are a go-to when I want to be fashionable but warm. It's funny that the temperature really controls the scene at February NYFW. When it's below 20 degrees, any of us who don't have chauffeured-by-NYFW Lexus SUVs are forced to load up on layers. I keep an extra long doctored furry vest for these occasions.
By the way, all of my furs, and every fur in this story are from a great-grandmother's collection. I don't see that as unethical since they're decades old... and she is as deceased as the animals used for the coat. Debt repaid! I felt like Elizabeth Taylor, but punk.
I won't lie: Starting Fashion Week first thing with a blow out at the new Amika: Styleblow space in Williamsburg, Brooklyn left me feeling really put together for the week ahead. Still, seeing the forecast, I knew I would dressing to my normal cold weather principles almost the whole time. At Rachel Antonoff, Ulla Johnson, and Adam Selman, I saw tons of texture and interesting beauty looks, friends new and old, and many taupe things. My layers got in the way big time in tight backstage quarters, but that's better than freezing outside! There was a compliment here or there, but nothing was praised more than normal, probably because I was dressed like my normal self. My nails/fingers are usually the stars of my style when I'm covered in coats.
Day 2: My Take On PJs
What I Wore: Calvin Klein Boxer Briefs(not thrifted); (thrifted) CK cotton henley, vintage polyester oversized sweater
I love men's boxer briefs. They're so much more comfortable than women's underwear. I often wear tight clothing outside of the house, but these are my absolute favorite loungewear when paired with a gigantic sweater. Considering the popularity of the current Calvin Klein campaign with all of those hot celebs, I'd say this loungewear is pretty on-trend for my day of unpacking all of that trend watching and live-streaming all of the shows without the cold winds, from my couch.
Today I was literally effortlessly fashionable, but I will defintiely want Jess' take on my usual work-from-home loungewear. I know some people get dressed to work from home, but after 28 years of living with other people, it's just me and the pets while my man is at work, so I see no need for pants. Besides, though I may seem connected, your girl is catching Marc and the biggies from home like everyone else.
Day 3: Menswear Influenced Look
What I Wore: Vintage blue wool trousers, vintage faux snakeskin grey belt, thrifted Balenciaga color block sweater, Grandma's full-length wool pea coat and fur stole, faux Timberland heels, wool Old Navy Boot Socks
My first day being styled by Jess was, to my dismay, really cold and windy. She wanted to completely change my usually femme look to a more tailored appearance. People I saw backstage raved about the look, but all those style photogs could get was my super clean Carmen Sandiego trench-and-fedora vibes. It was brutal out there! I hit Zero+Maria Cornejo, Jeremy Scott, and Maiyet. I don't usually wear these pants because I hate the way they dig into my waist, but worn with Spanx they were actually tolerable.
I'm happy that I was able to see past my phase outfits and look for unique shapes and fun colors I'd usually leave hanging in the back of my closet. Jess chose a color blocked sweater with blue pants that pop to create length in all four of the limbs. The extra long trench coat not only looked slammin', it kept me warmer than most of my other heavily layered looks, which was a surprise to me! Also, I was stoked that Jess agreed with my theory that there's really no need to ever wear a bra.
The response to this outfit was great! I got snapped backstage by a friend with OPI, but mostly because of my nails, and because the photog was my buddy.
After a great day in these blue pants, I was left itching to dig deeper into the forgotten parts of my wardrobe. I have been ignoring stuff by assuming it was too dressy for everyday, but then will pile on a button down and tie without a second glance. I have some rethinking to do!
Day 4: A Non-Fashion Gig
What I wore: Skinny black hand-me-down Citizens of Humanity jeans, a tight black crop top from Lulu's Style Shop, a thrifted Dior sheer floral+gingham top, vintage tie, vintage chunky sweater, vintage black fur vest, Freebird Grany boots
I skipped out on NYFW events in favor of leading a cocktail workshop today, but I still wanted to keep up with my Fashion Week-appropriate outfits. However, I dressed myself so that I wouldn't waste the styled outfits on non-fashion days. Though I didn't attend any shows, I was one block away from the Clarkson Square venue, and passed plenty of photographers. Too bad we were all running for cover from the pouring rain and 55mph wind gusts. It sucked.
My clients loved my outfit. I smartly packed the cute stuff in with my tools and wore a ratty T-shirt for transportation and setup instead. The Uber ride home was so relaxing knowing I didn't have to fight to keep my umbrella (least favorite accessory) straight against the wind.
Without Jess by my side today, I was definitely at a loss for what to wear. I tried to dress outside my box, but was working in a corporate environment and wanted to be just the right amount of "me." I wish I could have Jess pick my outfits every day!
Day 5: Jess' Version Of PJs
What I Wore: Carhartt Sweater Sweats (stolen from BF), a soft Calvin Klein Tee, 99cent store slippers
My social life is seriously lacking during NYFW, mostly because I have to come home and dump all of my ideas into articles before they leave my brain forever. Instead of wearing the baggy sweater portion on top, Jess suggested I steal a move from her and use my beau's comfy sweater pants instead. She was right: Lounging and writing while ordering pizza has never been so comfortable.
Day 6: Last Day Of Shows
What I Wore: Altered graphic vintage sweater, altered boys' button down with sheer front, striped vintage tie, American Apparel Underwire Bustier, COH skinny jeans, Freebird boots
Usually on the last day of shows, you're exhausted, potentially dehydrated, and in need of some serious chill time. The final outfit Jess picked for me looked as stylish as ever but actually almost as comfortable as my loungewear yesterday. Instead of the massive pile of layers, I donned a heavy vintage wool sweater over a button down with a single, heavy vintage fur outer layer. Those vintage furs are the only good thing about the cold, in my opinion.
Having fewer layers but being just as warm was pretty cool. I just hate wearing a shoulder bag with fur sleeves — the two don't mix! However, no one really commented on my fabulous look at the shows. I think everyone was imagining the end-of-NYFW wine and bubble baths they had to look forward to that night instead. I felt comfortable and looked great; it was fun to wear some bolder pieces without any complications.
Day 7: Recovery
What I Wore: A really comfy and ratty robe, a bunch of bathwater, and nothing else
Even the comfort of Calvins couldn't do it for me today. Maybe it was fashion overload, but I basically wore nothing but a robe all day. This is my go-to "I'm done for" look. Though I still had to actually do work, I took two baths and stayed home as much as possible. Tossing on some PJs to walk the dog was about as much as I could muster while watching recap after recap online.
I may be a fashion junkie, but caring about putting your outfit together so many days in a row was pushing me to my limit. I have to say, allowing Jess to pick my big-deal outfits was actually a huge relief. I know I love my clothes, but sometimes putting together the best outfit for such a high-pressure event can be daunting. Having guidance gave me more sleep time and a much more positive response to my interviews backstage! I learned that I don't need to feel anxious about my dope outfits if a professional like Jessica believes in it.
Photos: (1) Sean Q. Munro (3) Jessica Faria (1) @funniest_15seconds Instagram (9) Danielle Guercio (5) Danizig Instagram