How To Get Dressed For All Levels Of Cold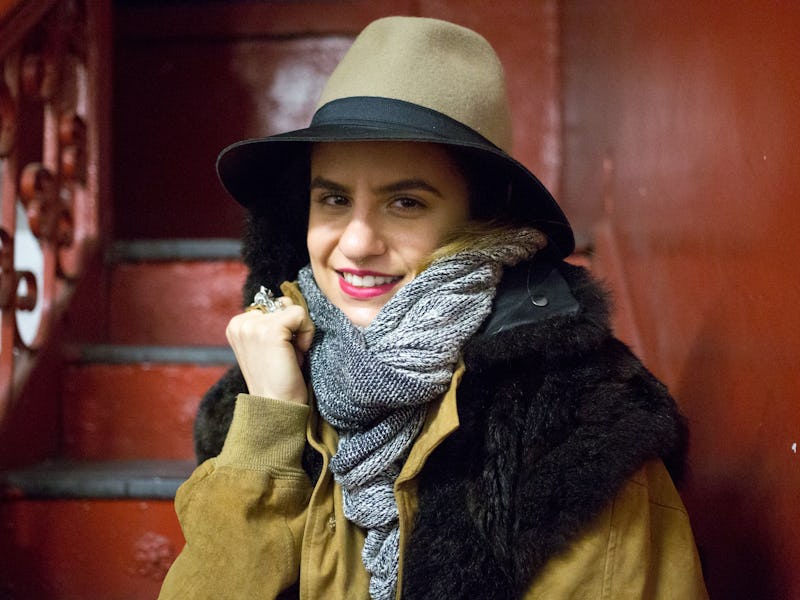 Cold weather sucks, in my humble opinion. And dressing for the cold is especially bad when you're a pedestrian or rely on mass transit. You will know no cold like waiting for a train on a blistery elevated platform when it's below 15 degrees outside. This is why I learned to adjust my outfits to the temperature, maintaining my style while staying toasty. With the right gear you can even wear short skirts in the wintertime.
The majority of my wardrobe is thrifted, and I like to show off all that picking talent by incorporating my favorite items year round. I don't shop for seasons; I shop for style. So you better believe if I spot a cute sweater in August I'm still going to buy it. This is why I have some plaid items and denim that are of a lighter weight than their normal incarnations. This allows me to wear them in the warmer months without suffocating, but it also means I have to get creative when the mercury drops. My favorite shirt may not be winter weight, and I may don a pair of daisy dukes past Christmas, but thanks to creative and strategic layering I can feel warm no matter what. Here's how to dress for when it's 40 degrees or colder.
1. When It's In The 40s
BCBG Wide Brim Panama Hat, $78, BCBG | Vintage Plaid, $6, Goodwill | Vintage Leather Jacket, $11, Salvation Army | Cuffed Acrylic Pom Pom Beanie in Zebra, $22, American Apparel | Circle Scarf in Black/Ivory, $44, American Apparel
This weather calls for covering up, but not packing it on like the tater tot in A Christmas Story. My old standbys — over-acid-washed denim and a medium weight plaid — really come in handy here. I love the weight of a thinner denim for winter layering just as much as I love them in the summer. Medium weight shirts are perfect for this weather: Layer over a tee and under a light sweater and you're warm enough for early winter but not baking inside a bubble coat if the temp rapidly changes.
To keep any random wind chills out, a light scarf and a hat will seal you up from the cold with the weight of layers you have on. Of course don't forget to switch to boots to keep your feet protected.
2. When It's In The 30s
BCBG Wide Brim Panama Hat, $78, BCBG | Vintage Plaid, $6, Goodwill | Vintage Leather Jacket, $11, Salvation Army | Vintage Fur Vest, $16, Salvation Army | Circle Scarf in Black/Ivory, $44, American Apparel
Now we're getting colder. This is when most people reach for their warmest garments, but to me that's a rookie mistake. In the 30s (especially the higher end) a brisk walk will still work up enough sweat to cook you and undo that foundation you worked so hard on. Donning a vest of any sort will trap heat where it counts, give you a place to stash your chilly hands, and still allow your pits the freedom to breathe. If your legs tend to get chilly, some knee high socks or light tights will toughen up those thin jeans just enough to get by. And, of course, don't forget your hat and scarf!
3. When It's Below Freezing
Vintage Plaid, $6, Goodwill | Vintage camo thermal, $4, Salvation Army | Second Hand H&M Skinny Jeans, $9, Goodwill | Extra Warm Heattech Leggings , $20, Uniqlo
OK here's where it gets a little tricky — and painful. I feel like my inner monologue is stuck on a looped vine of aggressive expletives whenever I'm outside in these conditions. This is the time to bust out the big guns. Sure you can reach for your chunkiest knit, but some strategic warmth placement will leave you able to wear the same clothes you've been rocking since fall well into the barren wastelands of February. Uniqlo is where you want to go to gird your loins against the worst that old white winter can throw at you. Their Heattech is a revolutionary fabric that helps retain and store heat, allowing you to wear less bulk with more warmth.
I also pray at the altar of their extra long heattech tights. They are so warm and soft because the fabric itself is infused with camellia oil. The best part is they are slim enough to fit under even my tightest jeans. Since I started buying these tights, I stopped wearing a single pair of pants for any reason while temps are below 40. You'll truly never be cold again.
Sure you can Heattech it all over your bod, but overheating in wintertime is a real concern for me too, so I tend to leave the heavy lifting to my upper layers, allowing for quick cooldowns when necessary by adding or subtracting. This allows for a completely navigable experience of living when going from indoors to out. Normally when you go inside the heat system's pumping renders being indoors while burrito-ed unbearable, but layering allows you to quickly acclimate and say goodbye to overheating or being too cold.
Photos: Maria Penaloza