Catch Up With Gia Before 'Fuller House'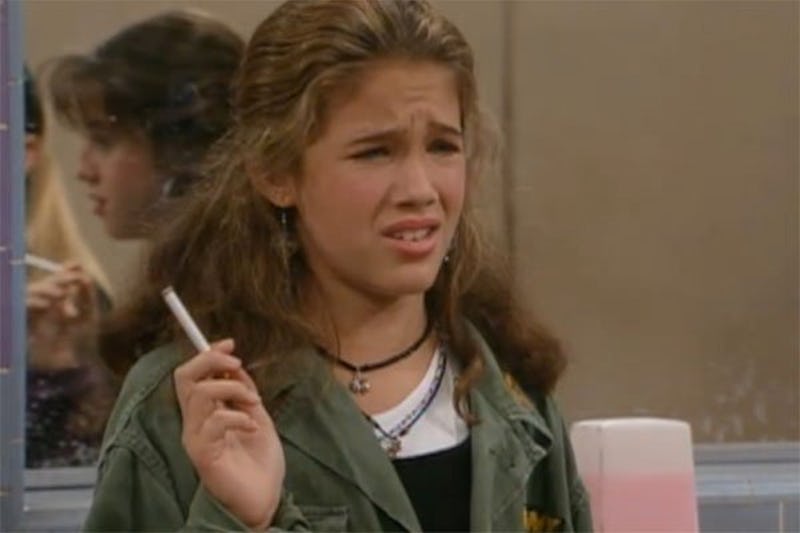 The television event that has unexpectedly been over 20 years in the making has finally arrived — the sequel to Full House. With Kimmy Gibbler taking the spotlight in the Netflix spinoff Fuller House, any supporting character from the original could have their day in the sun, so could Gia from Full House be on Fuller House? As the thrill of almost the entire cast returning (damn you, Michelle!) continues and clips of past characters from D.J.'s life reappearing (Steve!), why not Stephanie's bad influence friend/BFF Gia Mahan portrayed by Marla Sokoloff?
When Fuller House premieres on Feb. 26, fans of the original series will see D.J. Tanner all grown up and the parent of three children. In keeping up with mirroring the original TGIF show, D.J.'s husband has died so Stephanie and Kimmy move in to help D.J. raise her (and Kimmy's) children. Since Stephanie will be such a pivotal part of the series, I think a visit from her old junior high best friend could be in order. Gia was only in eight episodes during Season 7 and 8 of Full House (the final two seasons of the show), and she wasn't a constant presence like DJ's best bud Kimmy, but she made her mark on the show, and fans would love to see her return.
But, sorry, Gia fans — prepare to get your hopes dashed. Sokoloff made it clear through her Instagram account that there were no plans for her to return for Fuller House. (Although Kimmy Gibler actress Andrea Barber did post a comment on the photo that the cast would love to "reconnect" with Sokoloff.)
While based on her post you shouldn't expect to see Sokoloff in Fuller House, Stephanie is an aspiring musician in the new series — and Kimmy and Gia were part of her band Girl Talk back in the Full House days (they struggled with performing Ace of Base's "The Sign") — so perhaps a Season 2 appearance wouldn't be out of the question. Yet, since Sokoloff won't be reprising Gia anytime in the near future, here is what Sokoloff has been up to in her personal life and beyond since Full House.
She Dated James Franco
Don't freak out, but Full House's resident cool girl continued her intimidating trend by dating James Franco after they met on the set of the 2000 teen movie Whatever It Takes. Sokoloff dated Franco for four years, according to the San Francisco Chronicle, but those days are far gone as Sokoloff married Deadsy drummer Alec Puro in 2009.
She Recorded An Album
Besides being in TV and films throughout the 1990s and 2000s, Sokoloff also released an album entitled Grateful in 2006 showing off her vocal talents that I can lovingly admit far exceeded anything Girl Talk ever did on Full House.
She Is A Mom
With Puro, Sokoloff has two adorable daughters — Elliotte and Olive. Sokoloff is very open about her parenting on her Twitter and Instagram accounts and not only promotes the healthy foods she feeds her young children, but is somewhat of mom advocate since she attended an event on car seat safety, according to Modern Mom.
She Is A Blogger For People Magazine
Another way that she discusses motherhood is through her blog with People magazine. In her most recent post from Sept. 2015, Sokoloff discussed struggling with getting into a healthy flow with her second daughter. Many moms in the comments section and on social media thanked Sokoloff for her open dialogue about a difficult, yet very relatable subject.
She Hangs With Other Stars Of The 1990s & 2000s
Haylie Duff has a cooking show called Real Girl's Kitchen and when Duff hosted a baby shower for 7th Heaven costar Beverley Mitchell, Sokoloff helped Duff in the kitchen and attended the baby shower of my early 2000s fever dream. (Sokoloff also appeared in 7th Heaven earlier in the series than Duff.)
She Is Going To Awesome Cast Reunions
Although Sokoloff won't be reuniting with the Full House cast just yet, she did reunite with the cast of The Baby-Sitters Club back in Nov. 2015 at an event at an Alamo Drafthouse Cinema. (She's top row right.) Even though Sokoloff was typically cast as the "mean girl" (she was bully Cokie Mason in The Baby-Sitters Club movie), it's wonderful to see that after 20 years, the ladies can all be friends.
She Is Still On TV ... Sometimes
Sokoloff isn't the TV regular that she was in '90s and '00s, but she has kept busy by guest starring on the now-finished shows of Melissa & Joey and Hot in Cleveland. She also had storylines on Grey's Anatomy and The Fosters and will be in the new series Modern Love , with Alyson Hannigan and Anthony Rapp, according to IMDb.
While Sokoloff has been clearly having a full life outside of Full House, here's hoping for a Gia cameo come Fuller House Season 2.