Tom Hanks' Latest Movie Needs To Be On Netflix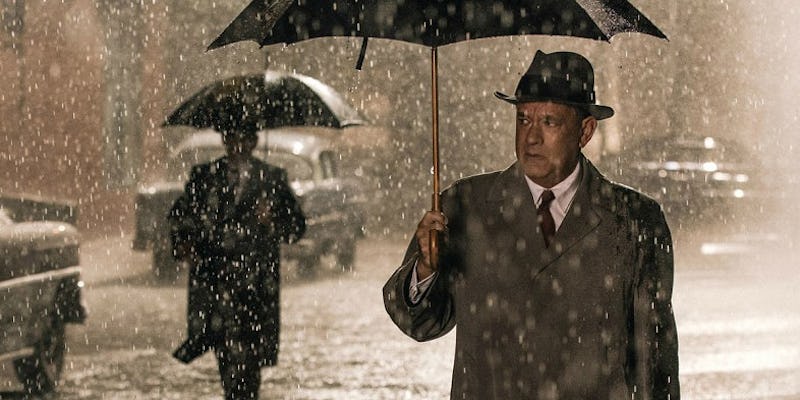 Of the eight films nominated for Best Picture at this year's Oscars, perhaps the one receiving the smallest amount of attention is Bridge of Spies, and that's a shame. The Cold War thriller is not only a great example of old-fashioned movie-making, but it also unites three massive Hollywood heavyweights for the first time ever: director Steven Spielberg, screenwriters the Coen Brothers, and star Tom Hanks. These three powerhouses coming together for one movie is certainly a sight to behold, and an event that might never happen again, so if you missed your chance to catch them in theaters, you may be wondering when Bridge of Spies will be on Netflix.
Unfortunately, Netflix generally doesn't announce when new movies will be available to stream. The film is already available to rent or buy on Digital HD, Blu-Ray, and DVD, and has been since Feb. 2. But generally speaking, movies don't make the transition to subscription services like Netflix until much later. Sometimes the process takes months, and sometimes it takes years. And since Bridge of Spies is distributed by Walt Disney Studios, the movie should be heading to Epix before anywhere else, since it was released in 2015, back when the premium cable network still had first-run rights for Disney releases. Netflix currently has exclusive first-run rights with Disney, but only for movies released starting in 2016.
So it's going to be a while before you can enjoy Bridge of Spies on Netflix, but that doesn't mean you can't fill up on Steven Spielberg, Tom Hanks, and the Coen Brothers right now. Netflix has a great selection from all three industry icons, so take a look below at what you can stream from the trio today.
Hook
Although most critics consider Hook to be one of Spielberg's weakest films, if you grew up in the '90s then you definitely have a soft spot for this unique take on Peter Pan.
Amistad
Spielberg's movies typically fall into two categories: Big budget blockbusters like Jurassic Park, Raiders of the Lost Ark, and E.T.; and moving dramas like Schindler's List, Saving Private Ryan, and Lincoln. Amistad, about the horrors of the American slave trade, is a member of the second category.
Intolerable Cruelty
A solid romantic comedy written by the Coen Brothers, just try not to root for George Clooney (a divorce lawyer) and Catherine Zeta-Jones (his client's wife) to end up together.
The Ladykillers
The Coen Brothers wrote, produced, and directed this comedy caper, which was their first film to star Hanks; doing his best Colonel Sanders impression as a southern gentleman criminal mastermind.
The Da Vinci Code
This 2006 mystery thriller is based on the Dan Brown novel of the same name, and like the book, it was a massive hit. The movie also spawned Hanks' only live action franchise to date, with its sequel, Angels & Demons, premiering in 2009, and the next installment, Inferno, due out later this year.
A League Of Their Own
Directed by Penny Marshall, this 1992 film is about the All-American Girls Professional Baseball League that was formed during World War II. It stars a pre-Oscar winning Tom Hanks as the manager of the Rockford Peaches, but the real scene-stealers are the women who make up the team, especially Geena Davis as the talented and headstrong Dottie Hinson.
Forrest Gump
One of the defining films of the '90s as well as of Hanks' career, the actor won his second Best Actor Oscar in this Best Picture Oscar winner. The sprawling twentieth century history lesson is a masterful blend of genres, and remains one of the most iconic and magical films ever made.
Even though there's likely a lengthy wait before Bridge of Spies brings Spielberg, Hanks, and the Coen Brothers together on Netflix, the streaming service still offers plenty of options when it comes to these movie legends.
Images: Walt Disney Studios