Amanda Should Be The Next Bachelorette!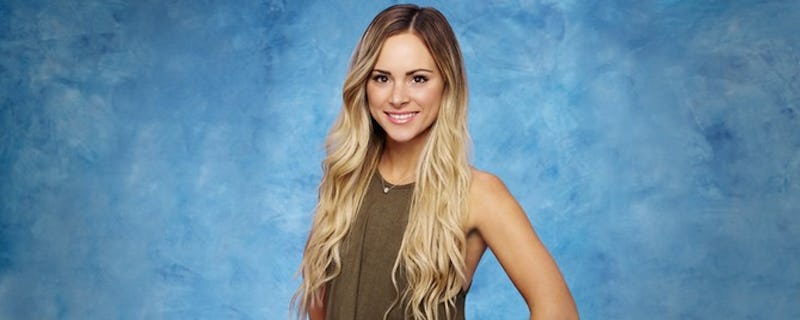 Was it just me or did every heart in America break when Ben Higgins sent home Amanda Stanton after hometown dates on The Bachelor? Everyone (except Ben) was into the sweet, single mother of two and fans' hearts really ached for her when she questioned the Bachelor about waiting until the rose ceremony to send her home and making her leave her family again. Yes, eliminations are the nature of the game and this is a reality TV show; Amanda knew what she was signing up for, but it was still really difficult to watch. Her love story is still unfinished and that is one of many reasons Amanda Stanton should be the next Bachelorette.
The timing of Amanda's rejection was particularly difficult because she just introduced Ben to her two daughters. Amanda made it clear that Ben meeting her girls was a big deal and that she would not do it unless she felt it was the right move. Even though I don't actually know Amanda, it really did feel like we were friends in some sort of one-sided friendship. It really was tough to watch her putting herself out there, abandoning her life, and doing what she could to be there with Ben and then getting sent home.
Here why she deserves a reality show redo as the next Bachelorette.
1. She Is A Great Mom
Amanda is an amazing mom who is devoted to her two daughters, and she is looking to find a man who is love with both her and the girls. This would be very compelling to see on the next season of The Bachelorette.
2. She Is Genuine
Everyone likes Amanda. She is such a genuine person, has a sweet disposition, and is someone who people would love to root for in her quest to find love.
3. She Is A Fan Of The Bachelor
Even though Amanda knew this season was not going to end in her favor, she still watched the show and supported it. She has the perspective as a contestant and a loyal viewer, which would be valuable to her as the star of The Bachelorette.
4. She Knows How To Speak Her Mind
Yes, Amanda is a total sweetheart, but she is no pushover. She is not going to let anyone put her down. Case in point, when Olivia made a rude comment about Amanda being a young mom and she stood up for herself and explained her perspective to Ben.
5. She Is A Good Sport
Amanda never had a poor attitude when other girls on The Bachelor got one-on-one dates or special attention from Ben. And aside from that, she actually ended up becoming good friends with the other contestants. Amanda and Lauren Bushnell even became besties through their experience on The Bachelor.
6. She Would Not Be The First Parent To Lead The Show
There have been single parents as Bachelor and Bachelorette before, so casting Amanda would not be so out of the box. And at the same time, she still has her own unique story and specific set of circumstances to make her story stand out from other single parent stars, like Emily Maynard or Juan Pablo Galavis.
7. She Has A Great Sense Of Humor
If Amanda was the Bachelorette, the entire season would not be some sob story about her being a single mom. She is a well-rounded person with a positive attitude who tries to find some humor in just about everything. She is always laughing and smiling and that is the kind of woman who America would love to cheer for on television.
8. She Knows What She Wants In Life
She is not someone who is trying to figure herself out. She has her career on lock, has a solid routine with her girls, and knows what she wants in a man. She will make her expectations clear if she is the next Bachelorette.
9. She Has A Lot Of Love To Give
Amanda has a big heart and is eager to give out her love beyond her friends, children, and family members. She has no qualms about sharing her feelings or her personal story and that would make for a wonderful season of The Bachelorette.
10. She Can Balance It All
Amanda knows how to manage her priorities. She is able to have great relationships with her friends, be a reliable parent for her daughters, and excel in her carer as an esthetician. It is obvious that Amanda knows how to manage her time and her relationships. She can pull off doing all of that and being in love.
Amanda deserves her shot at love. She is likable, relatable, and generous. There is no doubt that Amanda would make an ideal Bachelorette!
For more Bachelorette check out Bustle's Will You Accept This Podcast? below:
Image: ABC