'Zootopia' Might Be The First In A Franchise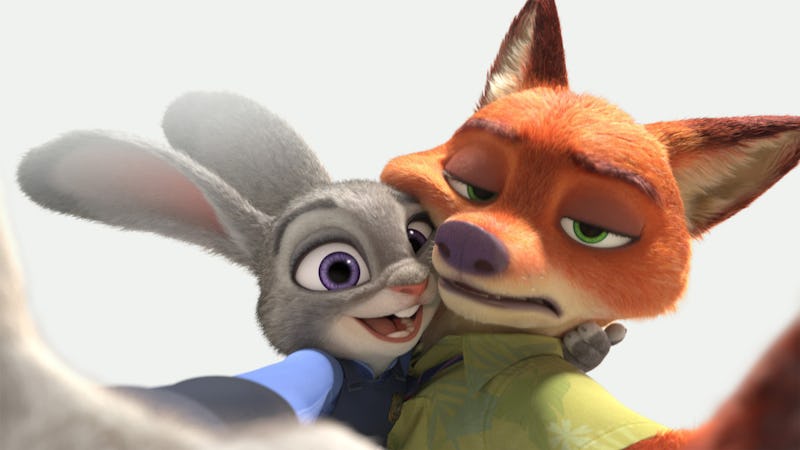 There's no denying that Disney animation has been on a roll lately. After losing its way for over a decade starting around 2000, the Mouse has come roaring back with a string of excellent films in the past few years, arguably even outdoing their subsidiary Pixar in that time frame. The last three animated features Disney released were 2012's Wreck It Ralph, 2013's Frozen, and 2014's Big Hero 6 — not a bad lineup at all. So after sitting out 2015, fans are expecting Disney's next animated release, Zootopia , to continue this new Disney Renaissance by being awesome. And since it looks like it's going to, fans also want to know: Will Zootopia have a sequel?
To understand whether or not Zootopia will earn a sequel, you first have to look back at the company's history. Unlike Pixar, who makes franchises out of nearly all of their features (Toy Story 4, anyone?), Disney has largely avoided doing so. In fact, of the 55 (counting Zootopia) films counted among Disney's Animated Classics, only three of them, The Rescuers Down Under, Fantasia 2000, and Winnie the Pooh are sequels; though the latter two are really better classified as reboots. So there is very little precedent for Disney producing a theatrical sequel of an animated film.
Now, you may be getting a flood of memories about Disney animated sequels like The Return of Jafar and The Lion King 2: Simba's Pride, and you're right, those movies exist. But they weren't theatrical releases, just low budget direct-to-video films produced by DisneyToon studios; hardly worthy of their predecessors. And though Disney mined their past for these direct-to-video sequels throughout the '90s, they haven't produced one in almost a decade, with the 2008 prequel The Little Mermaid: Ariel's Beginning.
But Disney seems to be switching up their sequel strategy. Both Wreck It Ralph and Frozen have sequels reportedly in the works, suggesting that Disney is finally recognizing the financial potential of big screen sequels to their popular animated films. Also, speaking of DisneyToon studios (which operates separately from Disney Animation, like Pixar), even they have gotten in on the theatrical sequel game, launching Planes in 2013 and following it up the next year with Planes: Fire and Rescue. So the door definitely seems open at Disney for a Zootopia sequel.
Even the film's directors are already thinking about the possibility. Speaking to Cinema Blend last year, director Rich Moore said this when asked if he thought Zootopia 2 was a possibility:
"I think it is, because of the worlds being so vast that it just naturally kind of lends itself to wanting to know more about it. It's like, because it is such a big place, well, what's going on there? I like that kind of stuff. I like a big cast of characters and a world that lets your imagination kind of… I grew up on Star Wars and it's like, what's behind that, or what if I went down there? What was going on over in that part of the Death Star? I think that's kind of our approach to building these worlds now, or just has a sense of there's more around the corner."
Basically, it's too early to determine whether or not Zootopia will have a sequel, but given the changing mindset at Disney, it definitely seems like one could be in the cards.
Images: Walt Disney Studios; giphy.com