This Project Turns Online Harassment Into Art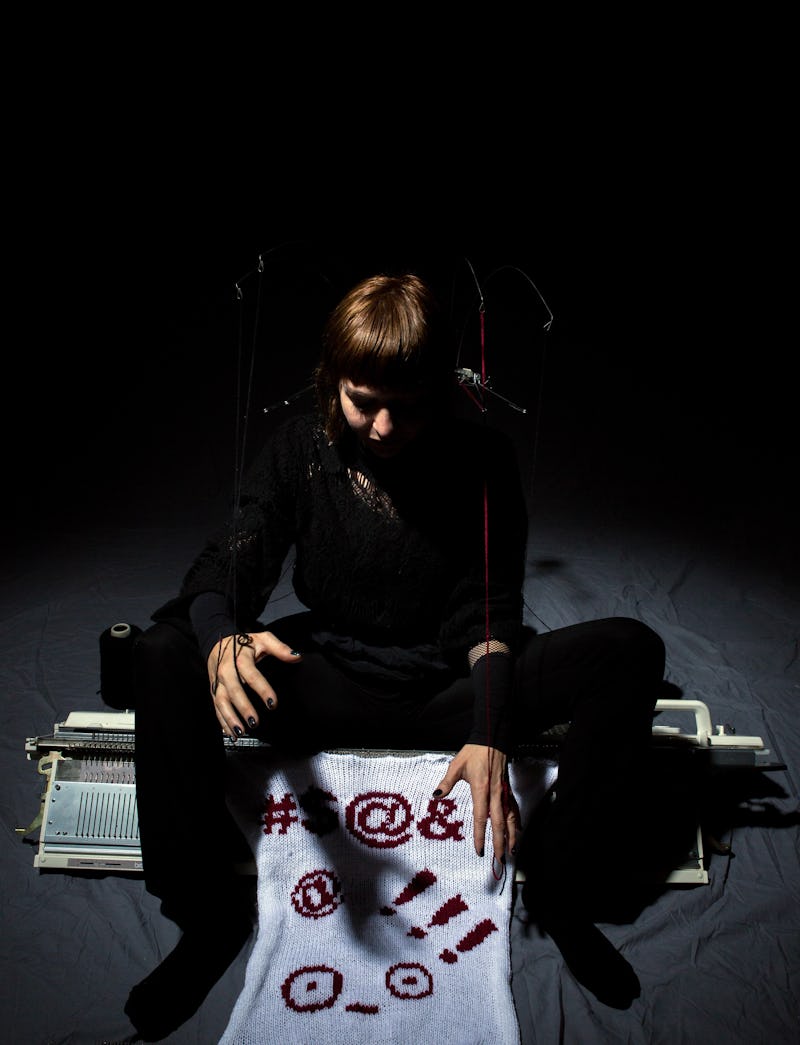 You might not know her name, but you probably remember the woman who took the Internet by storm for knitting out of her vagina. (Do I have your attention now?) The artist's project made her a hot topic across all platforms; now, Casey Jenkins is back with Programmed to Reproduce , creating art using the hateful words people threw at her after her previous project, Casting Off My Womb.
Jenkins first made headlines everywhere in 2013 with Casting Off My Womb, a performance art piece in which the artist knitted with yarn she had inserted into her vagina. The performance ran for 28 days at the Darwin Visual Arts Association, and the yarn — partially stained with period blood — was used to create a long scarf. What brought the project to the attention of the general public was a YouTube video documenting it; in total, the original video has been viewed over six million times. Unfortunately, though, what was supposed to be a peaceful and almost meditative expression ended up igniting a storm of abusive Internet hate.
Now, several years later, Jenkins is back with Programmed to Reproduce for the Festival of Live Art in Australia — and she's doing it with the help of the haters. In one part of the show, which runs through March 11, she uses industrial knitting machines to create banners displaying the negative and abusive comments people on the Internet have lobbed at her. She'll also be doing a reading of some of the feedback she received. And, just in case you thought Jenkins was scared away from doing what she believes in, another part of the show will feature her weaving a cocoon around herself using wool from — yup — her vagina.
Photo by Will Box.
In an email interview with Bustle, Jenkins says, "In Programmed to Reproduce, I'm exploring the nature and force of societal judgement, the pack mentality of shaming, its role in enforcing dominant cultural paradigms and its effect on individuals." Pack mentality. I found this to be a particularly intriguing point, because I feel like one or two negative comments can often open the floodgates to more Internet trolls. Can you imagine if the first several people to respond all expressed how much they loved her work? I wonder how that would change the outcome.
I think Jenkins' response is nothing short of brilliant. We can all have our own opinions as we please, and I don't think everyone needs to love her work — after all, isn't that the point of art? To open a dialogue or start a discussion? The problem is the complete lack of basic respect that so many people have. You don't have to agree with everyone, but you can disagree respectfully — there's no need for all the vitriol. And yet still, it persists.
I was curious if there were any comments specifically — good or bad —that stick out in Jenkins' mind. Certainly, some are more memorable than others, right? Wrong. "The fact that no individual response stood out was very significant to me," she explains.
Photo by Mark Burban.
"No individual comment was unique; every response had several or dozens or hundreds of clones," Jenkins says. "They often happened in batches, too — so if a headline declared my work was 'disgusting,' most commenters would just parrot that sentiment. In most places on the Internet there are very few restrictions on our expression — we have so much opportunity to express our individuality and yet most people succumb to herd pressure."
Skillful artist she is, however, Jenkins has found a way to take even the ugliest of words and turn them into thoughtful art. "I hope viewers might start to question how much of their own agency they've relinquished to be swept up in the tide of popular opinion and that they will begin to look at the mechanics of bullying and shaming behaviours with view to dismantling them," she tells Bustle. There's that pack mentality coming through again. Indeed, we are swayed by other people's opinions.
If there were ever a way to find a positive out of the negative, this would be it — and what creativity, intelligence, and insight Jenkins does it with. I'll openly admit that upon first catching up on her work, I was confused. I wondered what it all meant. But it's impossible not to feel the honesty and sincerity behind her work; and Programmed to Reproduce showcases even more the brilliant mind behind these interesting creations.
Programmed to Reproduce is on display as part of the Festival of Live Art through March 11. Visit the Festival of Live Art's website for details.
Images: All photos courtesy of Casey Jenkins; lede photo by Mark Burban.