ABC Should Break Tradition On 'The Bachelorette'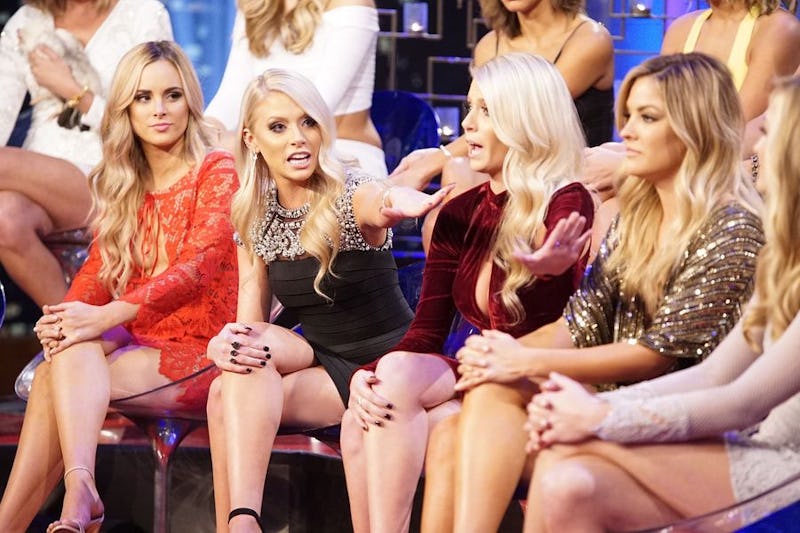 Now that The Bachelor season finale is almost here, most people are probably wondering who Ben Higgins proposes to, especially since he's confirmed that he's still engaged right now. But the big question on my mind is all about who the next Bachelorette would be, because that's what's going to get me through the sad period of rose ceremony-less television between the middle of March and the end of May. And although tradition dictates that ABC's next leading lady will come from Ben's pool of women — most likely second runner up Caila Quinn — I think they should try something different this year. The next Bachelorette shouldn't be from Ben's season, even if that decision would come across as a little controversial by the network.
As much as I love this season's contestants, there are so many opportunities for them to return to Bachelor Nation in other ways, like on Bachelor in Paradise this summer. Even being eliminated at a rose ceremony is rarely the last we see of anyone, so is it necessary to bring one of them back for The Bachelorette, too? Bringing in someone new could be really awesome for the show, and there are so many reasons why it would work.
1. There Are So Many Other Great Choices
The fact that there have been so many seasons of The Bachelor means that there are so many other women to choose from who weren't on this season. My personal favorite, should ABC go with this option, is Ashley Iaconetti. How awesome would her season be?! Plus, if it's not going to happen with Jared Haibon, it could be the perfect opportunity for her to get over him.
2. A Break In Tradition Could Be Interesting
And definitely unexpected. For a show that follows the same basic template from season to season, keeping things fresh is important, and this could be a good way to accomplish that.
3. It Doesn't Seem Like Fans Are As Invested In This Pool Of Contestants
As someone who is glued to Twitter every Monday night, watching what people are saying about the show, fans seem to be way less personally invested in the individual women than they usually are. I feel like there wouldn't be too much outrage if ABC decides to skip out on Ben's contestants just this once.
4. Who Could Live Up To Kaitlyn Bristowe?
She may have received a lot of social media hate, but I think most of us can agree that Kaitlyn was an awesome Bachelorette. She always had a good sense of humor about things that others would have taken seriously, and she also didn't let the conventions of the show keep her from doing what she thought was best for her, whether that meant taking one-on-one time with Nick Viall when she wasn't supposed to or sending someone home early if they said something rude to her. Can any of Ben's women live up to that? I'm not so sure.
5. A Real Celebrity Bachelorette Would Be Amazing
I know it was basically a joke, but I am totally here for Amy Schumer as Bachelorette. Her season would be funny, entertaining, and she definitely wouldn't let any of the guys get away with the petty stuff that we usually see on The Bachelorette. She'd keep it real 100 percent of the time, and it would be so much fun to watch.
6. And So Could A Total Stranger
Like JoJo's amazing mom, if she decides to split from her husband. But for real, there's a serious plus to going the outsider route: If a stranger is filming for The Bachelorette, spoilers could be harder to come by, adding to that element of surprise. If someone saw Caila being followed by a camera crew, the immediate thought would be that she's the next Bachelorette. Total random with a camera crew? That could be for anything.
But honestly, no matter who ABC chooses as the next Bachelorette, I'm still going to be watching. I live for the drama, no matter who's handing out the roses. But a fresh twist on a show that I've grown to love for it's predictability is definitely welcomed. Your move, Chris Harrison.
Images: Giphy (6), Kelsey McNeal/ABC