Ben Higgins Shouldn't Pop The Question To Anyone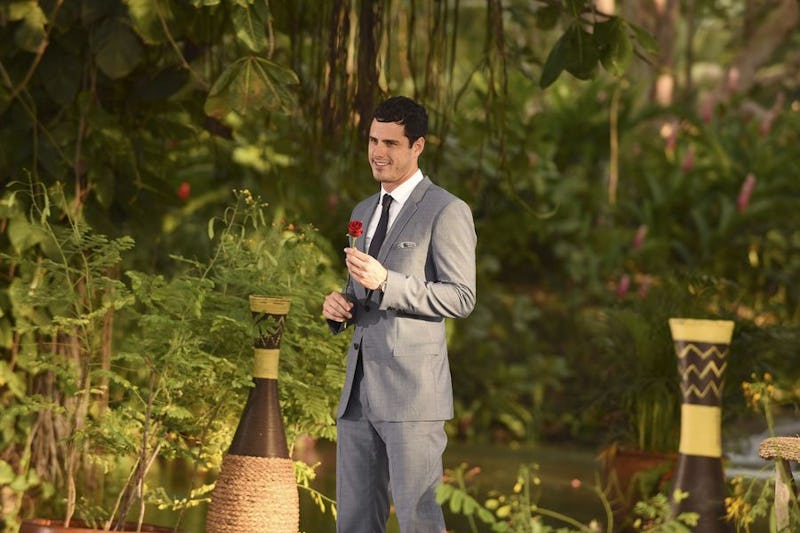 On Monday night, Bachelor fans will finally see the moment we've all been waiting for: Ben Higgins' proposal to either Lauren Bushnell or JoJo Fletcher. In many past seasons of the show, it's seemed to be pretty obvious who the front runner is before the final rose ceremony, but this time, the Bachelor's choice isn't quite so clear. Over the past few weeks (and especially after the fantasy suite dates) Ben has seemed really conflicted, and now, the time has come for him to make his decision on Monday night's finale. So who should he choose? Even though he obviously has strong feelings for both women, maybe Ben shouldn't choose anyone on The Bachelor .
Ben has two really awesome potential partners in front of him, so I totally understand if you think the idea of him walking away is crazy... and it would be a shame to let a shiny Neil Lane engagement ring go to waste. But the reason he should fly solo for now isn't because neither woman is right for him, but more because his decision seems so impossible. And why wouldn't it be? JoJo and Lauren are both amazing women. They're both beautiful, smart, interesting people who certainly seem to return his feelings, so it's not surprising at all that he's finding the choice difficult, and making those of us watching at home feel really awkward because of it as an added bonus.
And because Lauren and JoJo (and their relationships with Ben) are so different, it's hard to compare the two. Lauren has always been upfront about her feelings with Ben, and their connection has been strong from the start because of it. But for JoJo, their bond has been more gradual. Over time, she's opened up to him, and the chemistry is definitely there. Aside from JoJo's brothers giving Ben a hard time during that disastrous family dinner, it's been smooth sailing for Ben in both relationships, with no major incidents that could keep him away from either woman. No hiccups, no red flags, and it seems like they both want the same things Ben does in the future. I don't envy the position he's in at all, although it's not the worst situation he could be in.
Walking away from the show without a proposal — or at the very least, without making a choice, hasn't been too common in recent seasons. In fact, the last time that happened was in Season 11, when Brad Womack decided to remain single instead of popping the question. And Juan Pablo Galavis may have opted out of getting engaged, but he still chose Nikki Ferrell and they decided to date, and plenty of other Bachelors have done the same. Maybe Ben should have decided to keep dating both women instead? Not that that plan would have necessarily worked out either, of course. But as soon as I saw Ben tell both women he loves them during the fantasy suite dates, I knew he wouldn't be leaving without a fiancée, even if he might be better off if he did. And no matter what he does at this point, someone's going to end up blindsided and heartbroken.
I've never been on The Bachelor, so I can only speak from my own more traditional dating experiences when I say that being in love with two people very often means you aren't in love with either of them — at least, not yet. Although deciding who to spend the rest of your life with is clearly a really huge, important decision that shouldn't be taken lightly, it should also be an easy one. If Ben can't look at JoJo and Lauren and immediately know which one he wants to propose to, it might just not be meant to be. Or, more likely, it's that he hasn't spent enough time with either woman to know. Love at first sight (or first group date) is a nice idea in theory, but it doesn't always work out in real life. And unfortunately, The Bachelor really banks on the idea of that instant gratification.
Of course, we already know this isn't the route Ben has chosen to take, since earlier this month he broke the news on Good Morning America that he's still engaged and loving it. Here's hoping that Ben's happy with his decision and that this engagement is one that sticks. I think I speak for the entire Bachelor loving community when I say we could all finally use a happy ending from this show. And if nothing else, at least this proves that Ben's ridiculous idea that he's unloveable is wrong. I always suspected it!
Image: Matt Dunn/ABC, Giphy