How 'Hunger Games' Fans Can Keep The Series Alive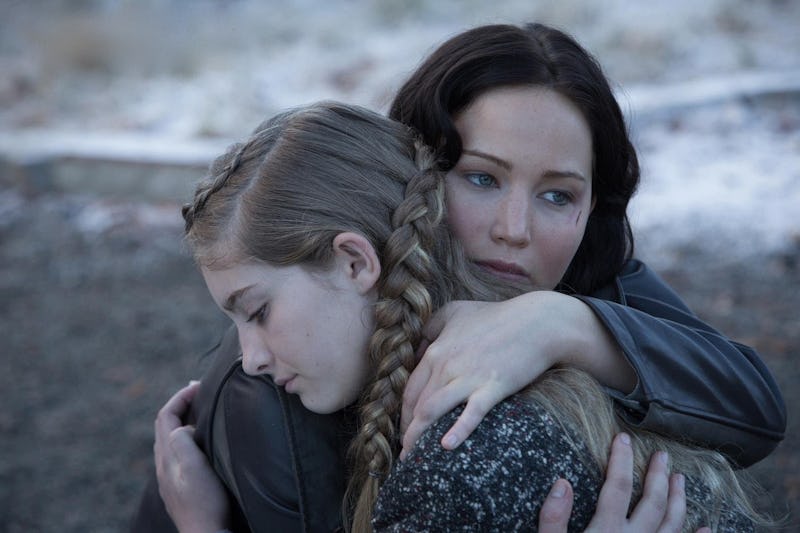 There is no limit to how many feelings I have about The Hunger Games series. The novels, as well as the movies, tell such an intriguing, compelling, emotional, and engaging story. Plus, the protagonist is an awesome female hero, which I really connected with the first time I read the books. Sadly, there isn't a lot for fans of the series to look forward to now that the movie franchise has concluded. But, there are so many ways to stay a Hunger Games fan, and star Willow Shields, who played Prim, even has some suggestions of how to cope with the pain of the movies ending.
"I worked on this series for like five years now, so it's definitely bittersweet [that it's over]," Shields says. "I think the series has done incredibly [well] ... so that's kind of all we can ask for. But, I had a lot of fun with it, so it's definitely sad for it to be over now."
But, as sad as it is, the final Mockingjay movie's release doesn't mark the end of the fandom. That's the great thing about a passionate fandom like this one, we're creative enough to keep the spirit of The Hunger Games alive for many years to come. Here are 12 ways to keep Katniss' fire burning bright.
1. Re-Watch The Films
Mockingjay Part 2 has just been released on DVD and Blu-Ray, so you can re-watch the entire series in one go now. Plus, the final film's DVD release brings with it never-before-seen bonus features, which is every mega fan's dream. As long as there are movies to watch and re-watch, the series is never really over, and Shields agrees.
"The great thing about The Hunger Games is I think it will be watched for many, many years," she says. "It's not only teenagers who love it or are fans of it. I think there's so many different age groups that love it, and I think it'll just be a film that's watched by families for a really long time."
2. Read The Books Again
I can personally attest that the books never get old. I have them all on audio tape, and I listen to them on my commute so that every morning I get a little bit of Hunger Games to hold onto through the day.
3. Get A Tattoo
If, you know, tattoos are your thing. I got an arrow last November for my birthday, and I smile every time I see it. Bustle has a list of Peeta-inspired, Katniss inspired, or just unique Hunger Games tattoos if you need inspiration!
4. Go To The Hunger Games Exhibition
It's currently open in San Francisco, and it's epic. I visited when it was in New York, and it was so cool to see all the props and learn about what went on behind-the-scenes, where according to Shields, the cast had a really good time together.
"We [had] more fun on set than I think any other movie," she reveals. "We joke[d] around so much that I remember the first day on set of Mockingjay, we barely got any work done. That's how much fun we were having, and it was like kind of a reunion for all of us because we were filming again ... It was just so much fun, and we all were just talking the whole time and joking around; it was awesome."
5. Throw A Themed Party
Invite all your fellow fans over, watch the movies, eat a lot of bread, braid each other's hair, etc. You can even make these Panem-inspired cocktails, courtesy of Cosmopolitan magazine, if you're having a grown-up party.
6. Re-Watch Their Press Tours
Shields is right when she says this cast has so much fun together. Check out videos from their past press tours and remember all over again why you love this series so much. A+ casting, for sure.
7. Hit Up Etsy
Simply search the site, or check out this list or this list of Hunger Games gifts. Just be prepared to empty your bank account when you realize you want all the things.
8. Check Out A Set Tour
You can visit the actual locations where the movies were filmed, and it doesn't get much cooler than that.
9. Take Archery Lessons
Make Katniss proud by getting in some target practice of your own. Most cities have archery classes, just use Google to find a place near you!
10. Channel Your Inner Katniss
Maybe give yourself a side braid one day or wear a Katniss-inspired sweater. (Side note: Can I please have Katniss' entire wardrobe now that the movies are over?)
11. Channel Your Inner Peeta
I spent a day last year creating all the recipes for the district breads so you, too, can bake to your heart's content.
12. Catch The Actors' New Projects
Keep tabs on Shields, Jennifer Lawrence, Josh Hutcherson, Liam Hemsworth, and more with their new and upcoming projects. Their respective IMDb pages reveal that they have a lot of cool things going on!
It's very sad that the movies are over, but series will live on forever in the hearts of those who love it the most. Once a Hunger Games fan, always a Hunger Games fan.
Images: Lionsgate; weheartit