16 Of The Best Nonfiction Books Of April 2016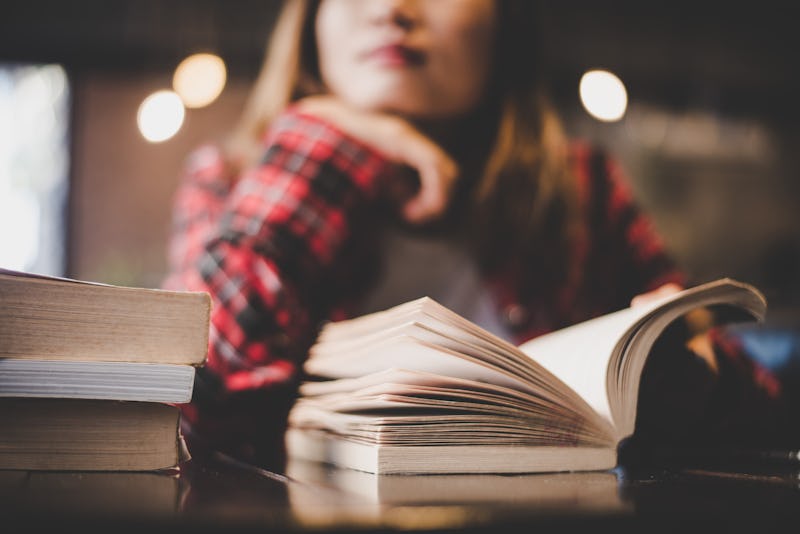 April welcomes in a lot of great things, with spring weather, potential tax refunds, and TV shows among the best of them (you know what I'm talking about, Game of Thrones fans). Better still, though? The crop of nonfiction books released in April will certainly help us get through the showers leading up to May flowers.
Whether the weather inspires you to read indoors or out in the coming weeks, there's no shortage of intriguing work coming out in the nonfiction category this month. Authors have tackled everything from the iconic TV series Golden Girls to heartbreaking true crimes to the joys (and nightmares) of motherhood. There are stories of historic Arabic texts being saved from al Qaeda, tales of everyday sexism, and lessons on how to embrace your curves.
The real challenge won't be finding something to read in April, no matter your genre preferences — it will be finding the time to get through all the tempting books you add to your list this month. You'll have to make tough choices, but in the end, you'll thank yourself for doing it.
If you're looking for great reads this month, below are 16 of April's best nonfiction options. Be sure to check out our April 2016 YA book recommendations and adult fiction recommendations, as well.
1. Golden Girls Forever by Jim Colucci (April 5; Harper Design)
Fans of the 1980s sitcom will go crazy over Jim Colucci's Golden Girls Forever: An Unauthorized Look Behind the Lanai. The book gives a behind-the-scenes look at the cult classic's seven-season run, revealing fascinating new facts, stories, insight, and photos. With interviews with the show's creators, stars, producers, writers, crew, and guest actors, it's a more practical alternative to traveling in time back to visit the set.
Whether you're a mom, you aspire to be one, or motherhood makes you curious, I Want My Epidural Back: Adventures in Mediocre Parenting by Karen Alpert offers a stiff dose of candor. A parent herself, Alpert shares entertaining anecdotes and reflections about the realities of raising a child. She makes it clear that "getting something giant through your hooha" is only the first painful challenge, while emphasizes that it's OK if you aren't perfect.
3. Everyday Sexism by Laura Bates (April 5; St. Martin's Griffin)
Laura Bates used her frustration about sexual harassment and turned it into something positive, first by launching a project called Everyday Sexism, and then by writing a book of the same name. Like the website, Bates' book, in a new special hardcover edition, allows women to share their stories of experiencing sexism so that their voices can be heard, helping people understand why society must recognize the problem. Her approach is inspiring, even as the content is, unfortunately, all too relatable for women everywhere.
4. True Crimes by Kathryn Harrison (April 5; Random House)
A collection of enthralling essays from Kathryn Harrison, True Crimes: A Family Album focuses on the acclaimed author's own family. She covers a variety of issues, ranging from motherhood to aging to illness. Her writing is both provocative and honest as she delves into her complicated (and disturbing) relationship with her father, how she gained a better understanding of her mother once a parent herself, and more.
5. Taste as Experience by Nicola Perullo (April 5; Columbia University Press)
Taste as Experience: The Philosophy and Aesthetics of Food by Nicola Perullo is bound to be fascinating for foodies. The book examines our enjoyment of eating and how taste influences our preferences and the ways we relate to nature. You'll find the food is much more than just fuel, if you weren't convinced already.
Journalist Laura Tillman examines a horrifying crime in The Long Shadow of Small Ghosts: Murder and Memory in an American City — the 2003 murder of three Texas children at the hands of their parents. Tillman goes beyond the crime itself and explores the causes as well as the impact on the community. The book touches on important social issues, including poverty, mental illness, and the death penalty.
7. Rise of the Rocket Girls by Natalia Holt (April 5; Little, Brown and Company)
It's not easy being a woman in STEM, but that's not to say that women haven't left a mark in science and math, of course. In Rise of the Rocket Girls: The Women Who Propelled Us, from Missiles to the Moon to Mars, Natalia Holt details how a group of young women used their extraordinary mathematical expertise to contribute to essential space research. Their hard work led to improved rocket design, satellite launches, and more — and they didn't even use calculators.
8. Hamilton by Lin-Manuel Miranda and Jeffrey Seller (April 12; Grand Central Publishing)
Getting tickets to the musical Hamilton is nearly impossible, so you may have to settle for reading Hamilton: The Revolution. Written by Lin-Manuel Miranda, the show's creator and star, with theatrical producer Jeffrey Seller, the book includes Hamilton's full libretto (complete with funny footnotes). Although technically in the performing arts genre, it also follows the musical from its early stages to its massive success, including emails, photo, and interviews with key players.
9. First Women by Kate Andersen Bower (April 12; Harper)
Past U.S. presidents have typically gotten a bigger share of the limelight than their wives, but that changes in Kate Andersen Bower's First Women: The Grace and Power of America's Modern First Ladies. The bestselling author shows how the role of First Lady is underestimated by looking at 10 modern women who have held the position, from Jackie Kennedy to Michelle Obama. The book's stories are revealing, and they'll give you a new appreciation for the savviness required of any FLOTUS.
Marijuana has been decriminalized in an increasing number of states, and attitudes toward the drug are changing. In response to these developments, VICE weed columnist David Bienenstock has tackled the basics of cannabis use in How to Smoke Pot (Properly): A Highbrow Guide to Getting High. The book offers practical information about the notorious plant, plus provides hilarious answers to less serious (but still burning) questions, such as whether one should eat a weed cookie prior to catching a flight.
11. The Abundance by Annie Dillard (April 15; Ecco)
Pulitzer Prize-winner Annie Dillard gifts fans with a new collection in The Abundance: Narrative Essays Old and New. Opening with an introduction by fellow writer Geoff Dyer, the book features more of Dillard's beautiful observations of the world. She immerses readers into stunning scenes, upgrading ordinary experiences to extraordinary.
Although the body positivity movement is gaining traction and encouraging all of us to let go of body hate, the fashion industry often isn't kind to those who fall outside of "acceptable" sizes. In The Art of Dressing Curves: The Best-Kept Secrets of a Fashion Stylist, Susan Moses uses her expertise to help women embrace and show off their curves. Her style guide dispenses a shot of confidence and proves that fashion can be fun, no matter your size or shape.
Love it or hate it, guns are a deeply rooted part of American culture. Pamela Haag examines the evolution of the role of firearms in the United States, from the American Revolution to today. Along the way, she debunks myths about gun culture, often using the absorbing history of Winchester Repeating Arms Company.
"Bad-ass" may not be the first descriptor that comes to mind when thinking of librarians, but the ones featured in Joshua Hammer's new book have earned the title. In The Bad-Ass Librarians of Timbuktu: And Their Race to Save the World's Most Precious Manuscripts, we learn how al Qaeda's attempts to destroy centuries-old Arabic texts were thwarted. It's an engrossing tale, complete with a dangerous smuggling operation.
15. Enter Helen by Brooke Hauser (April 19; Harper)
It's no secret that workplace wasn't an easy place for a woman to excel in previous decades — or that we still have problems today. We owe a lot to the women before us, and Brooke Hauser's Enter Helen: The Invention of Helen Gurley Brown and the Rise of the Modern Single Woman centers on one of them. The book follows Gurley's ascent to leading Cosmopolitan and how she used the magazine to inspire fellow women. Well-known figures like Gloria Steinem, Hugh Hefner, and Nora Ephron even make appearances.
16. Sex with Shakespeare by Jillian Keenan (April 26; William Morrow)
William Shakespeare's work is a staple in seemingly every high school English class, but his plays' takeaways aren't solely literary. In Sex with Shakespeare: Here's Much to Do with Pain, but More with Love, Jillian Keenan reveals how the revered playwright helped her come to terms with her sexual identity. Full of humor, her memoir explores the lessons she learned from the Bard, ranging from fetish to communication to love.
Image: Fotolia