15 Darling Lace Pieces For Plus Size Gals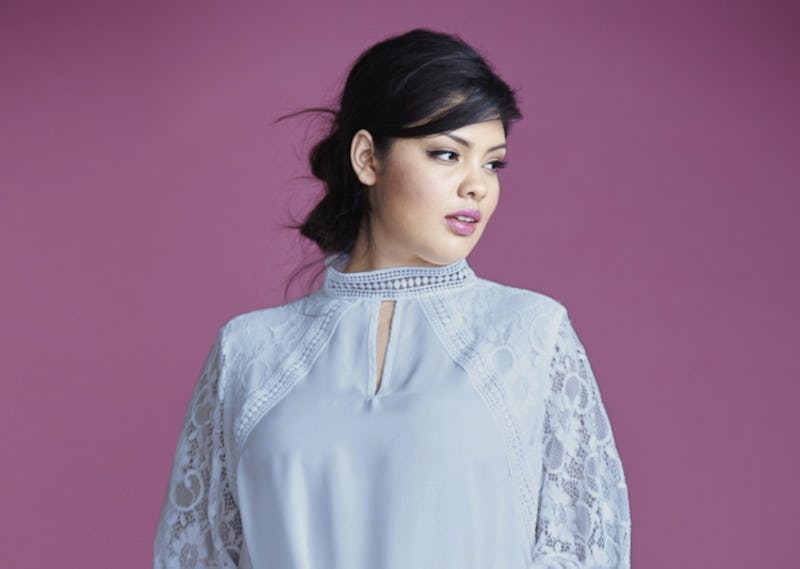 Lace is a decadent fabric that can add a touch of elegance to any garment. As spring is well under way in much of the world, you might be searching for the perfect plus size lace fashions to add to your wardrobe. After all, lace is a cyclical trend that has come back into vogue more times than you can probably count.
Lace is reminiscent of the Victorian era, and the modern Victoriana trend that is often seen alongside Steampunk fashions. However, it is also a material that has been long used in the creation of very specific garments. I mean, lingerie wouldn't be anywhere near as saucy without the addition of lace. It's also utilized in a big way within the wedding dress industry. Remember Kate Middleton's gorgeous wedding dress with its sophisticated, statement lace sleeves? Not to mention all those baby christening gowns of the world.
Lace is also timeless and can be worn at any age. Kim Kardashian and North West prove it's a good look for anyone. In fact, Kim K seems to be a big fan of the material: She was snapped in a decadent lace gown during pregnancy and she named her black lace Givenchy dress her fave ensemble of 2014 — which, considering how many outfits she wears, is really saying something.
If it's good enough for Kate Middleton and Kim Kardashian, it's good enough for everyone else, right? So here are some enchanting plus size lace pieces to see you through 2016.
1. The Lace Babydoll
Lace Bodice Babydoll Tank Top, $25.87, torrid.com
Come over all Daisy Buchanan in a light lace number.
2. The Tickled Pink Mini
Lace Mini Skirt, $33.37, torrid.com
This pretty, pink skirt will have you feeling like you're wearing rose tinted spectacles.
3. The Eyelash Lace Knit
Plus Size Eyelash Lace-Paneled Top, $22.90, forever21.com
Searching for a smart casual sweater? This prim knit effortlessly fits the bill.
4. The Lacy Prom Dress
Plus Size Lace Prom Dress Blush, $93.50, missguidedus.com
You'll look like the belle of the ball in this elegant number.
5. The Floral Bomber
Lace Bomber Jacket, $40.87, torrid.com
Rebel Wilson helped make bombers a trend this spring through her Torrid collection. Be totally fashion-forward and merge two seasonal trends together with this lace bomber jacket.
6. The Black Bardot Playsuit
Plus Size Bardot Lace Trim Playsuit Black, $47.60, missguidedus.com
Unleash your inner Brigitte Bardot in this cute playsuit.
Want more fashion and beauty tips? Check out the playlist below, and be sure to subscribe to Bustle's YouTube page for more hacks and tricks!
7. The Plunging Bralette
Plus Joanna Lace Plunge Bralet, $26, boohoo.com
This feminine, lace bralette is a must-pack for your next vacation.
8. The Lace Cover Up
Lace Swim Cover Up, $38.50, torrid.com
Make a stylish splash by the pool or on the beach this summer in this luxe, lace cover up.
9. The Bodysuit
Lace Bodysuit, $45, chubbycartwheels.com
Dare to bare all in this lace bodysuit as the temperature rises this summer. More modest folks can pair this foxy bodysuit with their favorite skirt or shorts instead. This style is available in black or white depending on your preference.
10. The Detailed Skater Dress
Plus Alicia Lace Detail Skater Dress, $40, boohoo.com
Skater dresses are fast becoming a wardrobe staple, so add a little pizazz to your closet with a lacy skater.
11. The Fancy Leggings
Lace Trim Full Length Leggings, $24.37, torrid.com
Throughout the colder months, it can sometimes feel like you literally live in leggings. If this sounds like you, level up your game with a pair of lacy ones.
12. The Baby Blue Blouse
Simply Be Lace Insert Blouse, $57.50, simplybe.com
Going somewhere special? Invest in a formal lace blouse to dress appropriately for the occasion.
13. The Cold Shoulder Trim
Lace Trim Cold Shoulder Top, $28.87, torrid.com
It appears that cold shoulders are here to stay, at least for now, so go for a more unusual style with a lace trim cold shoulder top.
14. The Glam Jumpsuit
Little Mistress Lace Wrap Jumpsuit, $117.50, simplybe.com
Tired of wearing dresses and skirts, but still want to look super feminine? A lacy jumpsuit could be your answer.
15. The Lacy Shoes
Sole Diva Lace Platform EEE Fit, $57.50, simplybe.com
When you're in need of a touch of lace, pop on a pair of platforms to inject some luxe into your look.
Whether you're going for feminine, ethereal, classic, regal, traditional, or sexy, lace has got you covered.
Images: Courtesy Brands