17 Outrageous Looks To Wear On Your Birthday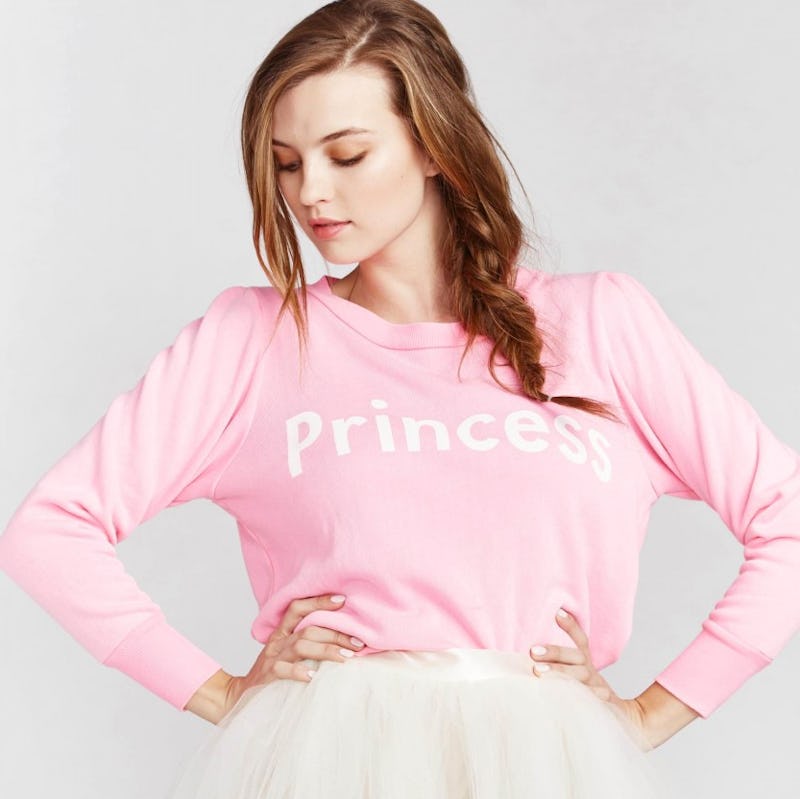 So your birthday is on the horizon and you can't decide what to wear. Whether you're staying in all day, throwing a house party, or going out, it's always fun to celebrate your birthday in style. For some people this might mean rocking a decadent designer dress or wearing a swanky vintage find, but for others it means letting your hair down and really having fun with fashion.
Depending on your plans, you might need to look semi-professional or even go for some chill vibes like Gigi Hadid on her 21st birthday. However, if you're more of a Taylor Swift when it comes to celebrating your birthday, you may want something a little more quirky. One of Taylor's most memorable birthday parties has to be her winter wonderland themed bash, although her 25th birthday party included party hats, reindeer antler headbands, and a poop emoji mask, so it's too close to call. In fact, Taylor is the best party planner, whether it be her birthday or someone else's. She stylishly slayed at her BFF Abigail's surprise party in cute co-ords paired with a fluffy tiara and a feather boa when posing for photos. So celebrate your birthday in novelty clothes and accessories, because the opportunity comes but once a year.
1. The Princess Sweater
Couch Princess Sweater, $108, Wild Fox
No matter if you act like one all year round, your birthday is the one day a year where you can actually get away with being a princess.
2. The Birthday Headband
Ban.Do Girl Talk Happy Birthday Headband, $18, ASOS
Every princess needs a tiara, so don't leave the house without yours!
3. The Spot On Sleep Tee
ASOS Curve 'Glitter For Breakfast' Sleep Tee, $30, ASOS
This 'Glitter For Breakfast' slogan sleep tee is spot on. Don't forget to take yours with a side of birthday cake.
4. The Mermaid Tears Bag
Skinnydip Mermaid Box Bag In Blue Glitter, $54, ASOS
Of course it's your party and you can cry if you want to, but why not put your worries aside for one day and flaunt this kooky mermaid tears handbag instead?
5. The Birthday Candle Necklace
Ceramic Birthday Candles Beaded Necklace, $75, Etsy
Sport this kitsch, birthday candle necklace to show the world it's your big day while looking super cute.
6. The OTT Dress
ASOS Premium Embellished Collar Crop Top Skater Dress, $154, ASOS
There's a lot going on with this adorable, pink skater dress, so if you want all eyes on you, this frock will help you in becoming the center of attention.
ASOS Curve Maxi Dress With Mirror Embellished Crop Top, $154, ASOS
If you prefer a maxi, this white dress with a birthday cake colored top half, makes for a slightly more modest ensemble.
7. The Drinking Shirt
Drinking Shirt Louise Tee, $77, Wild Fox
Put on your dancing shoes and your drinking shirt and nothing will stop you having the night of your life!
8. The Magical Swimwear
Wildfox Unicorn Moon Star Crop Bikini Top, $170, ASOS | Wildfox Moon Star String Bikini Bottoms, $101, ASOS
If you're on vacation for you're birthday (lucky you!) don't forget to pack this magical bikini set.
9. The Troll Pin
Laser Kitten Sparkles The Troll Pin, $12, Urban Outfitters
As we get older, we sometimes forget to have fun. Rectify this on your birthday by wearing this nostalgic troll pin to remind you that you're only as old as you feel!
10. The Hair Glitter
Hair Glitter, $7, Boo Hoo
There is no such thing as too much glitter. When your birthday comes along, transform into a fairy with some glam hair glitter.
11. The Wine Handbag
Wine Handbag, $43, Fire Box
No celebration would be complete without a wine handbag! Choose from red, white, or rose or pick your favorite handbag design instead.
12. The Foxy Bodysuit
ASOS Night Illusion Body With Placed Embellishment, $52, ASOS
This racy bodysuit is perfect for gals who love to surprise their party guests with their daring fashion choices.
Mesh Bodysuit, $45, Chubby Cartwheels
This mesh style will help fashion forward folks push boundaries on their birthday too. Available in Black, Red, or Fuschia.
13. The Handicorn
If you have to work on your birthday, you might as well have a little fun at your desk by transforming your hand into a unicorn.
14. The Pom Pom Leg Ties
Olivia Pom Pom Leg Ties, $10, Boo Hoo
Why should your feet have all the fun? Invite your legs to the party with these rad pom pom leg ties.
15. The Delicious Footwear
Pineapple Flats (Wide Width,) $20, Torrid
Birthdays are a time to treat yourself and indulge in all of your favorite foods. Wear these whacky pineapple flats to showcase your appetite for fun fashion.
Cupcake Heel – Multi Iron Fist, $57, Heels
It wouldn't be a birthday without some cake! Clomp around all day in these sweet cupcake heels until you can get your hands on the real thing.
16. The Inflatable Crown
NPW Queen For The Day Inflatable Crown, $6, ASOS
If you want to get really silly, pop an inflatable crown on your head to become a queen for the day.
17. The Coronation Cloak
Her Universe Star Wars Collection Darth Vader Cape Dress, $68, Torrid
Begin your day's reign in a black cape dress that you could totally get away with wearing for work.
Coronation Cape, $73, Etsy
If you've got the day off, lounge around in your coronation cape worn over your PJs and let your loyal subjects eat cake.
Your birthday is the one day of the year when you can do whatever you please. If that includes wearing an inflatable crown, drinking wine, and eating cake for breakfast, lunch, and dinner that's what you should do!
Images: Courtesy Brands