15 Options For Matching The PRISM Highlighter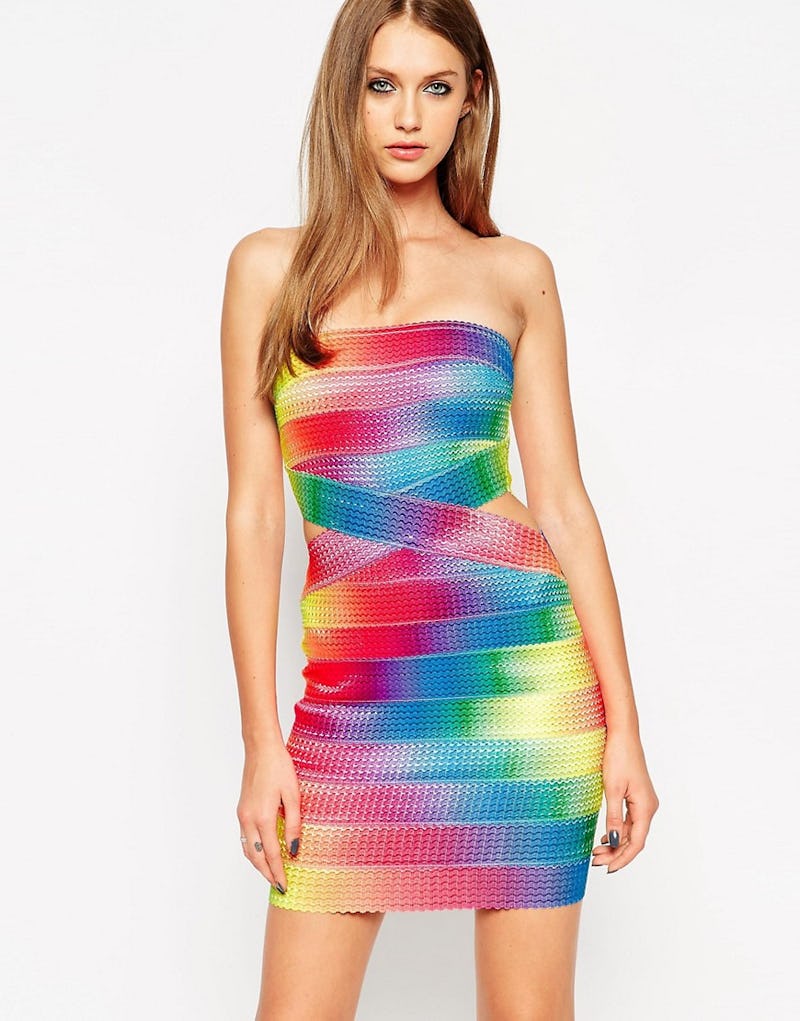 Rainbow highlighter is here and it almost broke the internet. It's easy to see why the world has gone wild for Etsy store Bitter Lace Beauty's rainbow highlighter — it's the iridescent, multi-hued highlighter of your daydreams. The colorful highlighter, aptly named PRISM, contains six different shades that, when swept onto your cheekbones, makes it look like you're wearing a rainbow. You can wear the shades separately if you desire, but for a magical makeup look that makes wearers look like unicorns in real life, you'll want to apply them all with one sweep.
Sadly, PRISM is sold out right now, but the good news is it will be restocked very soon. While you're waiting to get your hands on PRISM, now's the time to contemplate what to wear to complement this enchanting highlighter. If you're an ethereal loving babe, you might want to consider rainbow clothes to match your fantastical face. Over the past couple of years, rainbow fashion and beauty has been on the rise, which could be down to the Rainbow Brite reboot in 2014 or the popularity of magical unicorn style. So far in 2016, we've seen adorable multicolored freckles and cool rainbow roots proving popular in the world of whimsical beauty trends.
So here are some colorful clothes to complement PRISM and make you feel like you've slid down a rainbow.
1. The Rainbow Stripe Tee
Asos T-Shirt With Rainbow Stripe, $26, ASOS
Keep it casual with a stripy multi-colored tee.
2. The Knit Dress
UNIF Knitted Chroma Dress With In Festival Rainbow, $133, ASOS
This edgy rainbow dress will look awesome with a pair of heeled Dr. Martens and a biker jacket.
3. The Rainbow Detail Cardigan
You Heard That Bright Cardigan, $50, Modcloth
Add some color to your workwear wardrobe with this quirky cardigan that's currently available in sizes 1X to 4X.
4. The Playsuit
Raine Rainbow Print Strappy Swing Playsuit, $16, Boohoo
What could be more fun than a rainbow colored romper?
5. The Pom Pom Keychain
Asos Rainbow Pom Keychain, $10, ASOS
Add a splash of color to a drab handbag with a rainbow pom pom.
6. The One Piece
Aqua Situation One-Piece Swimsuit In Black – 1X-3X, $73, Modcloth
For a little taste of the rainbow, sport this plus sized one piece by the pool this summer.
7. The Spectrum Sandals
Rainbow Tubular Sandals, $85, Topshop
Add a colorful kick to your step with these contemporary sandals.
8. The Psychedelic Set
Jaded London Rainbow Cutout Crop Top, $31, Forever 21 & Jaded London Rainbow Print Mini Skirt, $50, Forever 21
Unleash your inner hippie in this co-ord set with a super, psychedelic pattern.
9. The Bandage Dress
Sculpt Premium Bandage Festival Rainbow Bandage Dress, $49, ASOS
Put a modern spin on the rainbow trend by flaunting a skin tight bandage dress.
10. The Cooler Bag
Ban.Do Giant Rainbow Cooler Bag, $46, ASOS
Pack up a picnic in this cute, rainbow cooler on lazy summer days.
11. The Fuzzy Sweater
Eric + Lani Fuzzy Rainbow Sweater, $45, Forever 21
Lend this ethereal trend a hard edge with a cool, fuzzy rainbow sweater.
12. The '90s Choker
Rainbow Glitter Spike Choker, $8, Hot Topic
This '90s style choker flies the flag for creepy, cute fashion.
13. The Crop Top
UNIF High Neck OTR Rainbow Festival Crop Top, $104, ASOS
Get festival ready in this rockin' rainbow crop top.
14. The Rainbow Jeans
Rainbow With Me Jeans, $70, Modcloth
Jeans become way more interesting when there's a rainbow travelling down one leg!
15. The Backpack
Mini Festival Rainbow Backpack, $33, ASOS
Make traveling more fun with a colorful backpack.
A whimsical wardrobe has never been easier to achieve with rainbow fashions. So prepare for the PRISM restock and order your fave fantasy fashions today.
Images: Courtesy Brands