Colorful Workwear To Brighten Up Your Weekdays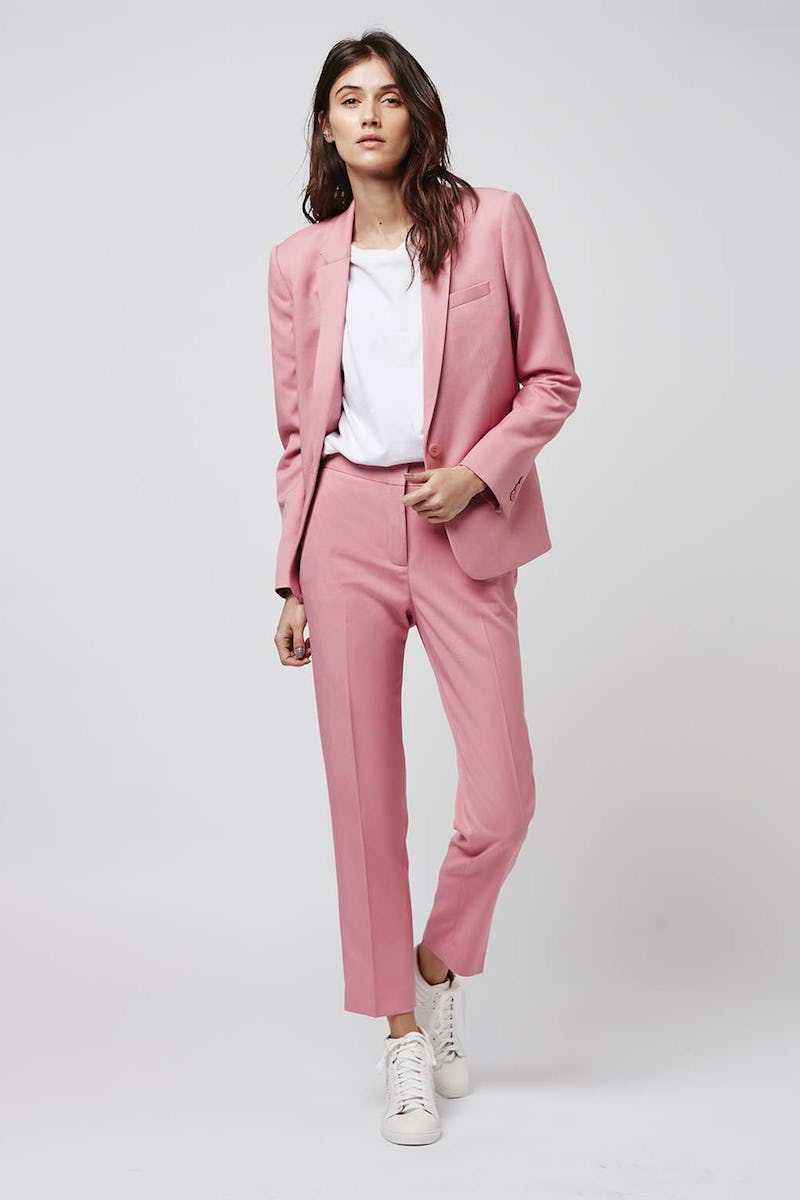 When you think about workwear, do you envisage plain, white blouses, black pencil skirts, and gray suits? Me too. But it doesn't have to be that way. You can easily find colorful workwear thanks to the Internet. If you're a little shy of going bold straight off the bat, you can even subtly inject some color into your office attire through accessories and statement pieces. Folks who love to dress in rainbow shades outside of work can play with color-blocking to satisfy their cravings for bright hues.
Legally Blonde 's Elle Woods taught us that we shouldn't downplay our wardrobes — or our personalities — to fit in with others, even in a professional setting. I'd like to think there's not as much stigma attached to pink these days. But if the people in your office still believe archaic gendered stereotypes, try to prove them wrong by slaying the workday in head to toe rose. The ladies of Mad Men had no problem wearing colorful garments to work, after all, and their retro wardrobes are enviable even in 2016.
Of course, some work environments do require specific uniforms, but you can often use jewelry, makeup, and accessories to give your look a dash of color. If you are free to experiment with a spectrum of shades, take a peek at these colorful, fun fashions. Because why would you stick to one color when there's a whole rainbow to choose from?
1. The Scarlet Shirt Dress
Key To Classic Dress, $80, Modcloth
Become the lady in red while wearing this classic shirt style dress. It's available in sizes XS to 4X.
2. The Edgy Olive Dress
Utility Style Sleeveless Blazer Dress Olive Green, $68, Missguided
Rock a cool androgynous vibe in an olive green, utility style dress.
3. The Color Pop Collar
Contrast Collar Tunic, $89, Eloquii
Take a subtle approach with this tunic featuring a pop of pink.
4. The '60s Shift Dress
Popper Shift Dress, $75, Topshop
Make a nod to the 1960s in this vibrant tangerine shift dress.
5. The Powder Blue Pencil Skirt
Eyelet Pencil Skirt, $85, Eloquii
Pick this powder blue hue for a cool vibe with a feminine edge.
6. The Pretty Pink Dress
Ever The Entrepreneur Dress, $130, Modcloth
Look lovely in this charming pink dress with scalloped applique details.
7. The Sherbert Suit
Hartwood Blazer, $100, Eloquii | Kady Fit SRL Pant, $80, Eloquii
Mix and match these zesty suit separates or wear them together for a really fresh outfit.
8. The Dusky Pink Suit
Premium Fitted Suit Blazer And Tapered Pants, $193, Topshop
Pink doesn't always have to be feminine, as exemplified with this cool, tailored suit. Dress it up or down depending on your mood and whether or not you have any meetings on the horizon.
9. The Hi-Lo Blouse
Georgette Hi-Lo Tunic Blouse, $37, Torrid
Just as workwear needn't be dull, it also needn't have to be simple, either. There are no rules when it comes to fashion, right? This teal blouse with a hi-lo hem is an awesome choice for plus size babes who want to wear something a little different to work.
10. The Starry Shirt
Star Print Shirt, $70, Topshop
Add a touch of color and whimsy to your workwear wardrobe with this star print shirt.
11. The Lemon Yellow Shirt
Chiffon Shirt, $15, Torrid
Look and feel fresh in a lemon yellow chiffon shirt that's sure to keep you cool in warmer months.
12. The Duck Egg Blue Co-ords
Tweedy Blazer with Scallop Edge Co-ord, $94, ASOS | Tweedy Mini Skirt with Scallop Detail Co-ord, $60, ASOS
Pick a prim and proper ensemble to feel like a total girl boss.
13. The Blue Bow Blouse
Bow Blouse, $60, Eloquii
Choose a calming blue shade to help you de-stress during your day.
14. The Striking Cigarette Pants
Cigarette Pant with Tuxedo Detail, $60, ASOS
Show everyone that you mean business in a statement pair of cigarette pants.
15. The Stripy Shift
Plus Sallie Striped Shift Dress, $26, Boohoo
Can't pick your favorite color? With this stripy shift, you don't have to be limited to just one.
16. The Shorts Suit
Pocket Detail High Waist Shorts Red, $34, Missguided | Boyfriend Suit Blazer Red, $68, Missguided
Don't get hot under the collar at work; opt for a breezy shorts suit instead.
17. The Marvellous Mustard Blouse
Bow Detail Blouse, $66, Eloquii
Channel your inner Blair Waldorf in this mustard yellow blouse with a sophisticated bow detail.
18. The Quirky Loafers
Electric Slide, $165, Irregular Choice
It's easy being green with these awesome loafers. They'll have you looking as cool as a cucumber.
Heavenly Soles Loafers EEE Fit, $57, Simplybe
Perhaps this wide fit, tomato colored pair is a better fit for your optimistic personality.
19. The Bright Courts
Faith Carey Berry Patent Pumps, $67, ASOS
If pink heels were good enough for Elle Woods, they're certainly good enough for me.
Sole Diva Platform Court Shoes EEE Fit, $41, Simplybe
Spread a little sunshine in your office, even if it's miserable outside, with these cheery orange heels.
Workwear shouldn't be boring. It should be an extension of your colorful personality. So start building your perfect rainbow closet today.
Want more fashion and beauty tips? Check out the playlist below, and be sure to subscribe to Bustle's YouTube page for more hacks and tricks!
Images: Courtesy Brands