Weird Things We Made Jelly Versions Of In The '90s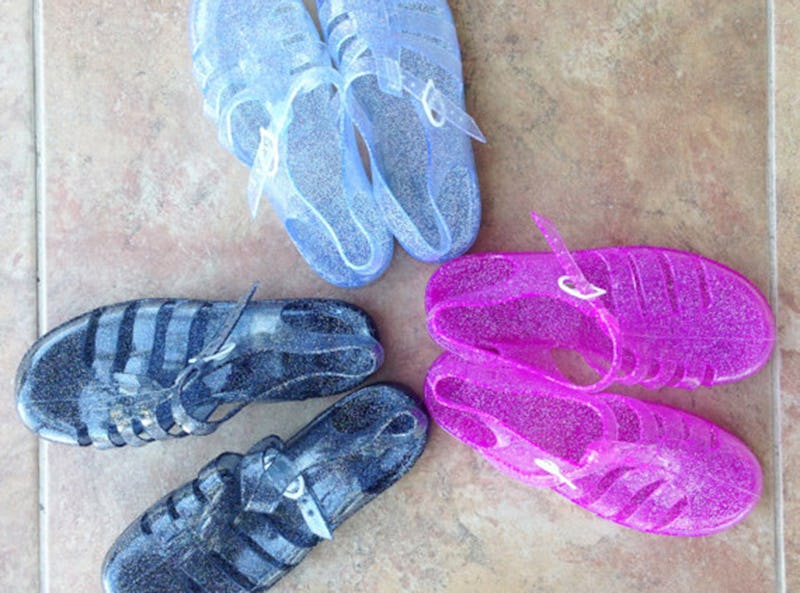 In the '90s, we as a society were oddly obsessed with all things made out of jelly. Needed bracelets to match your new dress? You could snag yourself some jelly bangles. And how about new shoes to pair with said dress and aforementioned bracelets? Jelly flats would be an excellent finishing touch. And if you were wearing a watch, you know it was the jelly-like Baby-G Shock. Need one more thing. Swap image.
Even more interesting (and arguably exciting) is that some of these items are making a comeback in 2016. In fact, I recently ran into an old friend who admitted to wearing stick-on earrings to the coffee house because her piercings recently closed up. Thankfully she didn't pay using change from a jelly coin purse. That would have been pushing the nostalgia too far. Turns out our obsession with all things jelly is not so easy to nullify.
For a classic blast from the past, take a look at these 11 weird things made out of jelly that had their heyday in the '90s. For extra fun, count how many of these items you actually owned two decades ago. And then count how many you still own today.
1. Watches
Baby-g Women's Analog-Digital Pink Strap Watch, $78, jet.com
A Baby-G Shock Watch will always beat out a Rolex in my style book. Who needs a watch made out of metal that costs as much as my first two years of college when you can have this stunning rubber piece for less than a hundred bucks?
2. Pens
Sakura Gelly Roll Blister Card Moonlight, $11.78, amazon.com
Sure these were great on paper in school, but the ink looked even better when your BFFs were drawing multi-colored flowers and peace signs all over your hand. In elementary school, I don't think I had a pair of jeans that weren't somehow marred by gel pens — much to my mother's dismay.
3. Coin Purses
Coin Purse Set of Three, $8.99, amazon.com
I'm honestly just flabbergasted rubber coin purses had to exist. Not only do they hurt my eyes to look at, but they surely look like a body part and they were the least reliable tools. I know I lost more money than I saved with jelly coin purses.
4. Butterfly Clips
Granted, these were not always made out of jelly. But the best butterfly clips were. And by best I mean the ones that stayed stuck in your hair until you had to cut them out.
5. Pacifier Necklaces
Baby Pacifier Necklaces, $10.55, beau-coup.com
Not quite ready to let go of our earliest stages of youth, we collectively decided to accessorize with jelly baby pacifiers as tweens.
6. BFF Necklaces
Peanut Butter and Jelly Necklace Set, $16, etsy.com
Jelly BFF necklaces is the reason why Delia's existed. They may have been a little cheesy, but there was so much satisfaction in giving your pal the other half of your jelly heart.
7. Sandals
Holographic Glitter Jelly Shoes, $30, etsy.com
Jelly flats and sandals have been making a slow and steady comeback over the last few summer months. And who can blame wearers? They're bright, sparkly, and offer enough nostalgia to start a conversation with a complete stranger. If it weren't for the unfortunate odor that everyone in the room could smell if your foot sweated one drop in these, I think their second coming could have progressed a lot quicker.
8. Tattoo Choker Necklaces
Vintage Colorful Stretch Elastic Henna Tattoo Choker Collar Necklace, $1.58, banggood.com
Choker necklaces have officially made their comeback, from every day wear to the runway. While the 2016 edition of choker necklaces tend to be made of black fabric, the original colorful jelly versions will always be in our hearts.
9. Stick-On Earrings
Stick-On Gems, $4.80, amazon.com
Stick on earrings saved my social life until sixth grade, when my parents finally let me get my ears pierced. No one could tell these weren't real earrings...right?
10. Bracelets
Kids Neon Coil Bracelet, $6.50, claires.com
A quick Claire's search in 2016 would reveal we are not past the days of jelly bracelets. And why would we be? They're colorful, comfortable and can be paired well with any outfit.
11. Backpacks
Bright Colored '90s Vintage Backpack, $36, etsy.com
It was kinda weird to give passersby full view to the contents of your bag, but at least these were waterproof. I truly have come to believe that jelly is the ultimate multi-purpose fabric.
Images: Courtesy Brands; Walt Disney Pictures