'GG' Needs To Answer These Jess Questions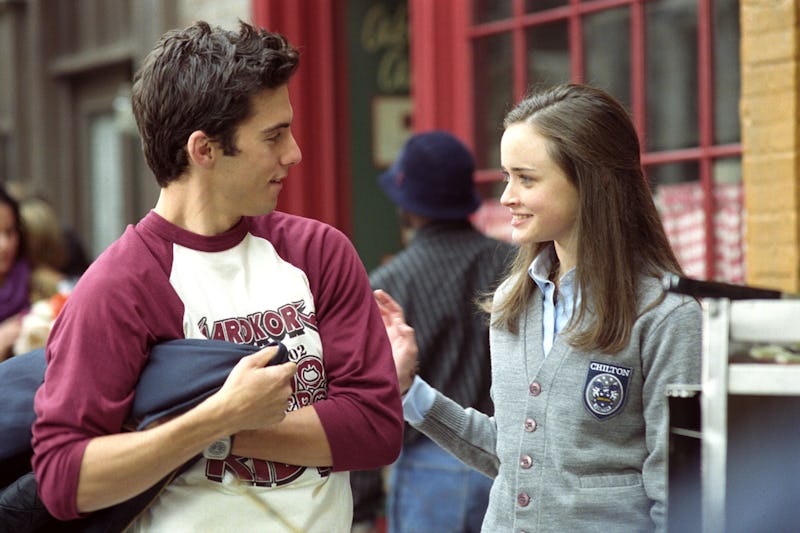 So. Many. Questions. This is probably the mantra you've been chanting in your head since Gilmore Girls left us in 2007. And if you're a Rory and Jess fan — or just a Jess fan, either way — then the questions you have might involve a lot of "what happened to that guy?" Because seriously, what happened to Rory's (arguably) best ex-boyfriend? What happened to Jess Mariano — the wonderfully charming, yet truly morose bibliophile we grew to love — after Gilmore Girls ended?
Well, it's been a decade since Jess made an appearance on Gilmore Girls. (It was in "The Real Paul Anka" Season 6, Episode 18 specifically, but who's counting?) When we left him, Jess seemed to be in a good place. He was working at a publishing house in Philadelphia, he himself was a published author, he even seemed to be more mature and dare I say — happier — than usual. But we have no idea where his life went after Rory showed up to kiss him and then subsequently declare that she was in love with Logan. (Harsh move, Rory.)
There are so many Jess questions that Gilmore Girls left unanswered. Now, thankfully, with the premiere of the Gilmore Girls revival all set for release sometime this year — and Jess all lined up to be a part of it (!!!) — we might finally get some answers to the ones we've been harboring for a decade.
1. Did Jess Publish More Books?
Maybe some sequels to his original? Oh! Perhaps he put out a collection of poems?
2. Did Any Of Them Get Optioned For Movie Deals?
I bet they'd be hits at Sundance.
3. Does He Write For A TV Show?
A lot of writers make their way into that sphere, so it could be.
4. Did He Ever Get His GED?
Jess didn't graduate from high school, which would probably prevent him from getting work and getting into say, a creative writing program if he so desired, so it's not hard to imagine that he finally got that piece of paper.
5. Does He Still Have A Penchant For Leather?
Hope so.
6. How Many Books Does He Read In A Day/Week/Year?
Serious question.
7. Does He Still Read One Book 40 Times?
I just want to know if adult Jess is as bibliophilic as teen Jess, OK?
8. Did He Go Back To Venice Beach?
#TBT to when Jess almost got his own spinoff show about his life in Southern California.
9. Does He Own A Beach House There?
Why not, right?!
10. Does He Talk To Luke?
These two had a sweet relationship that, despite its ups and downs, felt real.
11. Does He Still Suggest They "Hold Hands And Skip Afterwards"?
Hope so.
12. Does He Still Hate Swans?
Or did he just get better at lying?
13. Is He Still Broody?
(I mean, obviously.)
14. Do Jess And Dean Still Have Beef?
Probs.
15. Do Jess And Logan Still Have Beef?
Probs.
16. Do Jess And Lorelai Still Have Beef?
Who did Jess not have beef with in Stars Hollow?
17. Is Jess Single?
Please say it's so.
18. Why Is He Back In Stars Hollow?
What will he be doing back in the big SH? Besides asking for Rory's hand in marriage (*crosses fingers*).
19. Will He And Rory Get Back Together?
The one, huge question that's been looming over our heads. Will the pair rekindle their flame?
Only time will tell. (#JessAndRoryForeva)
Images: Warner Bros. TV; Giphy (2); avadae, archlbald (2), wraparoundyourdreams, owenselliot, imagilmoregirl (2), gilmoresgifs (2), literatigifs (2), emmysrossum, isobelstevenz (4)/Tumblr