This 'Star Wars' Day, Let's Celebrate Strong Women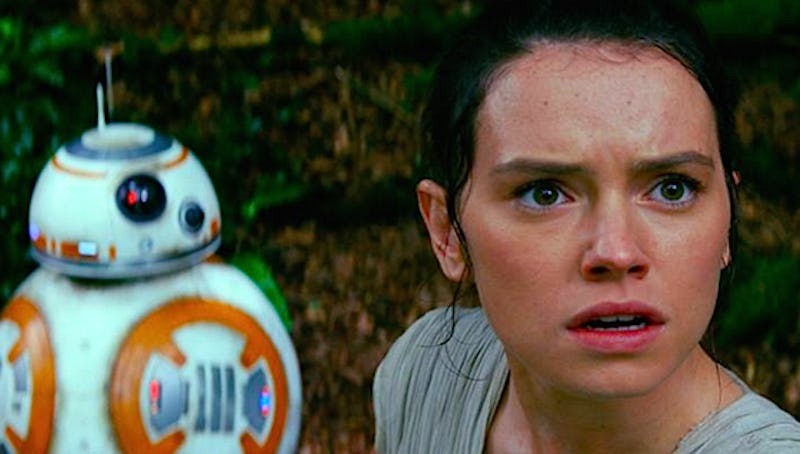 Every May 4th since 2011, the world officially celebrates Star Wars Day, thanks to the internet's very punny sense of humor. (May the fourth be with you. Get it?) It's a day where fans and cast members share their favorite Star Wars memes and videos of stormtroopers dancing to warm all our geeky hearts, but this year, it seems like we should be celebrating the unofficial holiday a little differently. In 2016, we should be making a point to celebrate the franchise's ability to re-write their male-driven history by creating strong female characters that are more than just inconsequential. Or as Jezebel so rightly pointed out, "Finally, women do more than give birth and die in Star Wars: The Force Awakens." Now they're just too busy shattering the glass space ceiling becoming former princesses turned generals, smugglers turned (hopefully) future Jedis and petty thieves turned rogue leaders who are tasked with stealing the plans for the Death Star. Today, we should be celebrating that the galaxy far, far away is finally starting to resemble the world we're living in now.
When you watch The Force Awakens, you realize it's a female-centered action movie that is being disguised as a traditional sci-fi adventure. There's no debating that Rey is the most powerful character throughout the latest chapter of the franchise, even surprising Kylo Ren with her exceptional powers. Rey shows she does not need a man like Finn to help her and definitely doesn't need him to hold her hand while they try and escape danger. Though, Finn shouldn't let go if he knows what's good for him (and he does). Rey's independence and ability to defend herself make you want to fist pump the air in celebration. They make you want to buy up all her action figures and give them to all the little girls who need better representation in their worlds.
Rey is worth celebrating because she's the feminist future of the Star Wars franchise, but she's not the only woman who is getting her own Star Wars movie. This is something fans learned after seeing the first official trailer for Star Wars: Rogue One, which introduces us to Jyn Erso. Yes, Star Wars is daring to create two movies in a row that star kickass women and while some couldn't be happier about this fact, others have made their distaste known, tweeting complaints that the rebellion shouldn't be led by women. No surprise, these complaints came mainly from men. Also no surprise, the same complaints were shared after the release of The Force Awakens, with some men accusing Rey of being too good to be true.
But, the thing is, she isn't. Rey is just the kind of character the world doesn't always get to see, which is why for some, it's easy to dismiss her. It's something J.J. Abrams seemed to be attuned to when he decided to reboot and essentially revive the aging series. He wanted to tell a different kind of story in a similar way. What better way to do that then by including those who were left out the first time around?
In the latest installments of Star Wars, little girls get to see women do the same things that the boys seem to always be doing. This time, though, the girls get to do it better. So on this May the 4th, let's celebrate the women of the Force and all that they're doing to change how we see the world of Star Wars.
Images: Walt Disney Studios; Giphy