Deadpool Has Chosen A 'Civil War' Side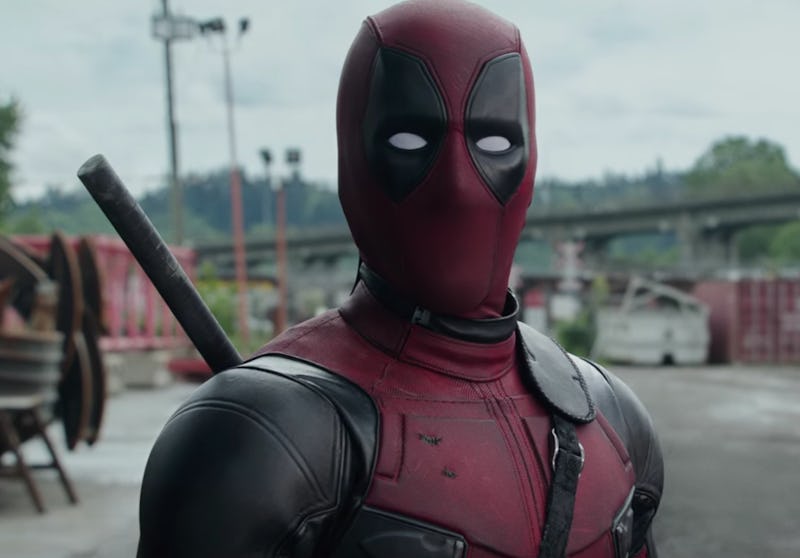 When fans fall in love with a superhero, they fall hard. And the new, massive wave of adoration for Deadpool following his solo movie in February is about as intense as it gets. It's no surprise then that fans of the potty-mouthed superhero want to see him again — and soon. Both Deadpool and Captain America originate from the same Marvel Universe, and Deadpool does play a role in the Civil War comics, so it makes sense that some hopefuls are wondering if Deadpool is in Captain America: Civil War , Marvel's new big blockbuster.
Unfortunately, Deadpool is nowhere in Civil War , but neither are any of the other X-Men, who are currently in the middle of their own massive franchise — X-Men: Apocalypse will be released May 27. Deadpool's absence from Civil War shouldn't really come as a surprise. The X-Men have long been separated from Marvel's Cinematic Universe, mostly due to behind-the-scenes business involving movie rights. 20th Century Fox has held the movie rights to the X-Men for quite some time, and with a hit franchise on its hands, it seems unlikely that the studio would let go of those rights anytime soon. Captain America and other MCU superheroes, however, star in movies produced by Marvel Studios and Walt Disney Studios.
Even if Marvel, 20th Century Fox and Walt Disney had a deal in place to draft some of the X-Men into Civil War, it's unlikely Deadpool would be among them. After all, Civil War is already being split between almost 10 different superheroes already, and there's little room for another hero, even one as beloved as Deadpool, to make an appearance. Yet just because Deadpool isn't in Civil War doesn't mean he can't take sides. After Chris Evans (Captain America) tweeted a favorable review of Deadpool, Ryan Reynolds (Deadpool) replied by pledging his allegiance to Team Cap, only to have Robert Downey Jr. jump in to try and seduce him over to Team Iron Man. (Interestingly, in the comics Deadpool was Team Iron Man — a pro-registration hero who tracked down super people who refused to register with the government.)
Meanwhile Civil War directors Joe and Anthony Russo have said that they would love to have Deadpool join in on the Civil War fun. "We'd love to see Deadpool jump into the MCU. But that's probably all we have to say about that," Joe said in an interview with Screen Junkies . There's no question that fans would also be on board to see some Deadpool-Avengers action. In fact, if online fan communities prove anything it's that they want Deadpool to cross paths with the Avengers so badly, they're willing to create it themselves.
So, take courage, Deadpool lovers, in the knowledge that you're not alone. And, remember, just because Deadpool isn't in Civil War doesn't mean he's dead — you still have a Deadpool sequel to look forward to.
Images: 20th Century Fox; Giphy