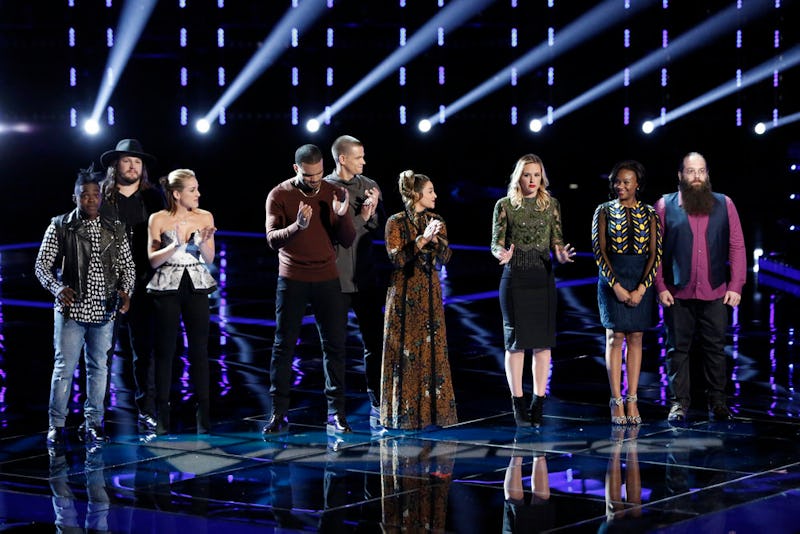 America, meet your The Voice semifinalists. The Voice Top 8 were announced during Tuesday's results show and it's full of talent. Most notably, Team Pharrell's Hannah Huston, Team Christina's Alisan Porter, and Team Blake's Adam Wakefield. While every contestant in the Top 8 is talented, it's these three that standout as front runners. Huston, Porter, and Wakefield have been fan favorites since the Blind Auditions and have continued to gain momentum week after week. There's no denying that America has gotten on board with these three contestants and put them in a great place to advance to the finals and compete for the title.
Stakes are high at this point in the game. Next week, the group will be split in half from eight to four. The week after next, it will be cut from four to one and a winner will be crowned. The end is coming fast and furious and it's clear that the contestants are feeling the pressure. But there are three contestants that should be able to sleep easy at this point in the game and they are Huston, Porter, and Wakefield. While they shouldn't take it easy next week, they shouldn't let themselves get stressed out. They have the voters under their spell and will have no problem advancing through to the finale after next week.
While only one of these talented three can win The Voice Season 10, they certainly all deserve it. If I had to choose anyone to win at this point, it would be Huston. She has truly transformed from preschool teacher to superstar throughout the course of this show and deserves to put her new skills on full display. She's quirky, relatable, and confident and would be a great addition to the music industry. Whether it's Huston that wins or not, all three of these contestants deserve a career in the music industry and something tells me they'll all get them one way or another.
Image: Tyler Golden/NBC