Relive The '80s Again For 'Goldbergs' Season 4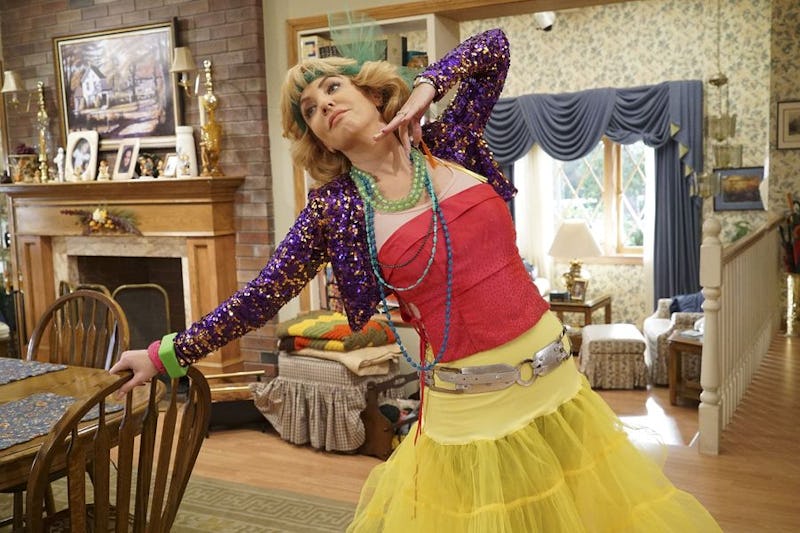 My favorite family from the 1980s will be living it up when 2017 comes around since The Goldbergs was already renewed before its Season 3 finale. Even though ABC hasn't revealed a premiere date for The Goldbergs Season 4 yet, it's comforting to know the antics of Adam, Erica, Barry, Beverly, Murray, and Pops will continue late into the 2010s. The Goldbergs unabashedly live in the 1980s and thankfully, this lovable and nostalgic comedy was renewed for a fourth season on March 4. The Season 3 finale airs on May 18 and while there's no official date from ABC for Season 4, every season of The Goldbergs has premiered toward the end of September as part of ABC's regular fall schedule and I don't anticipate that changing come next season.
Although The Goldbergs takes place in the 1980s, it is a bit anachronistic since the show takes on iconic pop cultural moments from the decade in any order that it so chooses. But that's part of the show's charm and all of the '80s flashbacks make for the most memorable moments of the series. Of course, there were great moments from The Goldbergs Season 3 that have nothing to do with the 1980s, like having Judd Hirsch in the role of Pop Pop. (The Hollywood Reporter wrote that Paul Sorvino could not continue the role he originated for Season 3 due to scheduling conflicts.) However, even that casting choice ties into the '80s since Hirsch was the star of the TV series Taxi in the late '70s and early '80s, not to mention his swoon-worthy turn as a psychiatrist in the 1980 movie Ordinary People. (Yes, I have a crush on Hirsch — deal with it.)
That being said, the majority of the The Goldbergs Season 3 did keep its heavy focus on the 1980s time period. As you will most likely have to wait until late September for Season 4, get nostalgic all over again with some of the best '80s moments of The Goldbergs Season 3.
1. Partying Like It's Nobody's (Risky) Business
While Barry was busy going all Tom Cruise in Risky Business (complete with underwear slide) for a house party, Lainey discovered the pros — and cons — of being smothered by Beverly.
2. Caddyshack-ing The Pool
There is no better way to get out of swim class than by throwing a Baby Ruth in the pool. While most people will think it's poop and evacuate, Adam and Bill Murray know it's just nougaty goodness.
3. Barry As Boy George
Bev and Barry running in the rain together, Boy George and Chuck Norris references, and mustaches — the "Boy Barry" episode was all sorts of '80s epic.
4. Troop Beverly Hills Bonding
There is no better way to enjoy some mother-daughter bonding than with Shelley Long and Jenny Lewis in the movie Troop Beverly Hills , as Beverly and Erica discovered this season.
5. Training For Top Gun
Barry was really into Tom Cruise in Season 3 — just like everyone was really into Cruise in the 1980s. He got inspired by another Cruise film, Top Gun, and ended up joining the Reserve Officers' Training Corps to fulfill Maverick-like moments, except he needed Beverly's help as his "wingmom."
6. A Christmas Story Hanukkah
Although the Golbergs are Jewish, that didn't stop the family from channeling A Christmas Story in their Season 3 Hanukkah episode, complete with Barry getting triple-dog dared by Adam to stick his tongue to a frozen pole.
7. Beastie Boys Tribute
Mike D, MCA, and Ad-Rock got Golberged when Barry, Erica, and Adam lip-synched "Shake Your Rump" at their school assembly. Barry also struggled with the art form of freestyle rap, while Erica tried to gain some confidence in her own music.
8. Double Dare Auditions
Double Dare was one of my favorite game shows of my youth and Adam understandably got a little competitive trying to get on the show by betraying his friend Emmy and using Pop as his audition partner to no avail.
9. "Weird Al" Yankovic Concert
When I marveled at the "Weird Al" Yankovic cameo in Season 3 to Beverly actress Wendi McLendon-Covey in a phone interview, she said how Yankovic's appearance was the first time someone from the '80s came on the show to play himself, which she credits to Yankovic being "absolutely ageless ... he looks exactly the same" as he did three decades ago.
10. The Footloose Angry Dance
I'm a sucker for the Kevin Bacon angry dance from Footloose and Barry tried to prove what a great movie Footloose is with his own dance moves.
11. Erica Having The Time Of Her Life, Dirty Dancing Style
In the same episode featuring Footloose, Dirty Dancing also took the spotlight and got out of the corner. As a person who is in full agreement with Erica and Beverly that the Jennifer Grey and Patrick Swayze film is superior to Footloose, it was great watching Erica getting to live the dream of performing the infamous lift.
12. Rush Head
Not only did Beastie Boys get love this season, but the Canadian band Rush also got featured in the aptly-titled episode "Rush." Although Erica's love of the band was short-lived, she fully committed while she was a fan by participating in a Rush cover band.
Although it seems like The Goldbergs have exhausted every possibly '80s reference already, here's to Season 4, which is sure to keep the tradition going.
Images: Paramount Pictures; Danny Feld (2), Byron Cohen, Carol Kaelson/ABC, ABC; thegoldbergsabc/Tumblr (5); Caitlin Gallagher/Bustle (3)