Danny's Son Brings Trouble To 'Bloodline' Season 2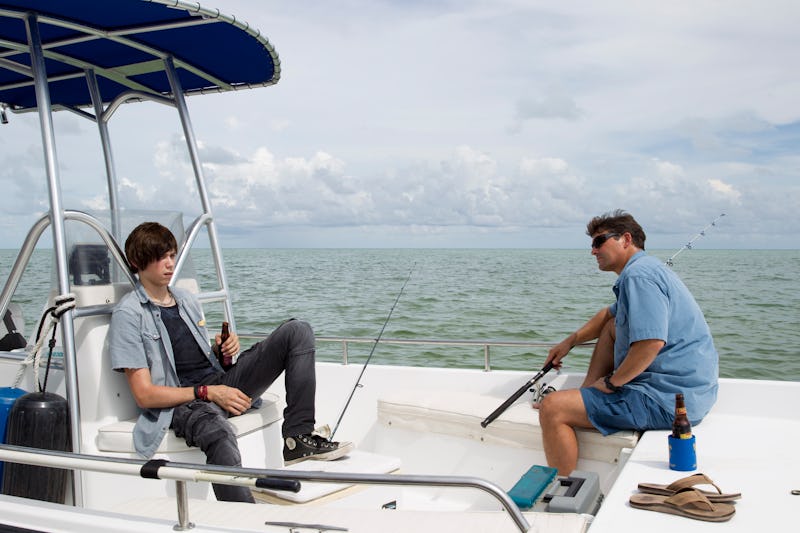 Danny may be gone, but he will still cause trouble for the Rayburn family when Bloodline Season 2 hits Netflix on Friday, May 27. After the gothic family drama's finale introduced Danny's previously unknown son — supposedly — fans are wondering if Season 2 will pick up where that mystery left off and hold answers. Answers to questions like, is Nolan really Danny's son on Bloodline ?
While it's always possible that Bloodline could go throw a twist at us, it seems that Nolan really is Danny's son, as everything we know about his role suggests that he will be a key part of Season 2 precisely because of his connection to Danny. In addition to the implications Nolan's arrival has on Danny's final days and the Rayburn children getting away with murder, his presence in Season 2 should help unravel Danny's past and in the process, bring more grief to the Rayburn family than ever.
You see, Nolan is not the only character joining Bloodline in Season 2. He is accompanied by his mother, Evangeline, and Danny's friend/partner in crime (yes, I mean literally) Ozzy, played by John Leguizamo. The fact that these other characters who knew Danny in the past are there with Nolan also suggest that he's telling the truth, as they'd know if he was lying. All three of these characters are links to Danny's old life in Miami, and they may also know about the circumstances surrounding his death, which means their arrival will threaten the family throughout the second season.
Executive producer Glenn Kessler told TV Insider about Nolan's arrival, "Danny's past is starting to float to the surface in a way that it never has before … And the Rayburn siblings must deal with Ozzy and Evangeline, who are real threats to the secrets they want to keep."
Kyle Chandler, who plays John Rayburn on Bloodline but will forever be Coach Taylor in our hearts, also spoke to TV Insider about Danny's entourage and said, "Ozzy's a very charming, kind, sweet fella … But he's out for no good."
Danny's ghost is clearly haunting the Rayburn family, both emotionally and literally through repercussions from his past and the murder itself. But how are these sins affecting Nolan? What role does he play in the new threats facing the family? Is he a good person who does bad things? It seems that he is a Rayburn, after all. Or is he a bad person who does bad things? Or is he an innocent in the sea of secrecy and corruption? According to Entertainment Weekly, a lot of Nolan's fate is determined by his father's actions.
The actor who plays Danny, Ben Mendelsohn, told the magazine of Nolan, "It's really poignant and horrible and beautiful and sad ... There's the whole sins of the father idea but in some ways Nolan carries Danny's sentencing with extra time in solitary." That statement seems to confirm that Nolan is telling the truth, as clearly Danny still has an influence on his son, even after his death. It also shows that for all of the trouble Nolan may bring to the Rayburns, he's clearly going through a tough time himself.
More mysteries are sure to be ahead on Bloodline Season 2, but we'll have to wait until the May 27 premiere to now just what role Nolan will play in them. But if he's anything like his father, we can be sure he'll be at the center of quite a few.
Images: Saeed Adyani/Netflix, Netflix