15 Graduation Gifts For Feminists Of Color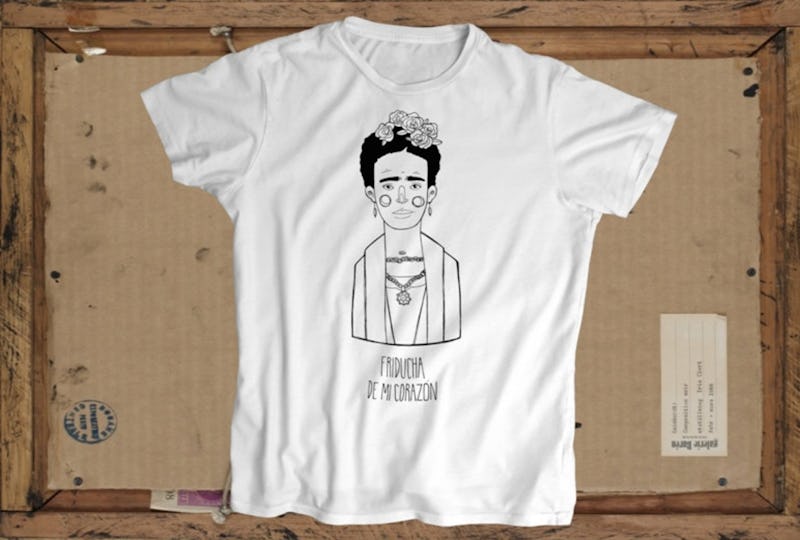 Graduation season is upon us, so if you're close with someone who's graduating, chances are you'll want to pick up a graduation present for them to congratulate them. But while there are tons of generic presents floating out there for high school and college graduates alike, it's always worthwhile to take a little extra time to search out the perfect present — especially if you're looking for rad graduation gifts for feminists of color. Personalizing a gift based on what's important to the recipient is really going the extra mile, and it will mean so much to them. Promise.
In my experience, a lot of mainstream presents designed with feminists in mind fall into the trap of focusing on white feminism. But a feminist of color may not be inspired by, say, Gloria Steinem's lack of intersectionality or Taylor Swift's problematic feminism, In most cases, feminists of color, regardless of gender, naturally want to be a part of a more inclusive feminism that practices intersectionality. (And the saying is true: Feminism must be intersectional or it is BS.)
So when thinking of gifts for a feminist of color who recently graduated high school, college, a master's degree program, or more (any Ph.D.s in the house?), keep these 15 items in mind. Whether the graduate likes to read, listen to music, decorate, flaunt their activism, or sit at home and watch documentaries, you'll find something affordable on this list of graduation gifts for feminists of color.
1. We Should All Be Feminists by Chimamanda Ngozi Adichie
Nigerian novelist Chimamnda Ngozi Adichie's book — which is definitely essential reading for every intersectional feminist — is filled with poignant stories, important realizations, and even more important suggestions about what it means to be a woman today and how to overcome all the factors that can make it challenging.
We Should All Be Feminists by Chimamanda Ngozi Adichie, $6, Amazon
2. A Subscription to Bitch Magazine
Bitch Magazine is a fantastic source for all the long-form feminist articles and features of your dreams by writers of color, queer writers, trans and gender non-conforming writers, and other underrepresented or unrepresented communities. It covers topics ranging from queer jazz in the '60s to how awesome it is to be part of the Beyhive and from college activism to, yes, Donald Trump and Hillary Clinton. In my experience, reading Bitch a great way to let your brain unwind and let someone else do the smart thinking and talking for you — while still giving you something to chew on for days afterwards.
Bitch Magazine, $20/year, Bitch Media
3. Orange Is The New Black Buttons
Many feminists of color I know (including myself) love Orange Is The New Black, and many have a favorite character or a character they most identify with (hey, Poussey). As such, you can't go wrong with a favorite character button.
Orange is the New Black Buttons, $2, Etsy
4. Any Album by Missy Elliot
Missy Elliot was one of the O.G. feminists in hip hop music and mainstream culture, long before Beyonce, Nicki Minaj, and FKA Twigs (all queens in their own right) joined her in the movement. With empowering lyrics, dope beats, and positive messages for all the girls out there, you can't go wrong with a Missy album.
Supa Dupa Fly by Missy Elliot, $10, iTunes
5. "My Feminism Will Be Intersectional or It Will Be BS" cross-stitch
I'll let this beautiful cross-stitch explain itself.
"My Feminism Will Be Intersectional or It Will Be Bullshit" cross-stitch, $16, Etsy
6. Nubian Skin Lingerie
Women of color know the struggle of finding "nude" clothing or shoes to actually match their own nude skin, and UK company Nubian Skin Lingerie has heard us. Available in a wide variety of beautiful shades of brown, Nubian Skin Lingerie consists of bras, panties, lingerie sets, and hosiery; it's a perfect gift if your fave feminist of color happens to wear these things. If you're not entirely comfortable picking something out for someone else or are unsure about a size, the website offers gift cards.
Nubian Skin Lingerie, $10-$60+, Nubian Skin
7. "A Woman's Place is in the House, the Senate, and the Oval Office" Phone Case
For politically inclined feminists of color, this phone case says it all. It's available for iPhone 4 through iPhone 6 and several Samsung Galaxy models.
"A Woman's Place is in the House, The Senate, and the Oval Office" iPhone Case, $24-$26, Look Human
8. Formation Tour Tickets
I would be remiss if I didn't mention a specifically Beyoncé-related graduation present, and what better present than tickets to her Formation world tour? Just select the city of the recipient, the kind of ticket you want to purchase, and have it sent directly to them or to yourself to wrap and embellish for all the gift-giving fun. You might want to act quickly, though, as tickets are selling out fast.
Formation World Tour Tickets, prices vary, Ticketmaster
9. A Netflix Subscription
If your friend doesn't already have a Netflix subscription, there is truly no better present out there. From television dramas, to classic movies, to life-changing documentaries with beautiful visuals and provoking ideas, you can never go wrong with Netflix. Plus, there's a lot of content featuring or created by people of color. Yas queen!
10. Frida Kahlo T-Shirt
For fans of the beautiful Mexican painter Frida Kahlo, this unisex T-shirt is a perfect way to show respect and devotion.
Frida Kahlo T-shirt, $11, Etsy
11. "This Is What A Feminist Looks Like" tote bag
This fair wage, fair labor, recycled tote back is ethical and lets you show the world what you stand for in a stylish way.
"This Is What A Feminist Looks Like" tote bag, $15, Feminist.org
12. Queer Brown Voices: Personal Narratives of Latina/o LGBT Activism edited by Uriel Quesada, Letitia Gomez, Salvador Vidal-Ortiz
This anthology is full of stories and theories ranging from AIDS treatment in Latino/a communities to what it's like to be transgender in San Fransisco. It's the perfect present for a feminist of color (or anyone!) to take the next step in their LGBTQ activism and education.
Queer Brown Voices: Personal Narratives of Latino/a LGBT Activism edited by Uriel Quesada, Letitia Gomez, Salvador Vidal-Ortiz, $25, Amazon
13. "#ItGetsBitter" E-book by DarkMatter
The poetry of South Asian duo Alok Vaid-Menon and Janani Balasubramanian (who are, by the way, my absolute favorite poets) tackles subjects like gender, femininity, performativity, race, and brownness. Their e-book is the perfect present for all your radical feminists and femmes of color.
#ItGetsBitter by DarkMatter, $8, DarkMatter
14. "Miley What's Good?" Sweatshirt
Because what's better than wearing a catchy pop culture reference which reminds us all not to engage in cultural appropriation?
"Miley What's Good" Sweatshirt, $23, Etsy
15. Eff Off Ring
Because sometimes, if you're a feminist of color and have had enough of the white, cisheteropatriarchy, you just have to say " eff off."
"Fuck Off" Ring, $10, Etsy
Images: Brands