You Definitely Went To These '90s Birthday Parties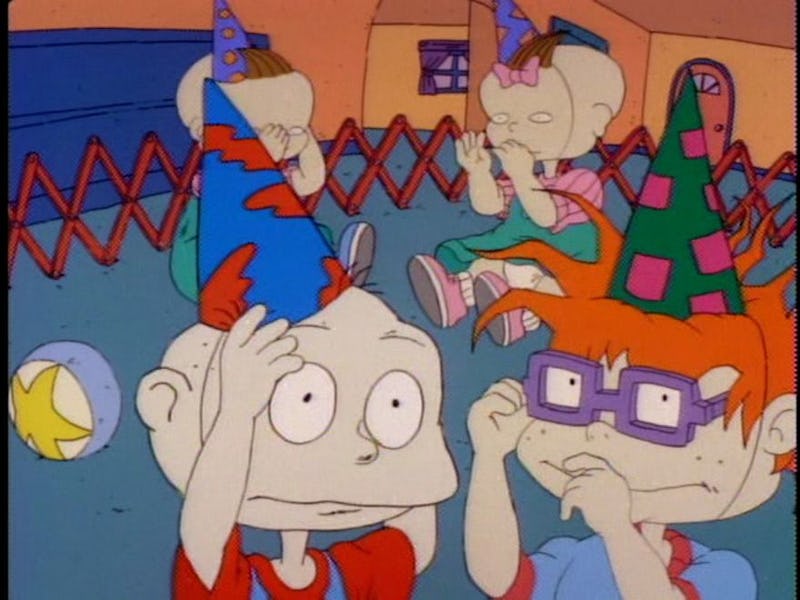 If there is one thing absolutely every '90s kid loved, it was going to a birthday party. Seriously: We had some of the best birthday parties in the '90s. To be fair, as we've left the '90s and entered the new millennium, a lot has changed in our lives besides our age; how we celebrate each year passing has gone through some changes, too: We might go to a nice restaurant for dinner, take in a musical or play, plan a weekend getaway to a new city, or just eat cupcakes in our own living room while watching Netflix. Still, though — as fun as these methods of celebration are, nothing really beats how we celebrated our friends' birthdays in the '90s, am I right?
I grew up in the suburbs, so all of my friends had birthday parties at home, in our neighborhood, or if they were really lucky, somewhere in the local mall. You know, that place everyone went to with their parents that had rows and rows of stores and restaurants, and you somehow never had trouble spending an entire afternoon there even if you weren't allowed to actually buy anything? Yeah, those malls — they were epic for celebrating someone's birthday. When my best friends had their parties at home, though, that usually meant homemade chocolate cake with buttercream frosting and tons of ice cream and hot fudge, so that was pretty sweet, too. Literally and figuratively.
Going back down memory lane can be awesome sometimes, right? If you agree, here are 10 types of birthday parties you'll definitely remember from the '90s,
1. Teaming Up For Laser Tag
I'll be the first to admit that I'm terrible at laser tag. When my friends did this for their birthdays, I literally hid myself in tiny corners so I'd last a moderately long time before getting tagged "out." Still, I loved the adrenaline of the whole situation, and there was nothing better than ragging on each other about who got caught first.
2. Afternoon At The Roller Rink
Again, I wasn't the most agile kid in the world, but I still loved it when my friends hosted their birthday parties at our local roller skating rink. What was more fun than everyone holding hands in a line while basically crawling around a giant circle for two hours? Nothing.
3. Going To The Bowling Alley
Affirming me as the nerdiest kid ever, I actually loved going to the bowling alley with my friends. In my area, people used to have their entire parties there, so there would be cake and soda in the party room waiting for when someone inevitably dropped a bowling ball on their foot.
4. Power Rangers Dress Up Party
If you grew up in the '90s, you pretty much grew up watching Power Rangers on TV. What made Power Rangers such an A-plus birthday party theme? A) There were tons of costume options, and B) it totally took care of all your party activities for you.
5. Celebrating By The Pool
I was born in the winter, so I never got to have a birthday party at a pool. I did, however, go to lots of birthday parties for summer kids that took place at the pool, and they were basically the best. People's parents usually had a cook-out while kds swam and played in the water. Awesome, right?
6. Making Your Own Pottery
I was a really artistic kid, so I always loved it when my friends had art themed birthday parties. Whether it was making your own pottery, taking a painting class, or tie-dying shirts, I loved being able to experiment with new materials and make stuff with my friends.
7. Hosting A Lisa Frank Party
One of my friends in middle school had a Lisa Frank themed party, and it was epic. Literally everything from the cake to the wrapping paper to the balloons were covered in rainbows, and there was glitter absolutely everywhere. I'm pretty sure that degree of sparkle would give me a killer headache now, but in the '90s, Lisa Frank could do no wrong.
8. Going To A Minor League Sports Game
Good news for the non-athletic kids in the crowd like myself: You didn't need to be good at sports to enjoy watching and supporting the local team. This was especially fun when the weather was nice and you got to sit outside and enjoy the warm sun and a burger with your friends.
If you're a girl who grew up in the '90s, I'm willing to bet you went to at least one of these. You probably also look back at them and think, "Hi there, gender norms."
10. Backyard Hangout
I've got to be honest: As awesome as some of the more elaborate and theme-based parties I went to as a kid were, I definitely loved the casual backyard hangout parties the most. You know, the kind where someone's parents cooked all the food and their siblings made all of the decorations? Those ones — the ones with a relaxed, welcoming vibe that made all the guests feel at home. The best part of these parties was the fact that we almost always got to soak each other with water balloons. Awesome.
Images: Nickelodeon; Giphy (10)