I Tried Blurring Makeup & This Is What Happened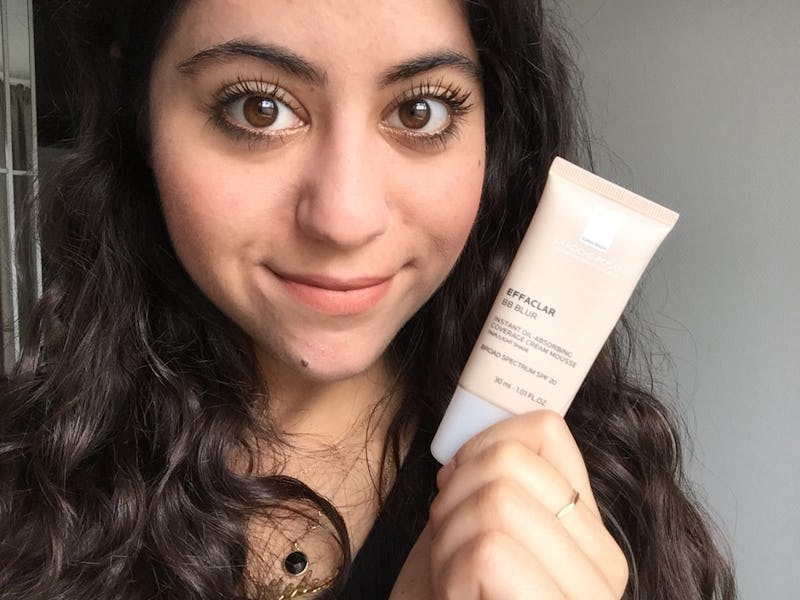 Blurring makeup is said to minimize the look of pores, soften fine lines, and smooth skin — similar to what that handy "blur" tool on Photoshop might do to your selfies. But I've always been skeptical of trying such beauty products. Nonetheless, I brought three blurring beauty products into my life to see if a primer, powder, or BB Cream with blurring ingredients might actually lead to a flawless skin base, and not just in photos.
As someone with oily, acne-prone skin who struggles with crater-like pores on my face every day, smooth skin is certainly a goal. My visage gets slick very quickly, and I find whiteheads on my T-zone far more frequently than I'd like. Whether you have oily skin or not, you can imagine how difficult this makes makeup application (particularly in the summer). So when I heard about blurring technology and its alleged ability to smooth, matte-ify, and optically blur skin to make it look pore-less and angelic (a girl can dream, right?), I was obviously willing to give it a shot.
I decided to test out blurring technology in makeup with three different products and three levels of makeup (light, medium, and heavy), documenting how they performed over the course of three days. With no filters, and no photo editing, I was delightfully surprised at the results. Here's how it all played out.
YSL Touche Eclat Blur Perfector, $55, Sephora
I started off day one by reaching for a product I use on a daily basis: powder. But this wasn't your regular old makeup powder. YSL's Touche Eclat Blur Perfector is a universal shade in a balm to powder formula, promising to matte-ify, smooth, and even out skin upon application. In addition, the product is said to create a "rosy-glow effect," according to its description on Sephora, while sweeping away shine and hiding imperfections.
But it can't actually do all of that, right? Upon using this product with quite a minimal makeup look consisting of just a little concealer over some spots, a dash of smudged eyeliner under my lower rim, and a dab of matte lipstick, I was actually blown away.
Even though it may be hard to see the detail in the photos above, you'll have to take my word for it when I say that the powder completely smoothed my pores with only one swipe. The soft balm didn't look like much on the sponge that was supplied, but once I put it over my forehead, cheeks, and chin, it felt ultra-light on my skin.
Even though it didn't have any coverage to help disguise my acne scars, I felt as though my pores had vanished right before my eyes.
By mid-day, the product was still going strong. Although I could see a little oil break through, the majority of my face was dewy yet smooth. I didn't reapply, only because I wanted to see how the single application would fare over a full day.
To my surprise, it fared quite well, helping my skin look smoother than it usually is from morning until night. My face wasn't as fresh as when I first applied the powder by evening, and my pores were threatening me with more oil. But considering I was out and about all day, and my skin was still seemingly Photoshopped, the product worked incredibly well.
The Body Shop All in One Instablur Eye Primer, $11,Amazon
After fantastic results on day one, I had high hopes for for The Body Shop's All-In-One Insta-Blur Primer. Whether the "Insta" part of the product comes from being "instant," or from the hopes of achieving Instagrammable-worthy skin, the clear primer claimed the same end results as the product before it. According to its on-site description, this primer is said to blur imperfections, control shine, reduce appearance of pores, and, create "flawless photo-perfect skin in an instant."
In fact, it did create quite a flawless base for my medium intensity makeup on the day I gave it a test run.
I applied the primer before adding the rest of my makeup, which consisted of a BB cream, concealer, a powder, eyeliner, a brush of eyeshadow, and mascara. I don't usually wear this much makeup (day one is closer to an average day's beauty look), so I was eager to see how the primer would fare under such heavy conditions.
Despite the weather being rainy and humid, and regardless of the fact that I was wearing more makeup than my skin is used to, the primer performed very well. It did a great job at keeping my makeup from sliding around my face, and it truly did make my pores disappear before blending in my makeup.
Even without touch-ups, my face still looked pretty flawless by the end of the day. Despite the slight creasing of my eyeshadow in my eyelids (which is inevitable given the natural oil on my skin), the product held up for a long day of running around town.
La Roche Effaclar BB Blur Cream Mousse, $30, Amazon
I was more than prepared to be disappointed on day three. Surely the success couldn't last. But even upon first blend of La Roche Posay's Effaclar BB Blur Instant Oil Absorbing Coverage Cream Mousse, I was dumbfounded by the product's creamy, lightweight, and pore-reducing formula.
Designed for oily complexions to help absorb excess shine while evening out and matte-ifying skin, the product squeezes out of the tube like a condensed foam. Upon applying, it smooths over your skin, diminishes pore size, and leaves your face looking glorious. I mean, just look at my acne-prone, scar-ridden skin and tell me it doesn't look amazing.
By mid-day, a few hours after smacking on more makeup products (powder, highlighter, blush, bronzer, the works) to truly make this a heavy beauty look, my skin still looked and felt great. The weather was rainy again, but the BB Blur didn't budge.
The end of the day came, and I had acquired a glow. Yes, this BB cream even had the ability to turn my excessively oily skin into a gorgeous, natural highlight. Who needs highlight powders and dim lighting when you have BB cream equipped with magical blurring technology? Not me, that's for sure.
Was It Worth It?
While I'm open to trying anything and everything in the name of beauty, I'm very critical of fads. But after trying blurring technology with three different products, three levels of makeup, and over the span of three long, full days, I'm convinced this beauty trend is one everyone should experiment with.
It's hard to believe that one product could do all of the things it promises: Minimize pores, control shine, and optically blur skin to make it look like it's Photoshopped and Instagram-ready. But using these items on my oily, acne-prone face and seeing how they transformed the texture and look of my complexion made me a true believer in the blur. Although the concept of an Instagram filter being bottled into a makeup product IRL might sound a little scary, no one can argue with camera-ready skin.
Images: Melodi Erdogan