I Got Dressed Up For A Game At The 2016 Euro Cup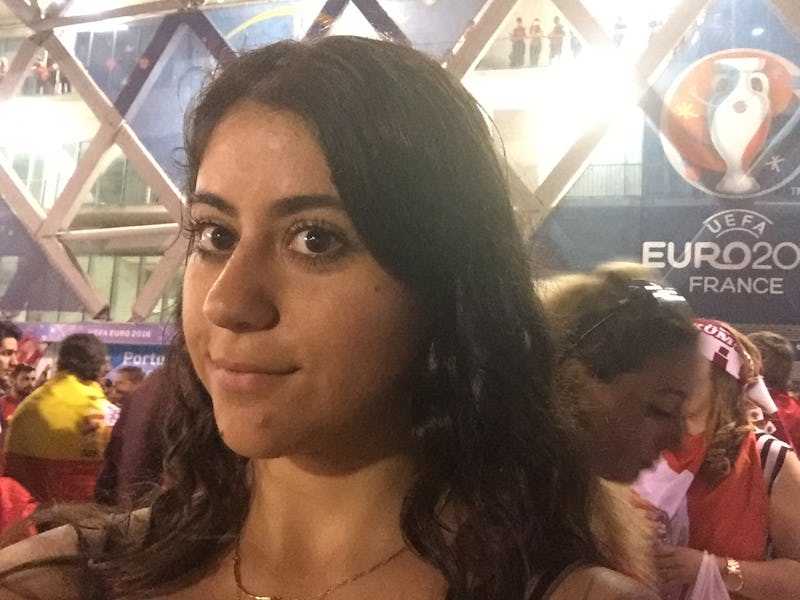 The typical soccer fan attending the 2016 UEFA European Championship in France this summer will likely sport team gear or causal clothes to the tournament games. But with my recent ticket to see Spain play Turkey, I decided to change things up. I got dressed up for the UEFA Euro Cup, leaving my jersey and jeans behind to rock a dress, traditionally girly jewelry, and a full face of makeup for one of the world's biggest sporting events. And let me tell you: Among thousands of diehard soccer fans, it was quite the experience.
After years of screening games and attending live events (mostly thanks to my soccer-obsessed dad), I noticed that soccer fans are usually very particular about what they wear to matches. They're often outfitted in athletic gear, sure. But their jerseys are especially chosen based on players and home/away colors. Their accessories are OTT (for example, rocking a flag around their neck like a cape), and their attention to detail is intense (everything from the colors painted on their faces to their shoe laces are repping team hues).
In such an environment, I figured that anything outside of a jersey would stand out. Nonetheless, I was curious to see what kinds of reactions a formal, dressed-up outfit might elicit from serious fútbol fans. To my delight, dressing up provided for some rather interesting results.
The Look
Going into this experiment, I knew that what I wore to the event was going to be totally out of left field for most folks attending a soccer match. The athleisure items packed in my luggage were tempting, I admit. But in the name of the experiment, I also packed a gorgeous midi-length, olive green dress as the perfectly unexpected piece to wear.
I knew the silk dress would stand out in the sea of red and white jerseys in the stadium. After all, you don't see tulle and silk at soccer games that often. Along with its fitted silhouette and pretty ruffle detailing, the dress was perfectly inappropriate — just the way I wanted it.
I kept up with the theme of the dress and chose girly accessories to embellish my look and take things one step further. I rocked a pair of diamond-studded sandals, a few dainty gold necklaces, and a nice gold bracelet.
Additionally, I went all-out with my makeup, lining my eyes with sparkling brown shadow and placing extra glitter in the corners of my peepers to make them pop. I outlined my lips with a neutral matte brown shade (very '90s and very on-trend), created a flawless finish with BB cream and powder, and topped the look off with some sparkling bronzer and highlighter. Even though the lighting in the stadium halls didn't do my makeup justice, I was dazzling and totally full-faced.
From the image above, you might think I was headed to a wedding, a cocktail party, or some other kind of formal event. But I was actually snapping these photos inside the Allianz Riviera soccer stadium in Nice, France, where thousands of people were watching a match. With my on-trend, stylish, and carefully-selected look, I began to keep a close eye out for any and all reactions.
So, How Did People React?
Just as I suspected, I got quite a few stare-downs. They started almost immediately after I popped out of the car to walk into the grounds of the stadium. Among the crowds of humans walking with me, I was the only person wearing a dress, open-toed embellished sandals, and a full face of cosmetics.
Once we got into the stadium, my dad and I struggled to find the entrance to our seating area. The event coordinators were directing large crowds decked out in team gear, asking passerby if they needed help. But they were quite silent when I aimlessly walked past them, even though I was clearly looking for directions.
Once we got into the correct area, it was another struggle to find our seats. I know I looked a little ridiculous going up four flights of stairs with my midi skirt dragging behind me, and admit I might have cast an odd glance in my direction, too. I got several of those, for sure.
But once we were seated, the game was the focus of everyone's attention. Over the course of 90 minutes, Spain defeated Turkey 3-0 qualifying for the next round of the tournament. There was quite a celebration in the arena, so my pretty, non-appropriate outfit was largely overlooked during the game itself.
After the game was over and the drunk, joyous attendees were filing out of their seats, I continued to get lots of peculiar looks. I noticed that there were a couple of other people who wore heels and skirts to the event, but none of them looked quite as formal and dressed up as me.
While I didn't receive any verbal comments, it's safe to say that glares speak louder than words, and a feeling of unwelcoming was undoubtedly vibrant.
Here's What I Learned
I wasn't wearing either team's colors, I wasn't sporting athletic clothing, and I wasn't even casually dressed up. After experiencing more weird looks than I cared to count, I decided that my outfit was officially an unwelcome choice for the event. Alas, it just wasn't what soccer fans are used to seeing fellow game-goers rock to matches.
I can't quite decide whether their looks were mostly negative or positive, but my formal ensemble definitely stood out. It was bound to be different from the norm, but the sheer amount of looks cast in my direction were quite surprising. As someone who attends games often and has seen everything from skintight bodysuits to full body paint at similar events, I didn't understand why a dress was perceived as so bizarre.
But from what I observed, nothing could divert fans' attention when the ball was in play. My ensemble didn't turn any heads during the 90 minutes of the match itself, and I would bet the same results would've been true even if I had sported a ball gown and tiara. The truth is that nothing, not even the oddest choice of dress, can distract soccer fans from their sport. As a fan myself, I really can't blame them.
Images: Melodi Erdogan