Why Every Romance Lover Should Read Jane Austen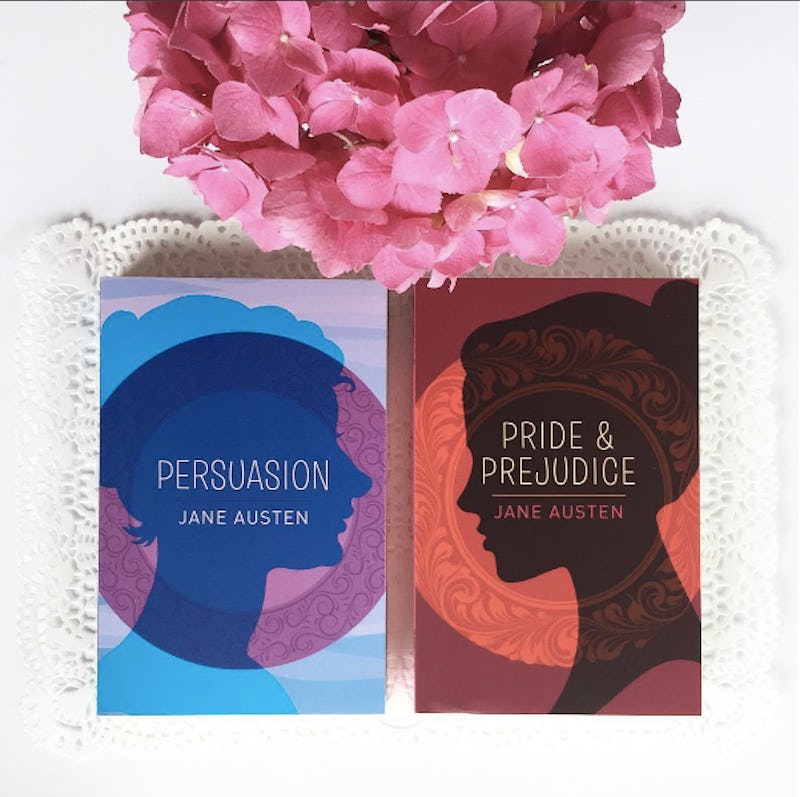 Confession time: I didn't read a Jane Austen novel until I was in my 20s. Crazy, right? I spent a lot of college pretending that I had read Austen as a teenager like everyone else, since it seemed like I was the only person who hadn't at least skimmed Pride and Prejudice. Thanks to a deep love of Colin Firth and Alan Rickman, I had seen the screen versions of Pride and Prejudice and Sense and Sensibility, and I adored Clueless. But I'm sorry to say that I must have been about 24 years old before I actually read any of the novels.
And guess what? I'm actually so glad I waited as long as I did to finally pick them up. At 16 years old, I may have swooned over Mr. Darcy, but I never could have understood the complexity of Austen's heroines, nor really comprehended the depth of their relationships with their potential love interests. You can enjoy Austen as a teenager, but you understand her as an adult.
Austen's novels are considered classic literature, but they're also great romance novels. Sure, there's no bodice-ripping and Colonel Brandon and Marianne never steal a kiss behind the manor, but there's plenty of drama, forbidden love, and, of course, happily ever afters. So don't let the fact that Austen popped up on your high school syllabus keep you from reading the books through the eyes of a romance novel fan. There are romance novels, and every romance fan should read them:
1. Her novels have swoonworthy love interests
There's a reason that Austen lovers lose their cool when someone brings up Mr. Darcy, and it's not just because Colin Firth is so magnificent. Her male leads are handsome, honorable, and respectful of the women they love. And if Mr. Darcy's brand of haughty grumpiness doesn't do it for you, there's also the loyal Captain Wentworth, the extremely patient Mr. Knightley, and the adorably endearing Mr. Tilney. Basically, if you're into male love interests, Austen has the guy for you.
2. They also have devilishly handsome rogues
If handsome heroes aren't your thing, Austen also provides a number of hot but untrustworthy bad guys for you to drool over. There's Mr. Willoughby, who seduced a young girl to her ruin. Oh, that rake. Or maybe you prefer the charming but opportunistic Mr. Elliot? And who can forget the scheming Mr. Wickham? Technically you aren't suppose to root for them, and they never win the hearts of our heroines, but they do provide a sexy foil to the more traditional love interests.
3. Austen specializes in feisty, independent heroines
My favorite romantic heroines are strong, feisty women who aren't willing to sit around and wait for Mr. Right to come along. And Austen's heroines definitely aren't the "sitting around" type. While in a lot of ways they're still confined by the rules of the time (the only ones running off with a man tend to be treated as embarrassments to their families), for the most part her female characters are pretty strong-willed. After all, Elizabeth Bennet turns down a potential marriage with a man she doesn't love and rejects Mr. Darcy at first because he's such a jerk. That's kind of badass.
4. Austen writes amazing declarations of love
I'm not one for overwrought displays of emotion in real life, but I have no problem with dramatic declarations of love in my romance novels. And no one does heartfelt confessions like Jane Austen. How can we forget Darcy's speech? "In vain have I struggled. It will not do. My feelings will not be repressed. You must allow me to tell you how ardently I admire and love you." Or how about Knightley's declaration? "I cannot make speeches, Emma...If I loved you less, I might be able to talk about it more."
Swoon swoon swoon!
5. Get ready for some love triangles
Austen packs plenty of love triangles into her novels, either giving her heroines competition for the affection of their loves (like when Anne thinks Captain Wentworth fancies Louisa) or making her heroines the object of affection for multiple men (like Marianne Dashwood, who becomes the object of Colonel Brandon and Mr. Willoughby's attention). They always end up with the right person in the end, but the love triangles certainly make the journey interesting.
6. Also, so many scandals
What's a romance novel without a little bit of scandal? Whether it's Lydia Bennet running off with her sister Elizabeth's old love interest, Mr. Wickham, or Frank Churchill's flirtation with Emma even though he's secretly engaged to her frenemy, Jane. Austen knew that her readers wanted some juicy drama from their novels. What, you didn't expect Austen to be so scandalous?
7. And they all lived happily ever after
I may be a fairly cynical person in real life, and I often look for books with realistic rather than fairy tale endings, but none of that applies when I'm reading romance novels. I expect a satisfying happily ever after — and I always get it! Luckily, Austen is pretty good at delivering those HEAs. Sure, her protagonists don't always have an easy time finding love, but as they say: All's well that ends well.
Images: Instagram/mybookbath, Giphy (7)