Here's Where To Buy The 2016 USA Olympic Costumes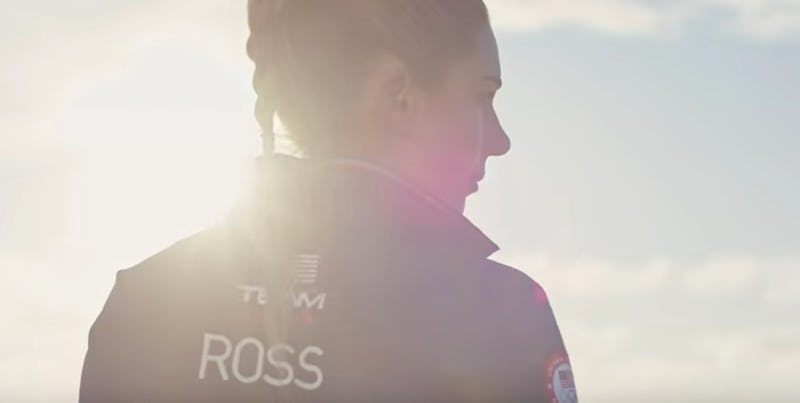 If you're a fashion savvy sport lover, you'll likely be interested in where to buy the 2016 USA Olympic Costumes. Even if your own idea of athletics includes channel surfing, or you believe that dancing on a night out contributes to your recommended daily exercise quota, chances are, come August 5 your patriotism will win out and you'll be cheering on Team USA with the hardcore sports enthusiasts. So what does a fashion forward Team USA supporter wear for a session of Olympics observation?
Well, if you're short on funds, you could put together a red, white, and blue outfit you already have in your wardrobe from the Fourth of July. On the other hand, if you're a fan of crafting, you could even craft your own DIY patriotic shorts to look unique, while showing off your skills. Alternatively, you could wear a pretty Fourth of July inspired makeup look to show the world your creative flair.
However, if you've got bucks to burn and you want to go down the official route, you may fancy flaunting the real deal: The 2016 USA Olympic Costumes. Created by fashion powerhouse Ralph Lauren, these suave threads take preppy fashion to a whole new level, including a selection of pieces, some of which featuring the brand's signature pony emblem.
So where can you buy the official 2016 Team USA Olympic Costumes? Straight from the source of course! You can buy the authentic costumes via Ralph Lauren's official website, or from online stores like Macy's and Fanatics.com – just make sure you know the retailer is legit before you make your purchase. If you buy from the designer, Ralph Lauren makes it easy for you – by labelling which garments are official Closing Ceremony Uniform and which are a part of the Official Team USA Collection – so you can really get your fan girl on.
Team USA Cotton Mesh Polo, $98.50, ralphlauren.com
Arguably, the most iconic piece of Ralph Lauren's 2016 Official Team USA Collection is the brand's iconic polo shirt. You can even add your name to the back of your shirt to give it a personal touch.
Team USA Ceremony Oxford Shirt, $145, ralphlauren.com
If you're wanting to really show support for your favorite athletes, choose a piece that Team USA will be wearing to this year's closing ceremony. If red's not your color, you can pick a white or navy Oxford shirt instead.
Team USA Sailcloth Duffel, $498, ralphlauren.com
Rather than treating yourself to a designer bag this season, sport a chic Official Team USA Collection duffel bag. These rad bags are made out of sailcloth and created in collaboration with Re-Sails, a company that repurposes old sails into cool fashions, accessories, and homewares.
With less than a month to go, if you want to be sitting pretty while watching the events of the games unravel, you best get ordering your official Closing Ceremony Uniform and apparel from Ralph Lauren's Official Team USA Collection soon!
Images: Ralph Lauren/YouTube (1); Ralph Lauren/Instagram (1); Courtesy Ralph Lauren (3)