Cool Cartilage Piercings You Might Not Know About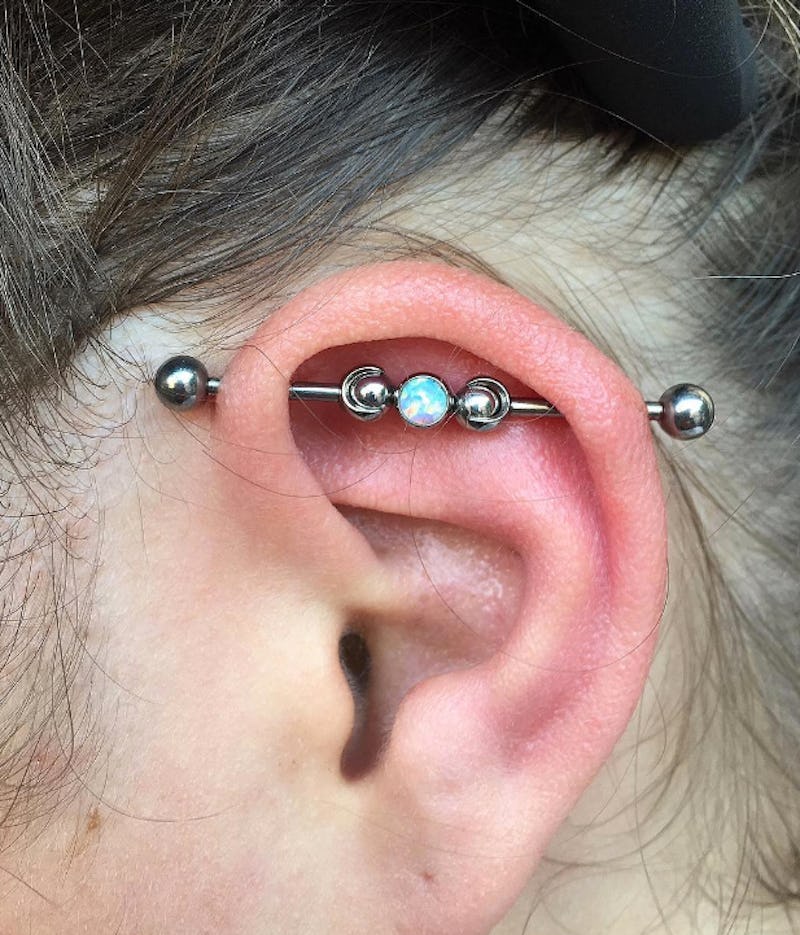 Just like in the tattoo world, the hottest trends in piercing seem to be everywhere you look and considering the amount of skin us humans have, the piercing possibilities seem almost endless. However, there might be some cool cartilage piercings you've probably never considered. Over the past few years, septum piercings seem to have worn the crown and ruled as the hippest piercing, but if cartilage piercings took human form Game of Thrones style, they'd be lurking in the shadows, waiting for their moment to strike and usurp septum piercings. Can you tell I've got GoT withdrawal?
Cartilage is found in many spots all over the body, but if you're new to piercing lingo, cartilage piercings commonly refer to piercings located in the cartilage of the ear. One of the coolest things about cartilage piercings is that everyone's ears are different, so depending on the shape of your cartilage, it's likely you'll end up with a totally unique look. Back in the day, I believed the only type of cartilage piercing in existence was the one at the top tip of the ear, that usually featured a ring and was worn by indie chicks. However, nowadays there are so many different types of cartilage piercings, including daith piercings that seemingly help reduce migraines in some sufferers.
So if you're contemplating your next body mod, here are some rad cartilage piercings you might not have considered to get your creative juices flowing.
1. The Outer Helix Cluster Piercing
This white opal cluster earring makes for an ethereal addition to the wearer's ear.
2. The Rook Piercing
Play peek-a-boo with a super cute rook piercing.
3. The Edgy Industrial Piercing
Looking for something a little different? This rad industrial piercing will give your look an edge.
4. The 3 Point Industrial Piercing
Take industrial piercing to a whole new level with this edgy 3 point industrial piercing; it's a wearable work of art!
5. The Double Cartilage Piercing
If you're contemplating getting a cartilage piercing, why not go the whole hog and go for a double whammy?
6. The Double Helix
Put a modern twist on hoop earrings with two cute hoops worn on the helix.
7. The Statement Dragonfly
Make a statement with a single cartilage piercing featuring a magical piece of jewelry.
8. The Double Tragus Piercing
Sara Schneider, Body Piercer at Colorfast Studios in Coral Springs, Florida, created these gorgeously feminine, double tragus piercings that are a great option for any girly girls with an edge.
9. The Minimal Style
Piercings don't always need to be all singing and all dancing to look beautiful; as demonstrated by this simply lovely style.
10. The Conch Piercing
Could there be anything dreamier than a conch piercing featuring white opal stones? This piercing would be perfect for any aspiring mermaidens.
11. The Pick 'N' Mix Piercings
If you're a big fan of body mods and you just can't bear to choose one type, why not embellish your entire ear with a plethora of piercings?
12. The Color Co-Ordinated Piercings
From a killer industrial piercing to a daith piercing hiding at the back, this gal's rocking multiple stunning piercings featuring green opals. Color co-ordinating precious stones lends your look a cohesive yet whimsical vibe.
13. The Helix Trio
Look totally dazzling with a trio of sparkling helix piercings, because sometimes more is more.
You needn't play it safe with a solo cartilage piercing featuring a hoop – take inspo from these rad styles to inspire your next trip to the piercing salon!
Image: alberto_netti/Instagram