This Popular '90s Beauty Trend Is Overrated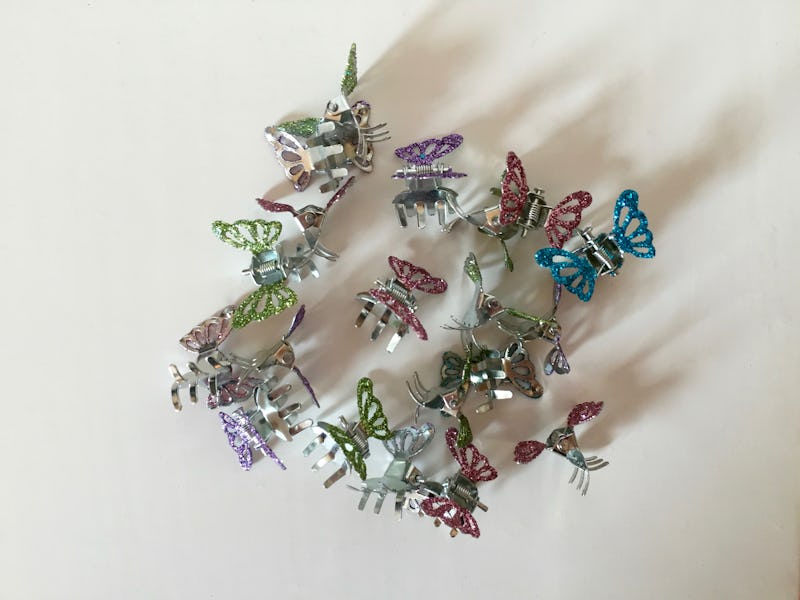 Will Millennials ever tire of the 1990s fashion and beauty revival? It's difficult to predict, but I'm personally pretty exhausted of one popular '90s beauty trend that is overrated: butterfly clips. This sweeping statement may have caused a few gasps of horror, or a handful of '90s kids to faint, but please hear me out. Let's travel back in time to when butterfly clips were the crème de la crème of all things trendy in the beauty world.
If you subscribe to GenY, chances are you were a kid, tween, or teenager when butterfly clips flew into the limelight. During the height of their popularity, Britney Spears, Sarah Michelle Gellar, and Danielle Fishel were just a few of the many gals we idolized who wore butterfly clips.
Subsequently, the coolest girls in your class probably rocked butterfly clips on a daily basis and school dances saw a kaleidoscope of plastic butterflies making nests in everyone's manes. Butterfly clips sometimes even came free with Sabrina's Secrets Magazine, they were present at basically every sleepover in the '90s, and you were sure to walk away from a girly girl's birthday party with a handful of these little critters in the bottom of your party bag.
Yep, butterfly clips were everywhere. I would have definitely enjoyed throwing them in the air with glee and creating snow angels amongst a myriad of 'em had I had the chance.
Butterfly clips were usually reasonably priced, too, so parents and guardians could pick them up for us as a little treat. If I remember correctly, they priced similarly to a stash of candy. Your folks probably preferred them to the possibility of a sugar-induced, hyperactive half-hour.
You could get them in all shapes and sizes, too. The most common was, of course, the classic, small butterfly clip that featured jagged little teeth joining a couple of butterflies together. Then came the variations: As the market for butterfly clips soared, designers began using different hues, patterns, and shapes to entice our hair accessory-loving hearts.
There were flower-shaped clips and shell-shaped styles that we still dubbed "butterfly clips" despite their forms, due to the way they opened and closed in a similar fashion. They came in block colors, translucent plastic, sprinkled with glitter, in shades of ombré, and some were even made out of metal. You could create a vast and varied butterfly clip collection if you so desired.
6 Pc Green Glitter Shell Butterfly Clips, $4.70, etsy.com
Butterfly clips even allowed us to create the classic half-up half-down 'do we so loved back then, as well as the side swept look that kept our bangs out of our eyes. Plus, they could help embellish our fancy formal locks when we had a special occasion to attend.
Sure, there were plenty of reasons to love these little guys, but there was also one glaringly obvious problem: They didn't hold much hair.
I recently undertook an experiment for which I wore butterfly clips for a week. I really enjoyed those seven days spent with my nostalgic adornments, aside from trying to conjure up different hairstyles every day. Looking back at the photos, however, I discovered a major design flaw: Butterfly clips aren't strong enough to maintain medium to large sections of hair for a long period. If you're trying to secure a section of strands thicker than your little finger, they probably won't deliver.
As you can see from this photo, my butterfly clips were struggling to hold these sections of my mane in place. In fact, they were drooping and felt rather loose. If you look closely, the top clip isn't even properly secured and is floating atop my head as if holding on for dear life.
Of course, my hair is quite thick in terms of individual strands and volume. Even if I had thin hair, however, I'd still need to section off small areas in order for the butterfly clips to stay in tact, which kind of limits the styles you can achieve with them. In my eyes, this makes 'em a seriously overrated product.
That being said, butterfly clips are super adorable and you can still use them to decorate different hairstyles. Just don't rely on them to keep your tresses rock solid, because they'll likely flit their way onto the floor.
Images: Phoebe Waller (4); Courtesy Brand (1)