14 'Degrassi' Cameos The Reunion NEEDS To Have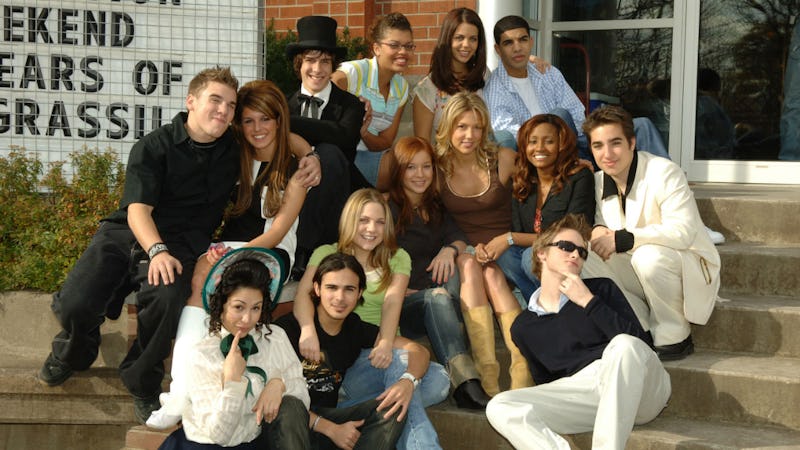 As if Netflix wasn't already amazing enough, the streaming service is airing a Degrassi: The Next Generation reunion on July 22. The Canadian cult series defined my middle-school years, so I couldn't be more excited for my favorites to get back together. Sure, Netflix aired Degrassi: Next Class in January, but it wasn't quite the same. Luckily, this time, they're bringing back the old cast for the series' 500th episode. While everybody's pondering whether Drake will return as Jimmy Brooks, there are other characters that I'm crossing my fingers for too.
Don't get me wrong, a Drake cameo would be everything . During his Degrassi days, the actor-turned-rapper went by his real name (Aubrey Graham) and his character was the school basketball star, who got shot by Rick and wound up in a wheelchair. He later started a rap career on the show, before pursuing one IRL. While he'll always be remembered for his TV roots, he's not the only one who made the show what it was. There were so many significant roles.
Tying into the hype surrounding the upcoming reunion, I'm rounding up Degrassi characters who need to show their faces, besides Drizzy. Because seriously, the show wouldn't be the same without them.
BTW, this list doesn't include anyone in the trailer above, because it's safe to assume they'll be appearing in the episode. Here's the characters I'd love to see, along with a quick refresher on their backgrounds.
1. Ashley Kerwin
What would the show be without Ashley? She was the popular girl turned goth, who later pursued a music career.
2. Dylan Michalchuk
Paige's older brother dated Marco on the show. He joined the crew for beach trips and other adventures.
3. Darcy Edwards
Shenae Grimes left the show and starred on the CW's 90210 reboot. Darcy was a cheerleader, whose life was turned upside down in Season 7. Her little sister, Claire, starred in the later seasons.
4. Kendra Mason
Remember Spinner's little sis? She dated Toby Isaacs. They bonded over anime and were super cute together.
5. Joey Jeremiah
Joey is a Degrassi O.G. He starred on the original series in the '80s and then played Craig's uncle and guardian on Degrassi: The Next Generation. He's the used car salesman with a huge heart.
6. Manny Santos
The show would be nothing without Manuella "Manny" Santos. It must be an oversight that she's not in the trailer.
7. Mia Jones
Yup, Nina Dobrev got her start on Degrassi way before The Vampire Diaries. She's the teen mom who dated J.T. right before his untimely death.
8. Hazel Aden
Hazel was Paige's sidekick, but deserved way more credit. She also dated Jimmy Brooks after they met in detention during the Breakfast Club episode.
9. Ellie Nash
Ellie had some rough times on the show, especially when it came to romance. She didn't stay together with Craig or Sean. Still, I'd love to see where she wound up years later.
10. Alex Nunez
At first, she was the tough girl, but later came around. Alex dated Paige at one point, and their differing personalities really balanced one another out.
11. Terri McGreggor
Unfortunately, Terri went into a coma in Season 3. She recovered and was casually mentioned after that, but never made another appearance. That's why we need to see her again. It's been too long.
12. Sean Cameron
He started out as the school bad boy, but Sean had a good soul. But I'm still not over the fact that he didn't wind up with Emma. Why, oh why, did she marry Spinner?
13. Toby Isaacs
Toby may have seemed nerdy, but he was a lot cooler than people gave him credit for. He was around since Season 1, so he's a true part of Degrassi history.
14. J.T. Yorke
Sadly, J.T. tragically died in Season 6. However, I'd love to have them give him a shoutout, or even return as a ghost.
That may sound farfetched, but you never know with Degrassi. Anything can happen — and I can't wait to see what does.
Image: CTV (5); Giphy (9)