How To Make Your Makeup Last When You Sweat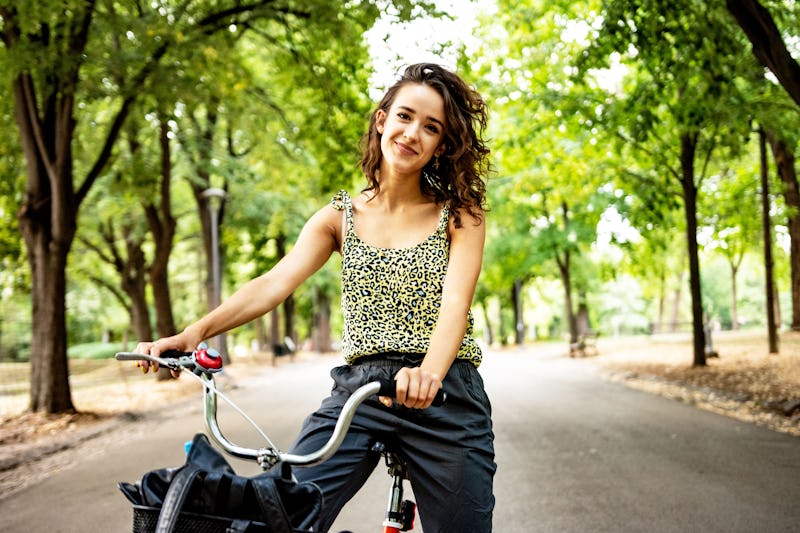 Gorica Poturak/E+/Getty Images
I always feel a little torn when the hotter months roll around. There are so many amazing beauty product launches, but I'm always worried about being able to make my makeup last when I sweat. Since I have oily skin to begin with, it just seems easier to go makeup-free until the temperature dips back down. But after emailing with a few makeup experts, it turns out that there are plenty of ways to help makeup last through the heat and humidity.
Sonia Kashuk, makeup artist and founder of Sonia Kashuk Beauty; Lilit Caradanian, professional makeup artist and founder of Elcie Cosmetics; and Vivian Howard, Marie Robinson's New York City Salon lash specialist, all let me in on some sneaky ways to beat your face and the heat. And I have to say, some of these tips are pretty genius. So don't hide away your new summer goodies, waiting for cooler, autumn temps to arrive. You can still get the most out of your favorite summer collections regardless of how sweaty you may become. So if your makeup always gets the better of you when you sweat, try out some of these tricks to make it last through anything. After all, nobody has time for a makeup meltdown.
1. Prime Everything
Smashbox Photo Finish Pore Minimizing Foundation Primer, $40, Amazon
"Primer is essential in long-lasting makeup," says Caradanian. Find an oil-free formula to use under both foundation and eyeshadow. A good primer will help your makeup last longer while preventing any product breakdown or creasing.
2. Try Lash Extensions
House of Lashes Siren, $22, Amazon
Lash extensions or falsies are a great way to add drama and definition to your lash line without having to worry about smudging mascara or melting eyeliner. If you're worried about your lashes looking too dramatic though, Howard recommends using "mink lashes in varying shades of brown that are lighter at the tips," as these will provide a more natural, yet flirty vibe.
3. Go Minimal
Hourglass Illume Sheer Color Trio, $62, S ephora
According to Kashuk, "The key trick to makeup in the summer when you are sweating is keeping the skin natural with minimal product applied." She recommends trying cream cheek colors and tinted lip balms as these products will last through the heat while still looking totally fresh and natural.
4. Layer Products
Sonia Kashuk Chic Luminosity Bronzer/Blush Duo, $12.99, T arget
Another trick Kashuk previously taught me in makeup longevity is to layer your products. Top off any cream products (eyeshadow, eyeliner, blush, bronzer, etc.) with a corresponding powder version so that, for example, your powder blush will not only set your cream blush, but it will also ensure your makeup doesn't look patchy if one layer fades away.
5. Use Stains
Benefit Posietint Cheek & Lip Stain, $30, S ephora
Few makeup products have the staying power of stains. Once you dab some color on your lips and cheeks, it won't go anywhere, even if you sweat.
6. Add Powder
Make Up For Ever Super Matte Loose Powder, $29, Make Up For Ever
Caradanian swears by setting powders for controlling makeup as long as possible. Her personal recommendation? She loves this loose powder because of its dry consistency. No moisture will get the better of it.
7. Setting Sprays FTW
Urban Decay De-Slick Oil-Control Makeup Setting Spray, $30, U lta
Setting sprays almost have magical powers when it comes to defending makeup against sweat. From personal experience, they can help your makeup last even when you purposefully try to get as sweaty as possible.
8. Make It Waterproof
Clarins Double Fix Mascara, $25, N ordstrom
Of course, one of the best ways to combat perspiration is to use waterproof makeup — yes, you can actually do a full face with all waterproof products. But if you have any favorite items that don't happen to come in a waterproof formula, you can seal it on with a waterproof topcoat.
9. Don't Forget To Blot
Boscia Green Tea Blotting Linens, $10, S ephora
So you can touch up whenever necessary to stay dry all day, Caradanian suggests carrying blotting tissues with you. Because adding more powder throughout the day will cause your skin to look cakey, says Caradanian, the simplest and best thing to do is blot away any excess moisture.
Images: Gorica Poturak/E+/Getty Images; Courtesy of Brands