Why Book Nerds Loved Back To School Shopping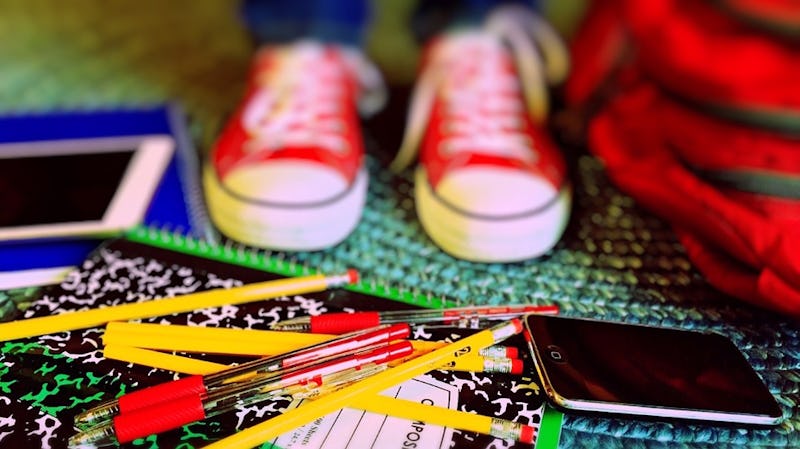 For all our complaints about it, back-to-school shopping was one of our secret favorite activities as a kid — because everyone loves getting brand new stuff. Sure, realizing that your glorious summer break was now coming to a halt, and that those long days of sleeping in till noon were over sucked, but on the bright site, new pens, pencils, and most importantly — books! — were nearby.
Even in college, I loved when the back-to-school shopping deals began to pop up. As a longtime book nerd and writer, going to the store to get some new binders and fancy pens was something I always wanted to do — not just once a year. And for all book nerds, I'm sure you felt the same. It brings out that excited geek in all of us, ready and prepared to get some styling new supplies, and a brand new book or two.
As school season is slowly approaching, I can sense the new deals nearby. Even though I'm no longer in school, I will continue my tradition of back-to-school shopping. It'll be a throwback to my youth — because back-to-school was always best for the book nerds:
1. You Spent A Lot Of Time Picking Out The Perfect Backpack That Would Hold All Of Your Favorite Books
While the design, sparkle, and color all factored into your choice, you were really more concerned with durability because you knew your backpack would have a tough job lugging all your boobs around.
2. Searching For Book-Related School Supplies Was The Best
Whenever a new series was adapted into a film — say Harry Potter or A Series of Unfortunate Events — they released all the matching school supplies, and of course, you had to have them all.
3. You Picked Out New Outfits Based On Your Favorite Characters Style
Not only did you get clothes that were straight out of your favorite series, but you found your own unique look by mixing and matching the styles of some of your favorite characters. You wanted a red ribbon in your hair to match Matilda, a Gryffindor scarf, and striped tights like Pippi Longstocking. The result was a look all your own.
4. You Had To Pick Out The Perfect Pens, Pencils, And Notebooks So You Could Write Down Your Own Book Ideas
Not every book lover wants to be a writer, but after reading a great book at the age of 10, everyone felt like they could write the next bestseller. As an aspiring writer, I always had pens and notebooks handy so I could jot down titles and observations.
5. You Were All Over That Harry Potter-Themed Lunch Box
If you were a lunch box kid AND a book nerd, there was no denying your lunch box reflected that.
They were perfect to write down your thoughts on the story, or point to right where you left off. Plus, they were colorful and pretty — so what kid didn't want them?
7. Even Though It Wasn't On The List, You Always Managed To Convince Your Parents To Get You A New Book
As great as that new gaming system every other kid is begging for, or those extra few outfits you'd maybe only wear once or twice, you instead bargained for a new book. Well... you probably do that now, too.
Images: Pixabay; Giphy (8)