Is Rory Still Living At Home In The 'GG' Revival?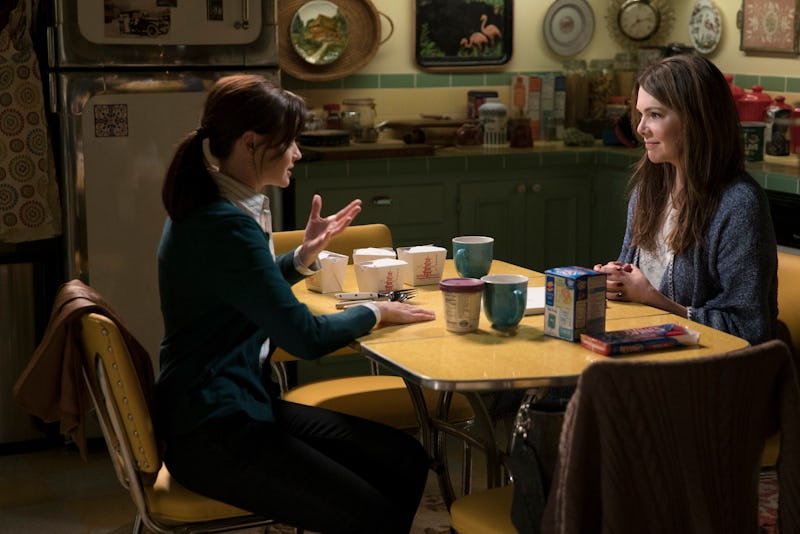 It's the day we've all been waiting for: the Gilmore Girls revival trailer is finally here, and it might reveal one very important detail about Rory's life. You have to look closely to catch it, but this one small detail could mean big things for Stars Hollow and for the relationship between Rory and Lorelai. While the world has been speculating about where Rory would be living and what she would be doing with her life in the revival, the trailer might be the ticket to figuring it all out. Want to know what that detail is? Pause the trailer about one minute in, and you'll see it: Rory's bedroom.
Or what used to be Rory's bedroom. Or maybe what could still be Rory's bedroom? There's no way to know for sure, but it looks to me like Rory's bedroom is currently being occupied by… Rory. The dresser is the same. The lamp is the same. There are pink pillows in the corner in what looks to be a little reading nook. (We all know Rory loves to read.) And there, hanging from the coat hooks on the wall, is an array of purses, jackets, and even a hat. What I'm getting at is this: That bedroom definitely does not look like empty to me. It looks lived in, and I think there is a good chance that Rory might be the one living in it.
Think about it: It's not just the details in the room that line up with this theory. It's the publicity shots that show Rory standing in front of a class of students in Chilton uniforms. It's the behind-the-scene photos of Paris beside an old Chilton uniform. There is a pretty good chance that Rory may be in Stars Hollow long-term these days, and, if that were the case, she could very well be living with her mother.
There's also this: In an exclusive interview with TV Line, Amy Sherman-Palladino hinted that Richard's death would act as a sort of catalyst to bring all the Gilmore women together again. She revealed that, because "the pilot started where all three women were at a change in their lives" they "felt like, well that's where we need to start [the revival]."
So let's think this through. The revival is going to start similarly to how the pilot started, where all the Gilmore women are forced to be together and confront some major changes in their lives. What could that mean? Well it could mean that Richard's death is the thing that brings these women together. Literally. If Rory came home when Richard died, she may very well move back in with her mother because of something not working out in her own life. Or she could have been living there for some time, and Richard's death might be the thing that compels her to start her life over again.
Whatever it is, I'm hoping that this one little detail means we'll be seeing plenty of Rory and Lorelai's late night coffee sessions over their kitchen table. Those were always the best scenes, and the revival wouldn't be the same without them.
Image: Netflix (2); Warner Bros. Pictures