'Bach's JoJo & Jordan Aren't Afraid To Go Casual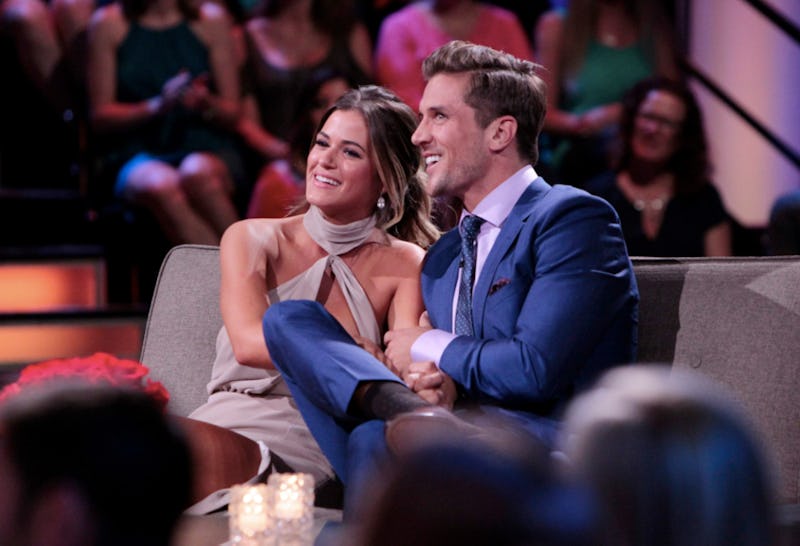 Even as a member of Bachelor Nation, I am super skeptical when it comes to believing that the relationships that stem from the shows will make it all the way to marriage. Now that JoJo Fletcher is engaged to Jordan Rodgers after the Bachelorette finale on Aug. 1, they can let their love show since their relationship is no longer a secret. But just because they are out in the open now, does that mean the pair is really ready for a wedding? While I doubted Jordan's intentions more than a few times over the course of JoJo's season of The Bachelorette (those damn "right reasons"), I gotta admit that JoJo and Jordan's choice of first official date after The Bachelorette seems pretty perfect for a couple ready to get married, so maybe there's hope for these two yet.
As anyone in a committed relationship understands, most dates aren't about traveling the world and getting a rose at the end of it. For long-term couples, a lot of "date nights" stem from the animalistic need to feed yourself and let's be real — your significant other just happens to be around for dinnertime too. Although a relatively new couple, JoJo and Jordan understood that when they went for what looked like a pretty casual dinner date in New York City.
Since their engagement became public news, the pair has been hitting up talk shows in New York, but they took a break from the circuit for a night on the town. According to JoJo's Snapchat, JoJo and Jordan enjoyed a simple dinner of some supremely good-looking burgers and fries. While they have been dressed up for all of their public appearances, like on Good Morning America and Live with Kelly, Jordan was wearing a simple V-neck T-shirt (the official uniform of Bachelorette suitors) and a backwards baseball hat as seen in JoJo's Snapchat photos.
While I know that JoJo knew the media and Bachelorette fans would jump all over these first, non-secret date photos, there is a sweetness to this seemingly very real and very natural dinner date. JoJo and Jordan could have hit up a swanky restaurant in New York, but instead they decided to be low-key after what has been a very busy few days. After watching JoJo and Jordan go on lavish dates in places like Uruguay, Argentina, and Thailand on The Bachelorette, I'll admit I think it's a good sign for the longevity of this couple that they are keeping it relaxed stateside for the very first date that they can advertise to the public.
I am by no means saying that one date makes a successful partnership, but if JoJo and Jordan do end up being one of Bachelor Nation's success stories, they will have plenty more of these informal dates for years to come. Their next move is to Dallas where the pair will be living together, so look forward to seeing more of their dates documented on social media as they settle in Texas — and I predict that there will be plenty more burgers in their future.
Image: Rick Rowell/ABC