'Moana' Releases A New Trailer With The 2016 Games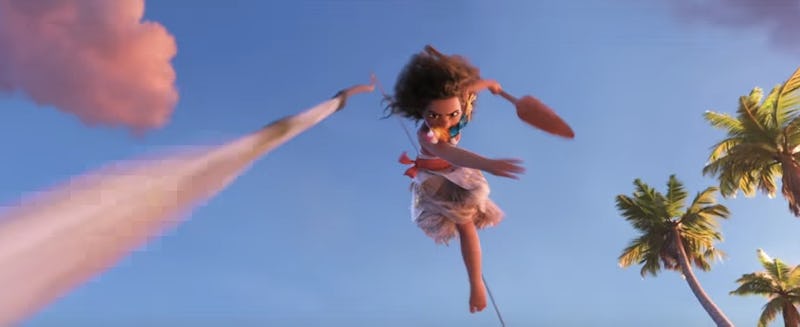 Quick, close your eyes and say your two most favorite things in the world right now — they were the Rio Games and Disney, right? Two excellent choices, if I may say so, because they overlap perfectly now that the new Moana trailer was released during the 2016 Olympics. What can I say? Pop culture knows what I want, and it always delivers. We've all been excited about Moana for a while now, whether because it features Disney's first Polynesian princess, because it's eschewing the traditional "love story" of a Disney movie, or because you're dazzled by the beautiful visuals and catchy Lin-Manuel Miranda-produced melodies. But nothing so far has gotten me as pumped as this trailer.
The newest Moana trailer — which debuted during NBC's Olympic coverage on Aug. 7 — is filled to bursting with displays of athleticism and physical prowess. And it's not just from the demigod Maui, voiced by Dwayne "The Rock" Johnson, but also from Moana herself, voiced by the new-to-the-scene Auli'i Cravalho.
We see the tattooed Maui flipping off of a rock, and flinging Moana off the deck of a ship as if she weighs nothing, while Moana leaps from a cliff, swings from a rope, throws a spear midair, and just generally is her badass self. It's an action-packed visual paradise, and they even sneak the line "Light The Torch" into the teaser, just to tie it all together even more clearly. Watch the video, and just try to tell me that you aren't simultaneously more pumped about the 2016 Olympics and this next Disney masterpiece, due out Nov. 23.
All I can say is I'm picking up what you're putting down, Disney, and part of me half-expects to see Moana and Maui as a highly unmatched pair in the next synchronized diving cliff-diving competition. Admit it, you'd tune in.
Image: Walt Disney Animation Studios