12 Fun Ways To Spend National Book Lovers Day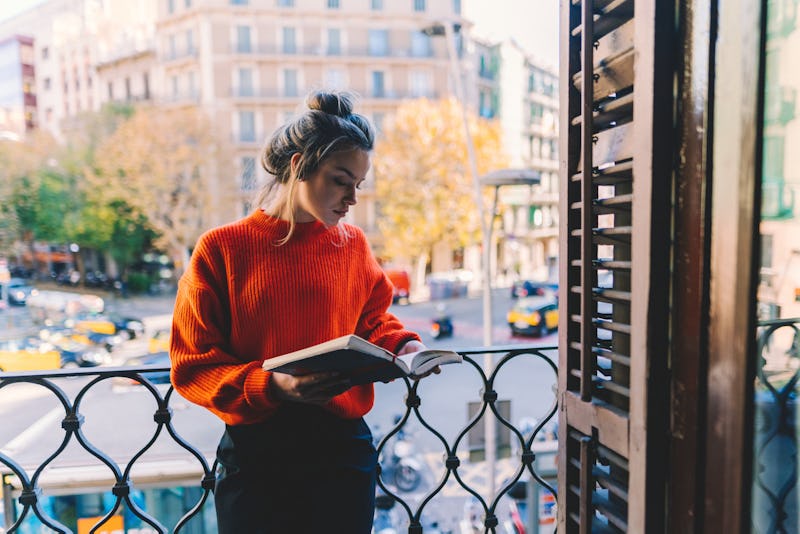 martin-dm/E+/Getty Images
The best day of the year is finally here: August 9, aka, National Book Lovers Day! To be completely honest, this is probably the best holiday of the year. It's a full day dedicated to celebrating your love of literature, and all the amazing ways books have shaped your life over the years. From the beloved Harry Potter series to every book written by Dr. Seuss, from the book no one has ever heard of but you love more than anything else to the popular memoirs flying off of the shelves — no book goes unrecognized today. But more importantly, no reader goes unrecognized today. Give your a pat on the back, book-lover.
If you're caught off-guard and don't know what to do to celebrate this fantastic day, don't worry! The best way to spend this holiday is by reading a book, to be honest, but there are plenty of other fun little ways you can celebrate as well. The most important thing to keep in mind is spreading your love for books today, because it seems like we never get to do it enough.
Whether you want to throw a full on book-party with your nerdy friends, plan a dreamy literary vacation, or want to simply sip a glass of wine with your favorite book in hand, it's totally up to you. Give your books some extra love today, and celebrate those books and authors that keep you smiling. Consider doing any one, or a handful, of these 12 exciting ways to spend National Book Lovers Day:
1. Head To Your Favorite Bookstore Or Library
As if you need an excuse to go to your local library or indie bookstore, but just in case you do, head on over there because they're probably celebrating this fantastic day, too.
2. Treat Yourself (And Someone Else) To A New Book
With it being National Book Lovers Day, you should definitely treat yo self to a new book. Maybe there's one you've been eagerly waiting to get, or one you've been hearing great things about nonstop for weeks. And if you can, share the love of reading today by getting a book for a friend, sibling, mom or dad, maybe even your significant other, and spread the love.
3. Go On A Blind Date With A Book
If you can't decide which book to get, just take a chance on a random one you pick up! If a book cover caught your eye, or the first line or synopsis sounds particularly appealing, take it out for a date and you might just find your next favorite book.
4. Re-read An Old Favorite
There's always the option to crack open your favorite Jane Austen novel or reread Harry Potter, and there's no better way to celebrate this holiday than reading the books you love the most.
If it's nice outside where you are, take a book for a stroll and read in the park or near the beach. If not, snuggle up in your favorite cozy chair with a blanket and cup of tea.
6. Organize Your Bookshelf
Personally, I've been meaning to organize my bookshelf because it needs a serious upgrade. If you're in the same situation, go through and find which books you can part with (if any), and then organize them in a unique way — by color, author, title, genre, or however else your little bookish heart desires.
7. Get Crafty With A DIY Book Project
For the book lovers who are super crafty, take out some old books, or buy some blank ones at your local craft store, and get busy! There are so many fun, unique, and beautiful things you can make with books.
8. Donate Some Old Books To A Literary Charity
Like I mentioned above, if you happened to find some books you can part with, consider donating them to a book charity. There are a ton of great organizations that promote literacy, and you can even check out your local book charities if you want to remain local and give back to your own community.
9. Share Your Favorite Book With Social Media
The hashtag #NationalBookLoversDay is already trending, so jump on board and share your favorite books with your followers!
10. Reach Out To Your Favorite Author
Being a lifelong book lover means you have a few favorite authors that have changed your life in more ways than one. This is the perfect time to let that author know how he or she has impacted your life with their books in a positive way. Check out her or his website, find the contact info, and spend some time writing a heartfelt letter.
11. Make A Book-Themed Dinner Or Dessert
Celebrate your love for books by making some book-themed treats, drinks, or a full on meal! Invite your friends or indulge by yourself.
12. Skip TV And Enjoy Your Book All Night
It might be tempting to watch your favorite show or even a book-to-film adaptation tonight. But since it's National Book Lovers Day, I think a quiet night in spent with a good book is in order. Either way, I hope you have a fantastic day celebrating your love of books today!
Images: martin-dm/E+/Getty Images; Giphy (13)