Why It's Good 'Inside Amy Schumer' Isn't Over Yet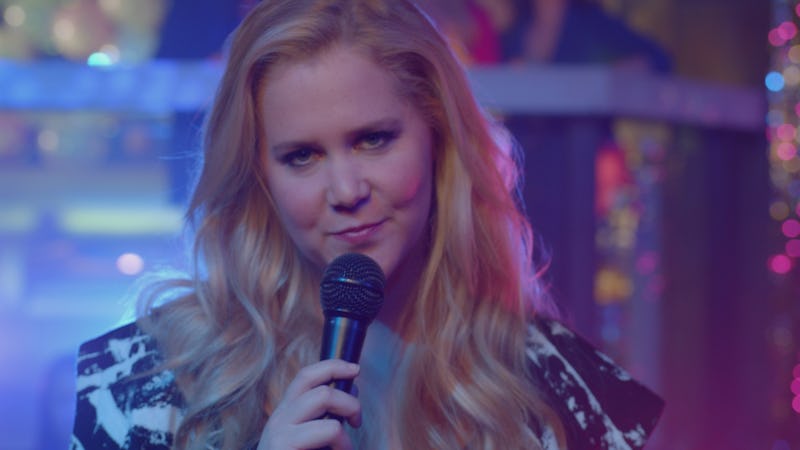 Crisis averted; Amy Schumer isn't leaving television just yet. On Wednesday, Schumer implied that Inside Amy Schumer was cancelled on Twitter, sending fans into a grief spiral. The message came after she had been asked if she had fired Kurt Metzger, a writer on her show, for controversial comments he had made about rape on his Facebook page. "I didn't fire Kurt," she wrote. "He isn't a writer for my show because we aren't making the show anymore. There are no writers for it." Fans worried this was Schumer announcing the sudden cancellation of her show, which had been picked up by Comedy Central for a fifth season before this last season even aired. It may seem silly to think how upset fans seem to be over the idea of Amy Schumer's show going off the air, until you think about what this show means to so many.
Schumer confirmed that Inside will be back with another, less cryptic tweet. "#InsideAmySchumer is not cancelled," she wrote. "@ComedyCentral has provided us with a wonderful home and we couldn't be happier there. I am just touring." She would go on to explain that this next year will have her "doing standup and focusing on writing" for the next year, and that Season 5 will happen, but not in the "foreseeable future." Schumer even turned this whole cancellation situation into a joke, tweeting, "I'm grateful @ComedyCentral is giving me this time to work on other projects. Now please grab my book #TheGirlWithTheLowerBackTattoo."
The comedian has redefined Hollywood with her series by pushing the limits of comedy, especially, when it comes to comedy about women by women for women. Schumer has used humor to call out sexism with a 12 Angry Men parody, which had a group of men debating whether she was hot enough to be on TV. It's funny, but the sad kind of funny, since it's clear this sketch was rooted in real life.
Schumer skewered agism with help from Patricia Arquette, Julia Louis-Dreyfus, and Tina Fey, who, in the skit "Last F*ckable Day," talk about being put out to pasture for being over 40 in Hollywood. "In every actresses life, the media decides when you finally reach the point when you're not believably f*ckable anymore," Louis-Dreyfus explains before the women point out the signs of how you'll know the day has come. It will include playing someone's mom shortly after you were cast to play the love interest, auditions for Mrs. Claus, and head-to-toe sweaters.
While we're on putting things out to pasture, that's exactly what Schumer did to Lena Dunham this past season in a sketch that talked about what it feels like to go shopping as a woman who doesn't wear a size 2. Hint: it includes a lot of body shaming and tarps that are now shirts. Unfair beauty standards is a topic Schumer has mined for a lot of funny moments on the show. The idea that the natural look is what men really like was put to the test in the boy band spoofing, "Girl, You Don't Need Makeup." (Turns out, these guys actually think you do and lots of it.)
These were sketches that were easy to laugh at, but Schumer also focused on topics that weren't. She channeled Friday Night Lights in Season 3 with a sketch that looked at the idea of sexual consent on college campuses by focusing on a football team who couldn't understand that no always meant no. Not such a joke, since, according to a 2014 study, nearly one-third of sexual assaults on college campuses are perpetrated by athletes — a rate nearly six times higher than that of their peers. With the football players in her sketch asking questions like "Can we rape at away games?" and, "What if it's Halloween and she's dressed as a sexy cat?" you may be cringing as you laugh. But it's hard not to appreciate the message of, "Clear eyes, full hearts, don't rape."
She talked about sexual assault in the military by looking at Call Of Duty-like video game that was "more realistic" than that game. In it, her character gets raped and has to go through the red tape of actually reporting it. The sketch also took a shot at the victim blaming that too often goes on in sexual assault cases, with her boyfriend asking if it really happened, despite her saying it really did.
In 2016, Time reported that female soldiers who had reported sexual assaults were being discharged from the military with "less than honorable discharges." These kinds of sketches were more than just funny takes on real life; they were conversation starters and part of the reason Inside Amy Schumer won a Peabody Award in 2014.
Schumer creates satire with a purpose, shining a light on issues that most shows aren't going to touch with a 10-foot pole — likely because most shows aren't spearheaded by women. The comedian took everyday issues that women deal with and made them into national stories. She filled a void and became a voice for feminist women who felt they were finally being heard. She forced people to care with every laugh, asking them to delve further into why they were laughing.
She tackled misogyny and sexism in a way that hadn't been done before, Schumer's female-centric comedy series came around in 2013 and ushered in other excellent female-led shows like Broad City, Another Period, and Not Safe With Nikki Glaser. This is why there was such an immediate sadness to the possibility that Inside Amy Schumer wasn't coming back for another season. It's a show that represented a new kind of voice on television — one that the world still needs. Fans may have to wait a little longer for Season 5, but it's worth the wait. Schumer's made that clear with every laugh over the course of the last four years.
Image: Comedy Central